INTRODUCTION
The spring of 2020 is expected to be extraordinary, and we believe that everyone is full if excitement, after being staying at home for quite some time. At the moment, many scenic spots around China have started opening again, but are still subject to the epidemic prevention and control measured enacted across the country.
Our Spring Feature page will not only provide you with Entertainment possibilities in Chongqing, such as food, sceneries, and attractions, but we will also be showing you how Chongqing is returning to the dynamic city it is world-known to be.
We are confident that China, and the rest of the world, will recover from the recent coronavirus outbreak and start traveling all over the world once again. And as always, we, in Chongqing, will welcome you with open arms.
SPRING MAP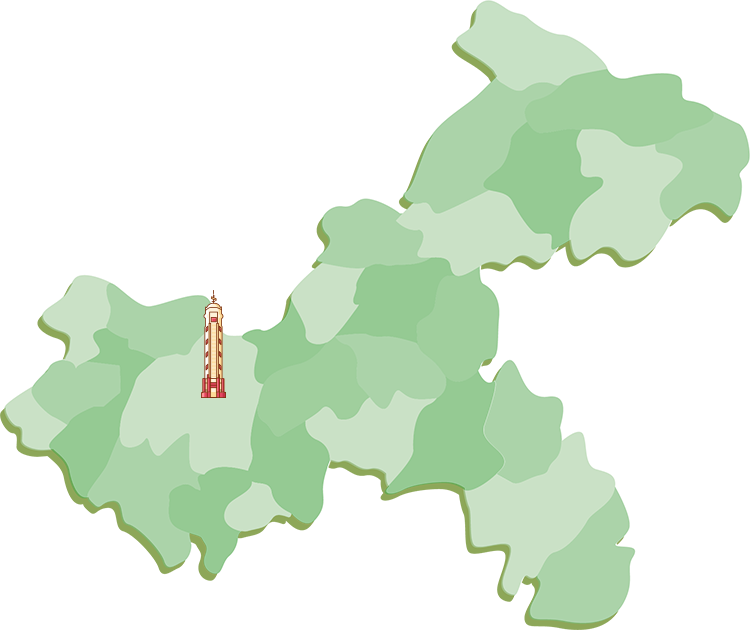 Tieshanping Forest Park

(Jiangbei District)

The oriental cherry trees along the avenue in Tieshanping Forest Park are in full bloom. There are more than 1,500 cherry trees spreading over at places including Xiajiang Viewing Platform and Xiafeng Road. The oriental cherry avenue is about one kilometer long is lined with cherry trees and pink flowers stand out in the sunlight. Such a gorgeous view presents the avenue as a poetic world.

Fotuguan Park

(Yuzhong District)

As Fotuguan is the oldest park in Chongqing, it is needless to say its important position for locals. It merged with Eling Park, but they are not interconnected. It is still called Fotuguan Park by many people.

Fotuguan Park is the most legendary park with the richest cultural deposit in Chongqing. Every corner in this park tells a piece of the story.

Caiyun Lake National Wetland Park

(Jiulongpo District)

Peach blossoms in Caiyun Lake National Wetland Park are in full bloom, adorning the view around the lake. It is greatly beautiful. Nearly 4,000 peach trees on the islet bloom pleasantly, representing a lovely spring.

In this park, there are 10 varieties of peach blossoms, such as red-leaf or green-leaf peach blossoms and Kawanaka peach blossoms. On the blue water, butterflies and bees are flying happily. Pink blossoms are swinging around the lake, setting off visitors under them.

Zhaomushan Forest Park

(Yubei District)

In spring, beautiful red plums and oriental cherries bloome in Zhaomushan Forest Park. You can stroll in the sea of flowers to experience the fragrance, or you can take a bicycle or hiking there, immersing yourself in the world of flowers. Besides, there is also a large lawn in the park, which is a great place to have a picnic.

Nanshan Botanical Gardens

(Nan'an District)

Peony & Cherry Blossom World Scenic Area

(Dianjiang County)

As early as last year, the flower viewing resort Peony & Cherry Blossom World Scenic Area attracted a lot of tourists.

Cherry trees there are in full bloom! More than 30,000 cherry trees of over 40 rare varieties have flourished one after another, making Chongqing even more glamorous! The cherry blossom renders the small island in Dianjiang pink and rosy, and you could smell the familiar fragrance of cherry blossom.

Cherry Blossom Sea Scenic Area

(Jiangjin District)

Situated at Shimen Town, Jiangjin District, the Cherry Blossom Sea Scenic Area has 40 hectares of Taiwan Peony Cherry.

This world of flowers looks extremely spectacular in pictures taken on a high spot. Covered by cherry blossom, red plum blossom, and rape flowers in blossom, the scenic spot is as gorgeous as a fairyland.

Chongkan Flower Sea

(Tongnan District)

The golden sea of canola flowers attracts numerous tourists every year, but have you ever seen a colorful sea of canola flowers? This year, a 200,000 sqm colorful sea of canola flowers will make its debut in the Chongkan Flower Sea in Tongnan District Chongqing as the biggest highlight. This is the first time for Tongnan to grow the colorful canola flowers. It is a new variety of ornamental cultivar, which has four main colors, namely red, pink, purple, and white.

Chongqing Garden Expo Park

Chongqing Garden Expo Park is the first choice for Chongqing people to visit after the end of the epidemic. Located in Longjinghu Park, Yuanyang Subdistrict, the Northern New District, the park resumed operation on March 16. It is easily accessible by Chongqing Rail Transit (CRT) Line 5 and Line 3. The park contains 127 miniature gardens and 10 exhibition areas.

Nanhu Colorful Botanical Garden

Huashengyuan Dream Castle

Parents can take their kids to Huashengyuan Dream Castle for a visit free of charge on weekends. It used to be the factory area of Chongqing Huashengyuan Food Co., Ltd. so that it enjoys convenient transportation. Take CRT Line 2 and get off at the terminal Xinshancun, and then take a taxi to the scenic spot for only RMB 10.

Chongqing Wulong Fairy Mountain

Chongqing Wulong Fairy Mountain is relatively more remote than the above-mentioned scenic areas. It takes about four hours to drive there from the main urban area. It's a long way to the mountain, but it's definitely worth visiting. The mountain is most charming in spring, a season for outing and flower viewing. However, it should be noted that it's a little bit cold in spring there, so you need to keep warm.

Locajoy Theme Park

As spring is in the air, the fierce African lion, cute ring-tailed lemur, a funny chimpanzee, in Locajoy Theme Park are vivifying the spirit of the season. The scenic area has other exciting recreational facilities except for its entertainment areas such as the Royal Circus Theatre, roller coaster, carousel, and more.

Fengdu Temple Fair

As an annual traditional festival of the locals, Fengdu Temple Fair was first held in the Jin Dynasty(AD.1115-1234) and prospered in the Ming and Qing dynasties. With the history of more than one thousand years, the pageant, boasting the folk cultural customs of long history and unique connotations, fantastic myths and legends and irreplaceable value of appreciation and experience, has become a "calling card" of Fengdu, attracting millions of visitors admiring its reputation every year.

Haitang Yanyu Park

Haitang Yanyu Park is a good choice for river view lovers to take a walk and enjoy the landscape. When the evening lights are lit, Haitang Yanyu Park on Nanbin Road is as enchanting as a landscape painting, and it is even more beautiful when the fountain is ejecting. Dotted light relieves against the landmark Chongqing Sheraton Hotel, just as if this amazing view were only seen in heaven. The warm golden light is giving out from the lamp chimney.

World of Cherry Blossom and Tangerines

Yunzuan Mountain

At Baisheng Village in Yunzuan Mountain, there are nearly 200 hectares of black cherry flowers in full blossom. Seen from afar, it looks like the beautiful sea of scented snow.

It's a pity that the cherry blossom season there won't last long, for only about a week, so you could only view the flowers online this year.
The map of leisure spots in Chongqing for the spring season will take you to a world of beautiful flowers, and relaxing areas. We, at iChongqing, will introduce the spring season to you with all that you can do and experience here!