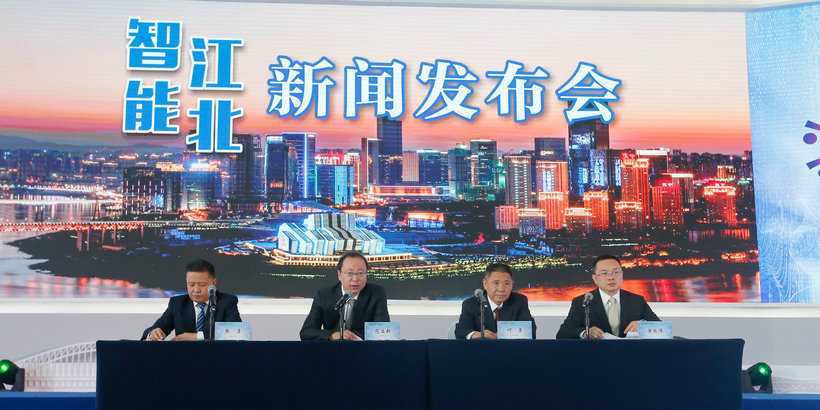 The press conference of Intelligent Jiangbei was held on the morning of August 25
By Keqiao Cheng, EDITOR
"For Jiangbei District, the keywords are the followings: big data, artificial intelligence, high-end software service, Internet of Things, digital content, intelligent hardware, intelligent connected vehicle and intelligent manufacturing equipment." The official of Jiangbei District said on August 25 at the press conference of Intelligent Jiangbei, which was held at the Smart China Expo, Chongqing, China.
Jiangbei District, located in the north of Chongqing city, is one of the core urban districts of this mega-city of Southwest China.
Currently, Jiangbei is undergoing much development. It thoroughly promotes the construction of "Intelligent Jiangbei", and seizes the opportunity of intelligent development to accelerate the economic upgrading.
In the first half of 2018, Jiangbei District has made remarkable economic achievements, realizing a gross regional domestic product (GRDP) of RMB 50.99 billion, increasing by 10.1%. The growth rate ranked the first place among all the districts of Chongqing urban area.
Specifically, the value added in financial sector reached RMB 11.53 billion, increasing by 15.3%; the merchandise sales reached RMB 152.54 billion, increasing by 12%; the gross industrial output value reached RMB 453.6 billion, increasing by 13.7%; the fixed asset investment reached RMB 19.78 billion, increasing by 8.1%.
2017 was the first year of Intelligent Jiangbei Project, and it took the lead in establishing Intelligence Office and Intelligent Industry Bureau. Besides, Jiangbei vigorously promotes the innovative application of artificial intelligence technology to people's livelihood, government management, social management, eco-environment protection and industrial economy.
For instance, the Jiangbei Intelligent Urban Management Practice has won the 2017 Governance Innovation Example Award for the Happiest Cities of China, and ranked the Top 10 National Excellent Cases of Government Administration Based on Internet Plus.
Nowadays, a new industrial revolution caused by intelligence is booming, and both China and other countries are aiming at this new field.
From this January to July, a total of 226 projects have been signed in Jiangbei with an overall value of RMB 174 billion, which represent a year-over-year growth of 69.9% and 19.6%, respectively.
It is expected that by 2020, Jiangbei will foster more than 10 leading enterprises, gather over 100 enterprises in fields of smart application and service, with an added value of intelligent industries accounting for more than 5% of the GDP.
For investment opportunities in Chongqing, please visit  BUSINESS section of our website.