By Rui Hu, EDITOR
On 6 Nov. Chongqing delegation held signing ceremony at 1ST China International Import Expo (abbreviated as CIIE). It signed 28 projects that involved product categories like chips, automobiles and parts, medical equipment, automotive testing equipment, glass substrates, ore, and beef.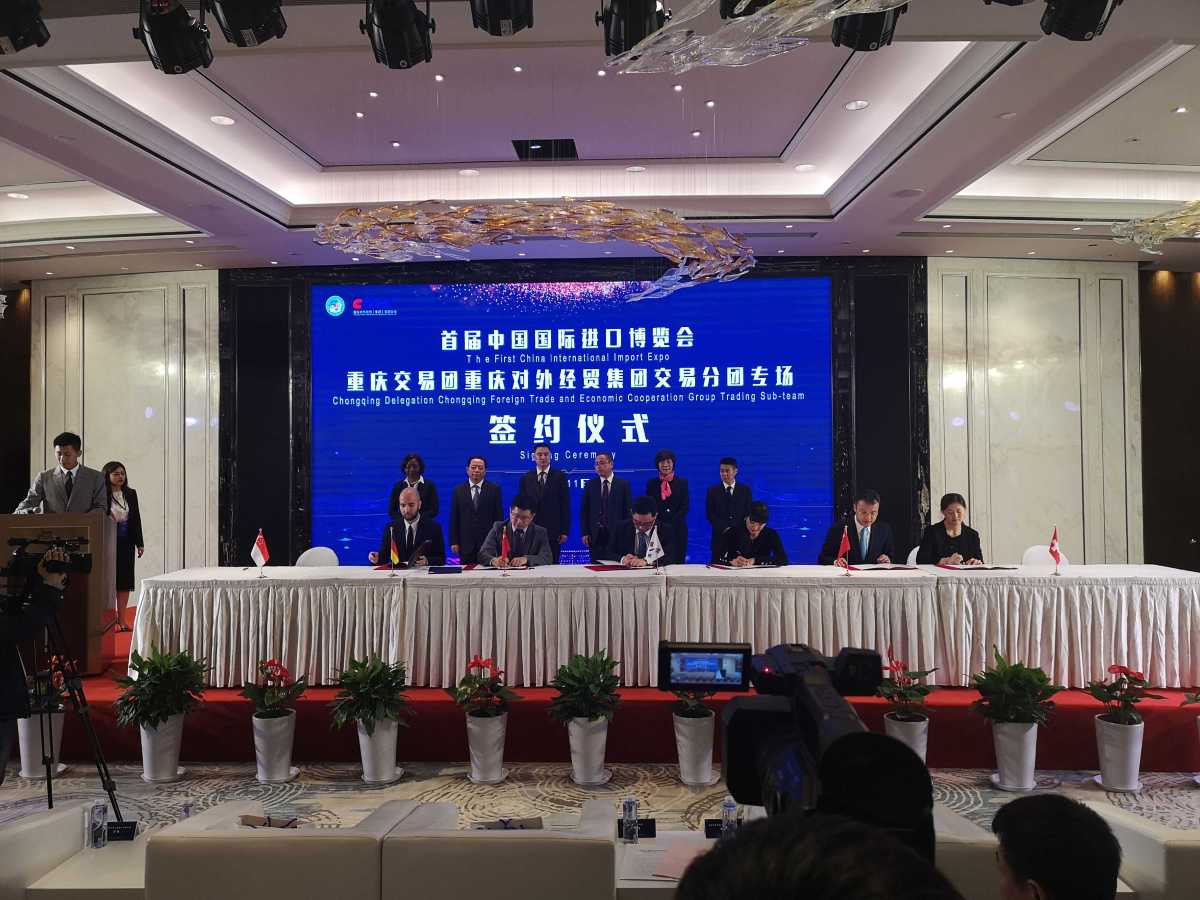 2.2 Billion RMB for Ore Bulk Raw Materials
In the signing ceremony, Chongqing Qianxin International Trade Inc. (abbreviated as Qianxin) signed the contracts for a budget of 2.2 billion Yuan to purchase and import ore bulk raw materials such as iron ore, manganese ore and chrome ore with suppliers from the U.S. Brazil, and Mexico.
Qianxin is the largest state-owned enterprise integrating commodity trade, energy and environmental protection, port logistics, etc. at present. It mainly focus on the business of bulk material trading business, which based on steel, building materials, ferroalloys, iron ore, non-ferrous minerals and other energy resources. Therefore, Qianxin is positively adapting to the globalization in commerce based on its logistics, and trading platform. Thus, it is building up the largest trading platform in southwest China.
8,000 Tons of beef come to Chongqing through the River and Sea Transportation
Chongqing Jinshangxu International Trade Co. Ltd. has signed purchase agreement with JBS S.A. for 8,000 tons of beef for US$45 million dollars.
JBS S.A. founded in 1953, is a Brazilian company that is the largest (by sales) meat processing company in the world, producing factory processed beef, chicken and pork, and also selling by-products from the processing of these meats.
Demonstrated from Liangyun Zhang, the director of Jinshangxu, his company's partners are top farms and factories come from 13 countries. Jinshangxu has coorperated with JBS S.A. for more than one year. The frozen beef imported from JBS S.A., after passing through the river and sea transportation, arrives at Cuntan Port - the cost is about 40% cheaper than domestic beef of the same quality. At present, the latest batch of imported beef is already on the road, and it is expected to arrive in mid-November.
300 Million RMB Budgets for Auto Parts
At CIIE, Qingling Motors Co., Ltd. and the Isuzu Auto Co., Ltd. from Japan signed a purchase agreement for auto parts imports of RMB 300 million.
Qingling Motors (Group) Co., Ltd. is a key enterprise in China's automobile industry. It is a core enterprise of China-Japan joint venture and overseas listed company. Qingling Motor Co., Ltd. and 17 subsidiaries and branches, a total of 18 enterprises. The group has 14 China-foreign joint ventures. As of the end of 2017, the Group's total assets were 14.3 billion Yuan and its net assets were 10.9 billion Yuan.
Foreign Trade Group signed  more than 1 Billion US Dollars Contract in Import Projects
Chongqing Foreign Trade and Economic Cooperation (Group) Co., LTD (abbreviated as Foreign Trade Group) as the only enterprise group, signed 10 contracts with firms from Germany, South Korea, Switzerland, Singapore, Malaysia, Mexico, Thailand, Ecuador, Hong Kong and Taiwan. The imported goods involved the production materials of consumer goods that met the consumption upgrade. The total contract amount exceeded US$1 billion.