By Rui Hu, EDITOR
According to a news conference by Chongqing urban management office, downtown Chongqing will improve its lighting decoration in the downtown area surrounded by "one ring", "one axis", and "points". At present, the lighting decoration for the following Chinese Lunar New Year (spring festival) is under construction. Some of the points such as Guanyinqiao shopping center and 1 Beibin Road have already lit up. Before 2019 Chinese Lunar Year, there will be central control of lighting for Chongqing urban area.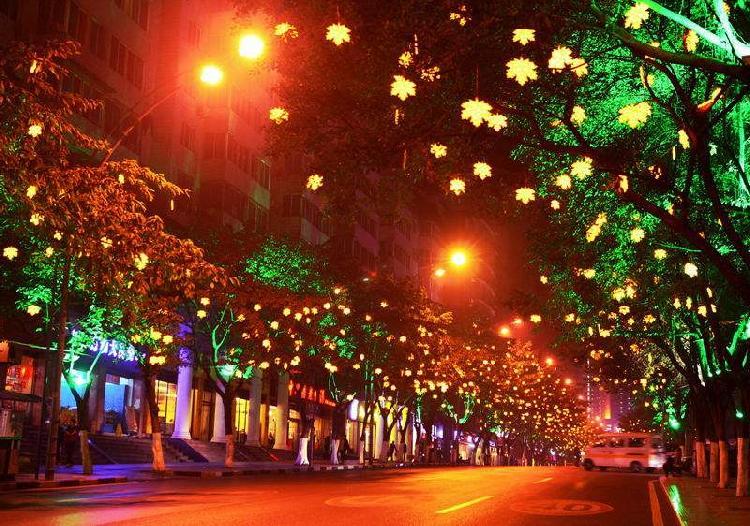 Where to see the lighting? Follow the "one ring, one axis, and points"
According to the people in charge, the lighting decoration is around the highlighted area of "one ring, one axis, and points".
"One ring" refers to three ring roads: T2 Jiangbei International Airport, Jichang Road, Hongjin Ave, Shangqingsi circuit to Yuzhou Hotel. T3 Jiangbei International Airport, Yuhang Ave, Cuntan Bridge, Nan`an district, E`gongyan Bridge, Shangqingsi circuit to Yuzhou Hotel.
"One axis" indicates two rivers and four banks that include 20 points on Beibin Road, Jiabin Road, Changbin Road, and Nanbin Road.
"Points" mainly include Cuntan Bridge, Huanghuayuan Bridge, Yu`ao Bridge, the People's Hall, Hongyadong, Changjiang Bridge, Chongqing Bei (North) Railway Station, Nanping shopping center and other 39 points.
The improved lighting decoration has different themes in different areas. "One ring" is mainly about the memory of Chongqing. "One axis" focuses on the interaction with visitors on the banks and roads by the rivers. "Points" refers to dream chasing, it aims to build up the land of natural beauty, a city with cultural appeal. Overall, it uses a variety of expression techniques to tell stories of Chongqing via lighting decoration.
Focusing on smart technologies and innovation for interaction
The plan of lighting decoration has many innovations and smart technologies in interaction.
The innovation of intelligent elements is reflected in the full use of new materials and technologies. For example, the use of new materials to innovate expression techniques and solve the problem of inconsistency in day and night perception. It also established a city-level intelligent lighting management and control platform and built a smart control terminal in accordance with the unified standard for the Spring Lighting Project in the demonstration section of the urban area.
There are smart interactive settings for lighting spots in Liujiamatou (Beibin Road), Liziba light rail station, Yanyu Park and etc.
At present, the lighting of the spring festivals in some areas has begun to bear fruit, making the Spring Festival lighting a must-see for foreign tourists and local citizens.
The main roads of Guanyinqiao Pedestrian Street in Jiangbei District and the lighting of various entrance nodes have been basically installed in place. The trees and flowers are as dazzling as fire in the night. These spring lightings have added a strong festive atmosphere to delight the upcoming holiday season.
The routes to see the lighting decoration
Jiangbei District:
Hongjin Ave. (Jiangbei) – North Jianxin Rd – Guanyinqiao Ring Rd – Jialing Park – Guanyinqiao Pedestrian Street – Beicheng Art Building – South Jianxin Rd – Huafu Rd – Beibinyi Rd – Wutong Rd – Huanghuayuan Bridge
Liangjiang New Area:
Huangshan Ave – Xingguang Ave – Taishan Ave
Yuzhong District:
Shenglipo (Huanghuayuan Bridgehead) – Zhongxing Rd – Jiaochangkou circuit – Heping Rd – Pipashan Park – Lianglukou – Caiyuanba Bridge – Qikong Bridge
Nan`an District:
E`gongyan Bridge head – Jiangnan interchange – South Caiyuanba Bridge head – South Dongshuimen Bridge head – Jiangnan Ave – Nanping shopping center – South Changjiang Bridgehead
Source: CQCB