By Xinyi Li, iChongqing
Chongqing- In recent years, there are many famous Internet-famous scenic spots in Chongqing, attracting the attention of tourists. With a stronger internet presence, Chongqing is becoming more internationally recognized as an excellent tourist destination. In 2018, the number of tourists visiting Chongqing was the leader in the Chinese tourism market.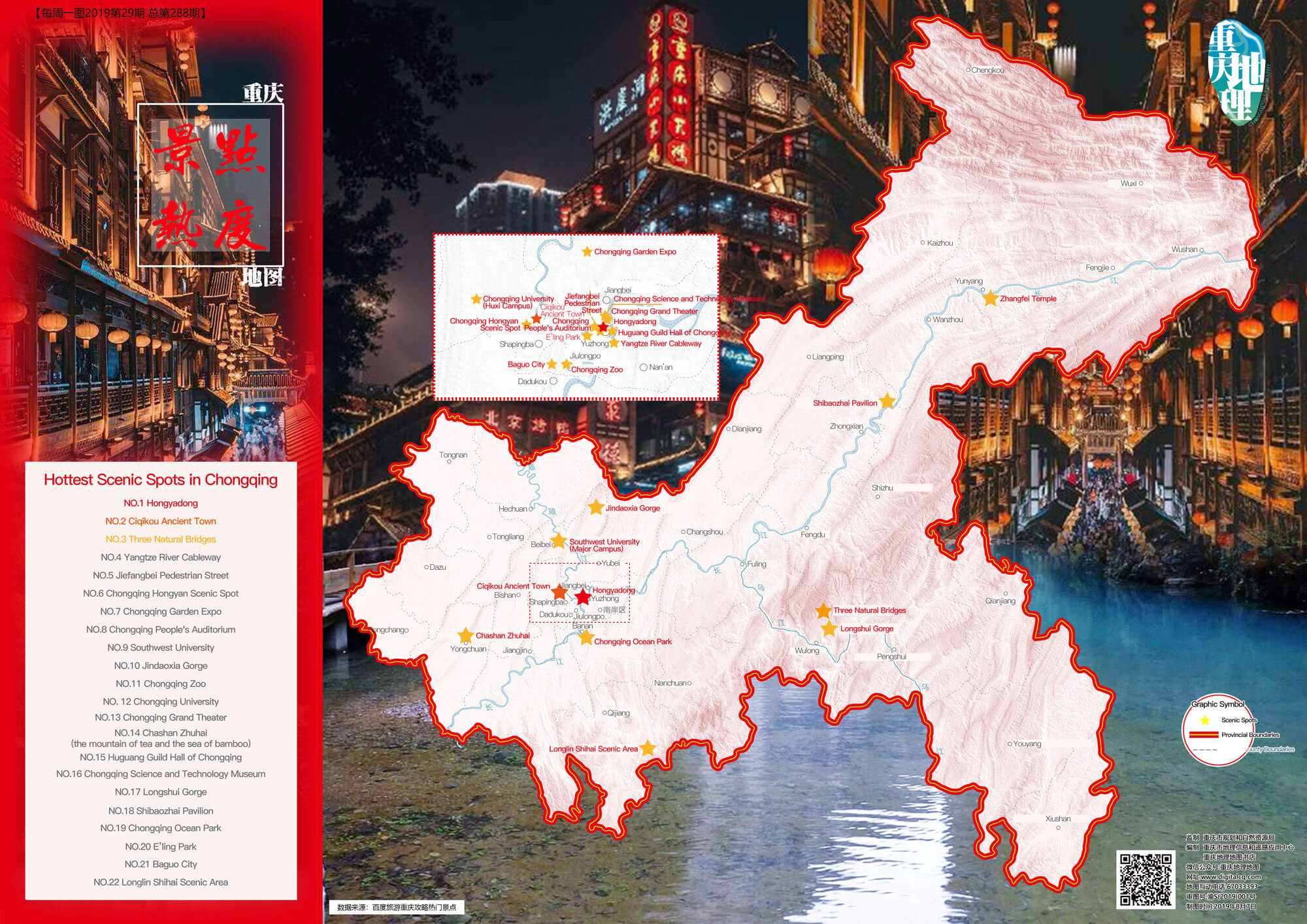 The map of the most popular places with tourists in Chongqing
Therefore follow us, iChongqing, to explore which spots are the most popular ones for visitors. We list and introduce the TOP 5 in detail for you below.
Yuzhong: Hongyadong
Located at Cangbai Road, Hongyadong is at the intersection riverside zone of the Yangtze River and the Jialing River. The incredible place has another name or two:  The Stilted Building on the Cliff, and The Old Chongqing in Memories. Meanwhile, it is an eye-catching building community featured with Bayu culture.
As a unique Pedestrian Street in the Air, Hongyadong becomes an integrated area of sightseeing and recreation. Additionally, many people said that it had the silhouette of Spirited Away, from Miyazaki's Ghibli movie, especially at night. There are 11 floors here. The lights will illuminate Hongyadong from 6 p.m. until 10 p.m.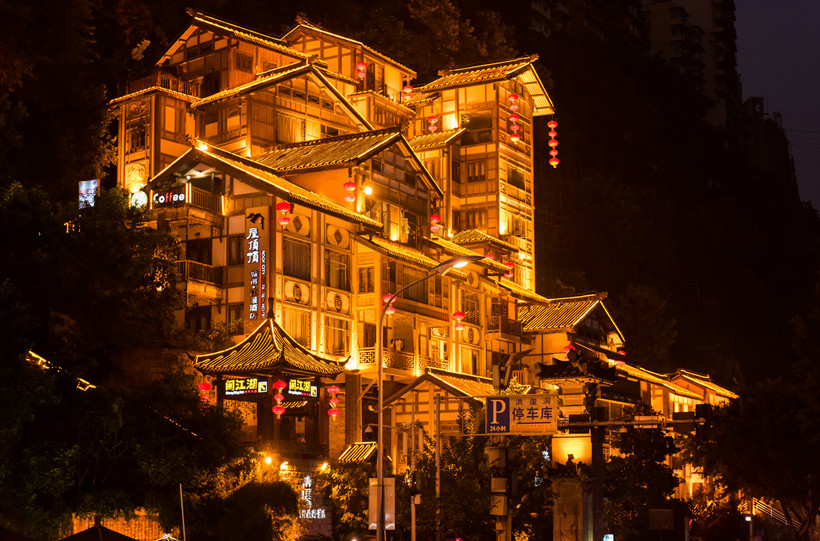 Hongyadong has the silhouette of the Spirited Away, from Miyazaki Hayao
You can take a boat at dusk on the Jialing River. After having a cup of tea, you can enjoy the amazing night skyline of Hongyadong there.
Address: the first floor is at 88 Binjiang Road of Jialing River, and the top level is at Cangbai Road. Both locations belong to Yuzhong District, and you can choose anyone to arrive there
Transportation: CRT line 1 or 6 to Xiaoshizi Station, or CRT line 2 to Linjiangmen Station. Take bus NO. 111, 112, 114 to Hongyadong Station or take NO. 105 to Xiaoshizi Station
Shapingba: Ciqikou Ancient Town
Do you know where you can find the primitive elements of the local Chongqing, such as architecture, folk culture, food, and so on? Ciqikou Ancient Town, which collects these elements altogether, is an essential wharf at Jiangling River. Therefore, tea houses there will present some aspects of the culture and history of the waterfront. Moreover, there is Sichuan Opera and many unique crafts of Chongqing in Ciqikou Ancient Town.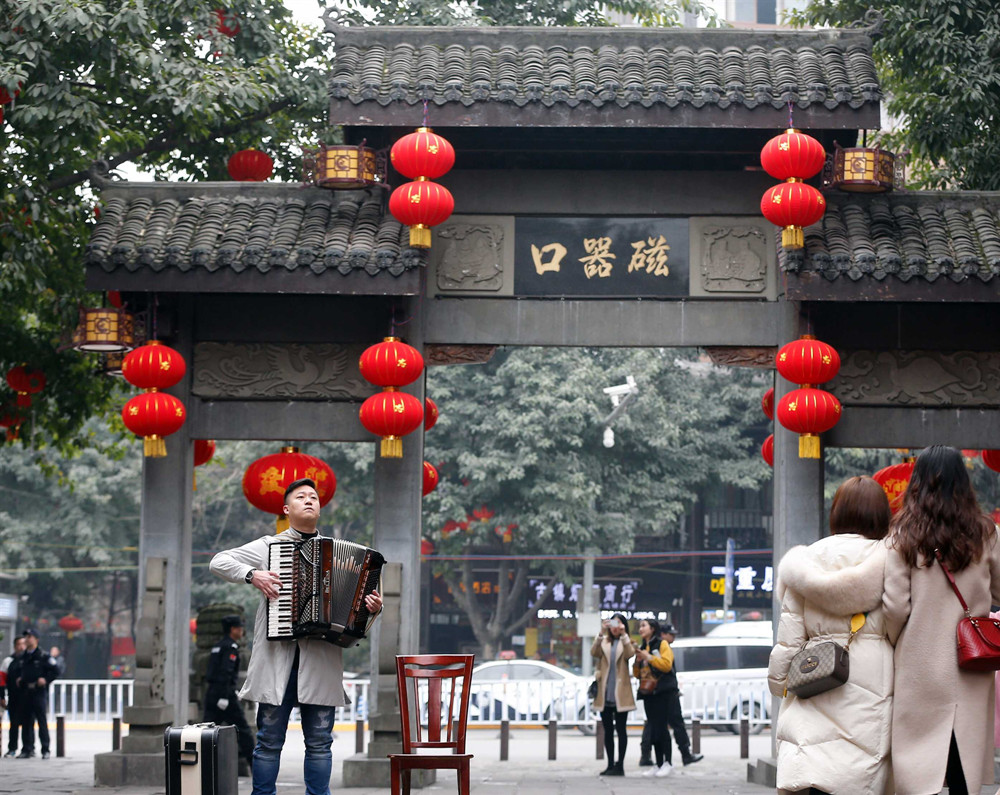 Ciqikou Ancient Town has a profound history and culture, attracting more and more people visit there
Ciqikou Ancient Town used to be a village of porcelain and became a must-see, often jam-packed tourist destination. First glance will show you the life of the local people, but when you experience the town more deeply, it will show you the traces of time.
Address: 1 Cinan Street, Shapingba District
Transportation: CRT line 1 to Ciqikou Station
Wulong: Three Natural Bridges
After millions of years' tectonic uplift and water erosion, magnificent and beautiful karst landform appeared in Wulong. Three natural stone arches and two large holes lie there, obtaining an unusual name – Three Natural Bridges.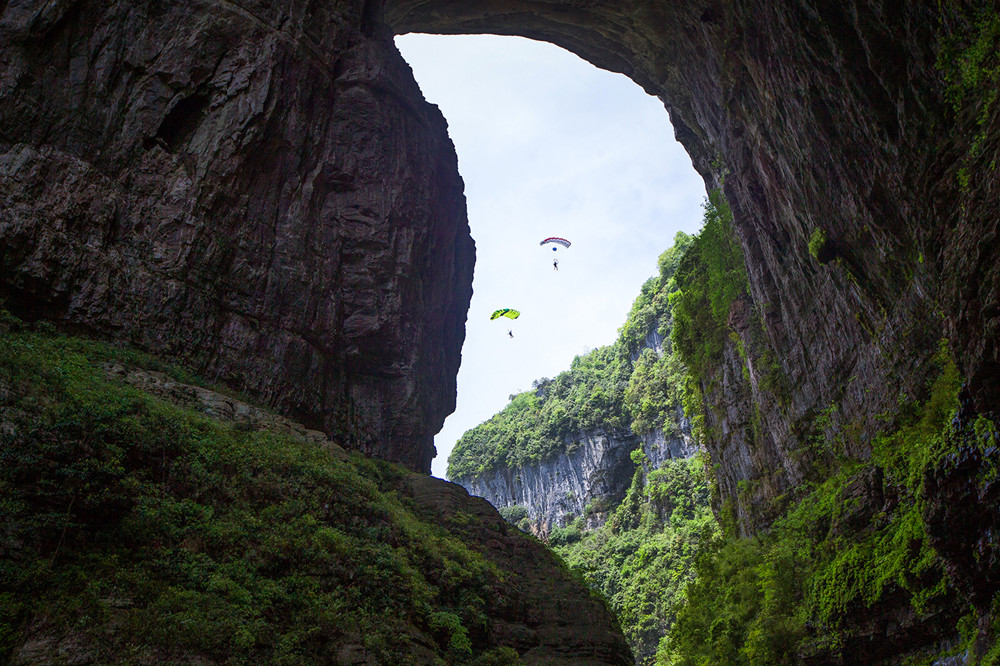 A corner of Three Natural Bridges in Wulong District
Different from Natural Bridges State Beach in the United States, Three Natural Bridges in Chongqing features natural bridges across the land with holes. Moreover, it is the largest natural bridge groups in Asia. Three bridges are Tianlong Bridge, Qinglong Bridge, and Heilong Bridge, of which Qinglong Bridge has the highest perpendicular throw with the height of 350 meters and a span of 400 meters.
The walkway in the scenic spot crosses in the cliffs, caves, and ponds. You can enjoy the splendid work of nature.
Address: Fairy Town, Wulong District
Transportation: Urban area – Chongqing Inner Ring Expressway – Baotou-Maoming Expressway – Wuxian Road – Fairy Mountain
Yuzhong or Nan'an: Yangtze River Cableway
As the NO. 1 Air Corridor of the Yangtze River and the AirBus of Chongqing, Yangtze River Cableway was put into operation in 1987. Apart from buses, ferries, and metros, it is a unique and traditional public transportation in Chongqing, the Mountain City.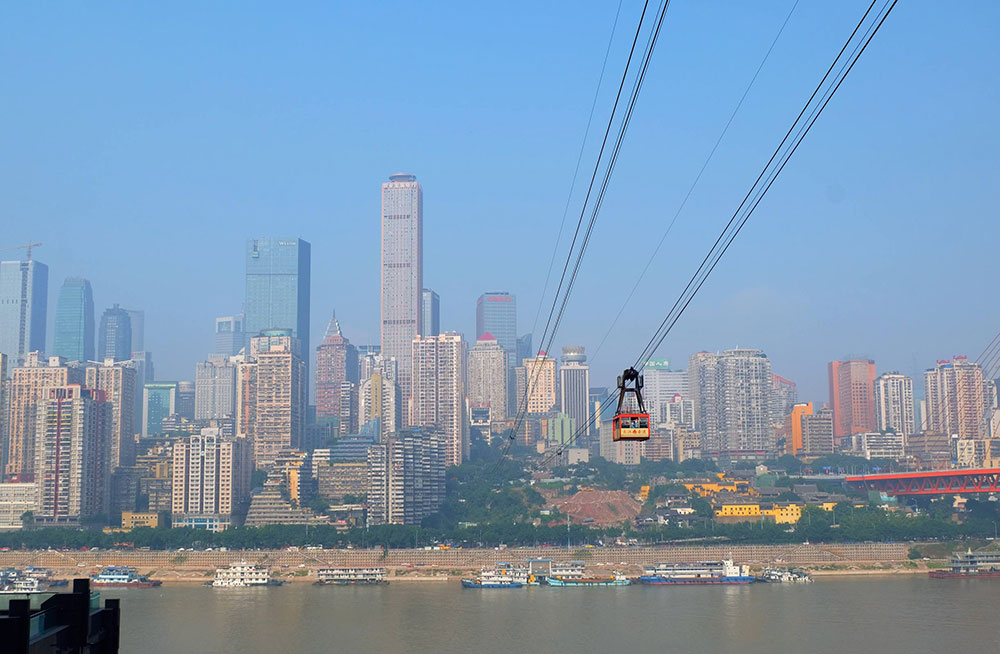 Yangtze River Cableway
There were two major river cableways in downtown Chongqing during the 1980s. The first one was Jialing River Cableway, put into use in 1984, one-way ticket costs only 0.1yuan at the beginning, and closed after 30-years' operation, due to some safety concerns. The second is the Yangtze River Cableway, which has been operating since 1984. It has been the primary means of public transportation for people crossing the Yangtze River from Yuzhong district to Nan'an for decades.
The Cableway, stretching 1,166km, takes 5 to 6 minutes to cross, and is a tourist attraction rather than the main form of public transportation nowadays. Taking the cable car can give you a perfect way to enjoy the beautiful and unique scenery in the 3D vertical city. It has become the city's landmark and a touching memory for the locals.
Address: 151 Xinhua Road, Jiefangbei, Yuzhong District
Transportation: CRT line 1 or 6 to Xiaoshizi Station
Opening hour: 7:30 – 22:30
Yuzhong: Jiefangbei Pedestrian Street
Jiefangbei (The Liberty Monument), located in the center of the downtown Chongqing, was first built in 1940. Today, Jiefangbei is dwarfed by the city's skyline, snack street, shopping malls, business, and entertainment.
However, it is always the spiritual symbol of the Chinese people's fight against invaders and exceptional contributions to world peace.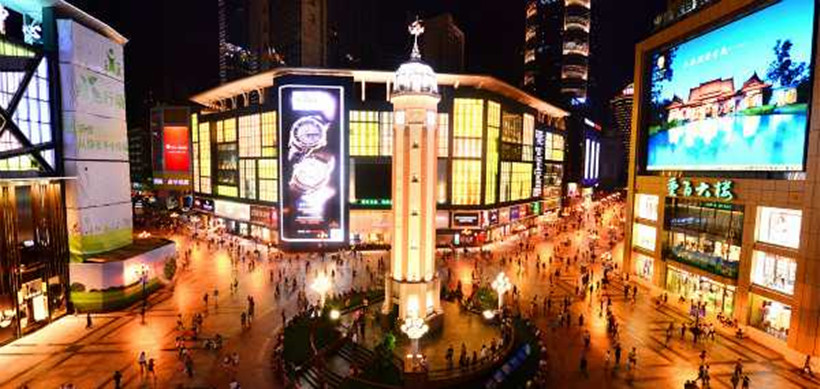 The Liberty Monument at Jiefangbei Pedestrian Street at night
It's a significant landmark and key attraction in Chongqing. Every year it acts as a gathering place for people on Christmas and New Year's Eve, whereas thousands of colorful balloons are released to the sky at midnight. This is the most popular place for New Year's Eve celebration.
Address: 100 Zourong Road, Yuzhong District
Transportation: CRT line 1 or 6 to Xiaoshizi Station