By Jieyu Wang, iChongqing News
Chongqing — The Forum on Big Data and Smart Technology Light the Future, part of the 2019 Smart China Expo (SCE), launched in the afternoon of August 28. The forum has received strong support from government sectors, including the Ministry of Industry and Information Technology (MIIT) and the Ministry of Housing and Urban-Rural Development, and institutions such as the China Economic Information Service (CEIS), China Academy of Urban Planning and Design (CAUPD), the China Academy of Information and the Communications Technology (CAICT) and Regional Science Association of China (RSAC).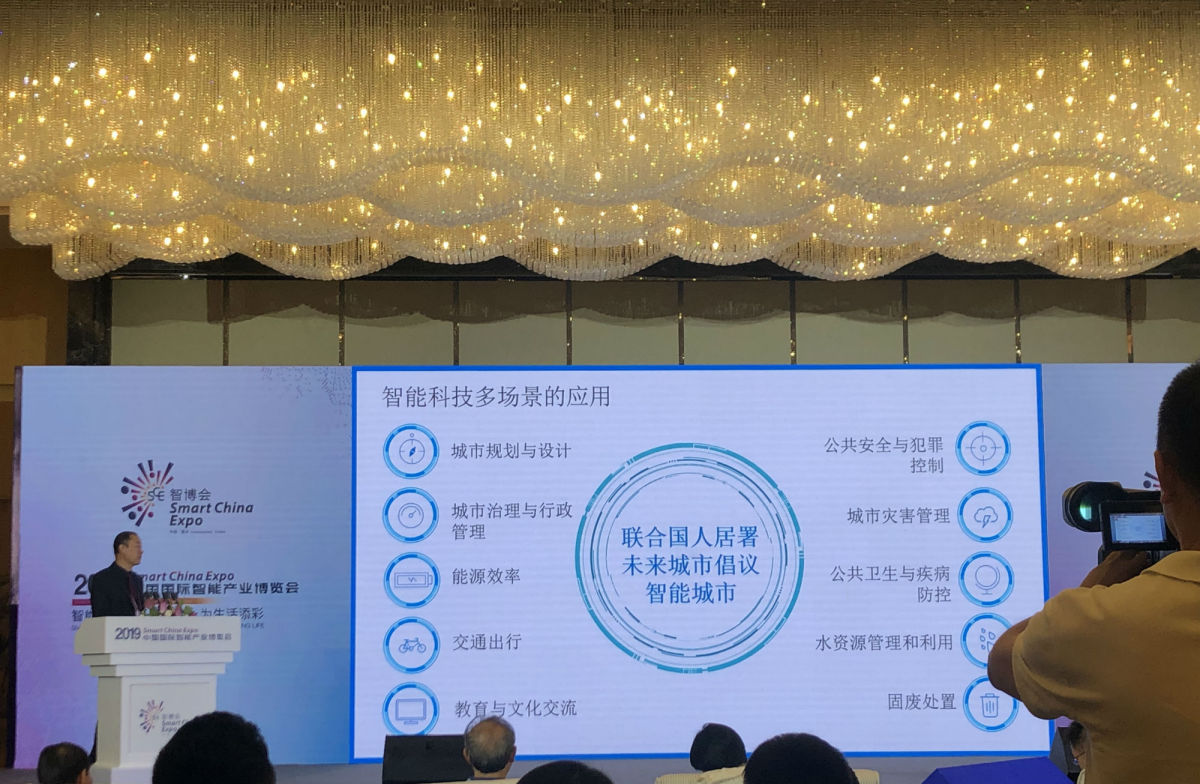 Speeches themed on the intelligence development of future cities were given by Zhang Zhenshan, the Chinese manager of the UN  Human Settlements Programme.
Many prominent experts, scholars and representatives of excellent enterprises at home and abroad had in-depth discussions about the application of big data in urban construction and the development of city intelligence system, aiming to explore how to boost the integration of "Urban safety and Big Data", "Urban Planning and Big Data" and "GIS and BIM".
At the sub-forum, the National Standardization General Working Group on Smart City (SMCSTD) released an Urban Operating System (OS). The OS, dubbed as an "Unmanned Autonomous Big Data Intelligence Operating Platform," is used to provide secure and open data and service resources for third-party teams through a standardized packaging of the urban intelligence infrastructure and system. It can autonomously coordinate resources and accurately accomplish system-level tasks. This facilitates third-party groups to achieve individualized application at a low cost via the platform. The Urban OS provides a basic operating platform for the management of regional data resources and the application of intelligent facilities and enables the efficient and sequential utilization of regional big data and intelligence resources. By this means, it will create an internet application eco-system that offers an in-depth intelligence experience for local authorities, service providers, residents, and visitors.
In May 2019, the CEIS, CAUPD, the CASS City and Competitiveness Research Center and some other institutions initiated an Action Plan for Future Cities.
The plan focuses on two key periods: From 2020 to 2035 and from 2035 to the middle of this century. It is launched to seek for a "Chinese approach" for urban governance and industrial revolution system integration by practical exploration and theoretical thinking about urban planning, construction, and social governance.
Based on the Action Plan, the forum adheres to the philosophy of conducting an innovative development pattern to build a safe, efficient, green, and livable city better than ever.
It was stressed that the application scenarios of future cities such as Future Habitation, Smart Community, Smart Home, Smart Security, and Smart Retail, would discuss and analyze the application and development trend of Big Data Intelligence in future urban planning, habitation environment construction, urban management and the life of citizens.