Festive Atmosphere at Tongliang's Temple Fair
By YULING CHENKAILONG TAN|Jan 22,2020
A pleasant atmosphere sets in as the Lunar New Year nears. The 2nd Tongliang (Chongqing) Spring Festival Temple Fair was recently inaugurated at Long City Paradise Walk. Traditional Tongliang delicacies, wine, signature handicrafts, and folklore all turned up. The boisterous temple fair brought back every memory of the Spring Festival.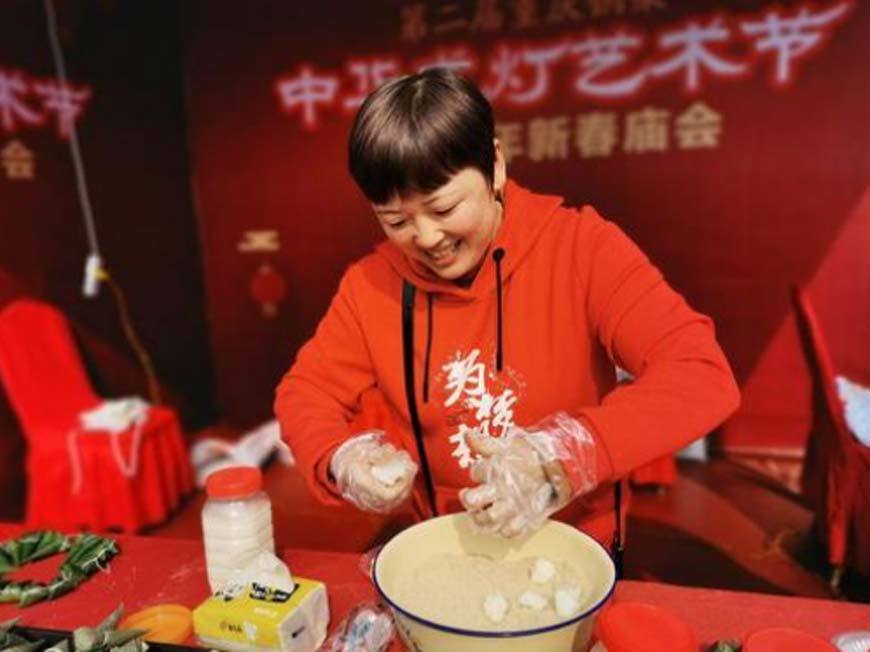 On the afternoon of January 19, citizens flocked to the temple fair in the caressing warmth of the winter sun. The majority of them went to the food exhibition area. Sweet Chongchong pastry and traditional pastry Orchid Roots were bought in large amounts. Ms. Pu is heading home for the Spring Festival. The first thing she savored at the temple fair was Chongchong pastry, a signature snack of Tongliang.
"The lively temple fair creates a happy Spring Festival atmosphere. The taste of Chongchong pastry remains the same," Tongliang citizen Ms. Pu said. As a signature snack of Tongliang, Orchid Roots was another specialty that was also much sought-after. Many locals brought their children to the temple fair, where they bought authentic Orchid Roots and other traditional snacks as a gift to relatives and friends. "It's the Spring Festival. This is a must-buy," Tongliang citizen Mr. Luo said.
The 2nd Tongliang (Chongqing) Spring Festival Temple Fair would last from January 15 to 23, 2020. An assortment of traditional Tongliang specialties and delicacies, including Orchid Roots (a pastry), Tongange noodle, Qinlaoyao pickled chicken feet, Home Wormwood, Scent of China (a fragrance), Gift from the Home of Dragon, and Paile ceramics, will be on offer at the temple fair, along with a display of traditional folk customs like making rice puddings and glutinous rice cakes.