Two Sessions Special: Chengdu-Chongqing Economic Circle Roundtable
By Rui Hu, James Alexander, Yiling WangICHONGQING|May 27,2020
Chongqing – on May 25, iChongqing conducted a roundtable discussion on the topic Chengdu-Chongqing Economic Circle. This special discussion focuses on experts and enterprises that are active in western China and having various major cooperation projects. The theme is the Chengdu-Chongqing Economic Circle, which is located in the upper reaches of the Yangtze River. It is the urbanization area with the highest development level and great development potential in western China.
On May 22, when Premier Li Keqiang representing the 2020 government work report, he stated that China will continue to promote large-scale development in the western region, the development of the Chengdu-Chongqing economic circle will be promoted. Priority will be given to new infrastructure and new urbanization initiatives and major projects, which not only boost consumption and benefit the people, but also facilitate structural adjustments and enhance the sustainability of growth.

In this roundtable, we have invited 5 distinguished guests from different filed, Mr. Bazzoni Paolo, the chairman of the China-Italy Chamber of Commerce and member of the Bonfiglioli Driver China Executive Board, Mr. Luisi Gianluca, a CICC board member and Chongqing director, and president of Chongqing DeZhuang International Trading Co. Ltd., Dr. Pu Yongjian, professor of the School of Economics and Business Administration at Chongqing University, Mr. Vincent DENG, managing director of Hong Kong VA Galleries, trustee of the Development Council of Today Art Museum and Hong Kong Chongqing Friendship Federation, and Chevalier of the Ordre des Coteaux de Champagne, and Mr. Jefferson Chen is vice president of Hong Kong Chongqing –Taiwan Youth Exchange Promotion Association, member of the American Chamber of Commerce in Southwest China.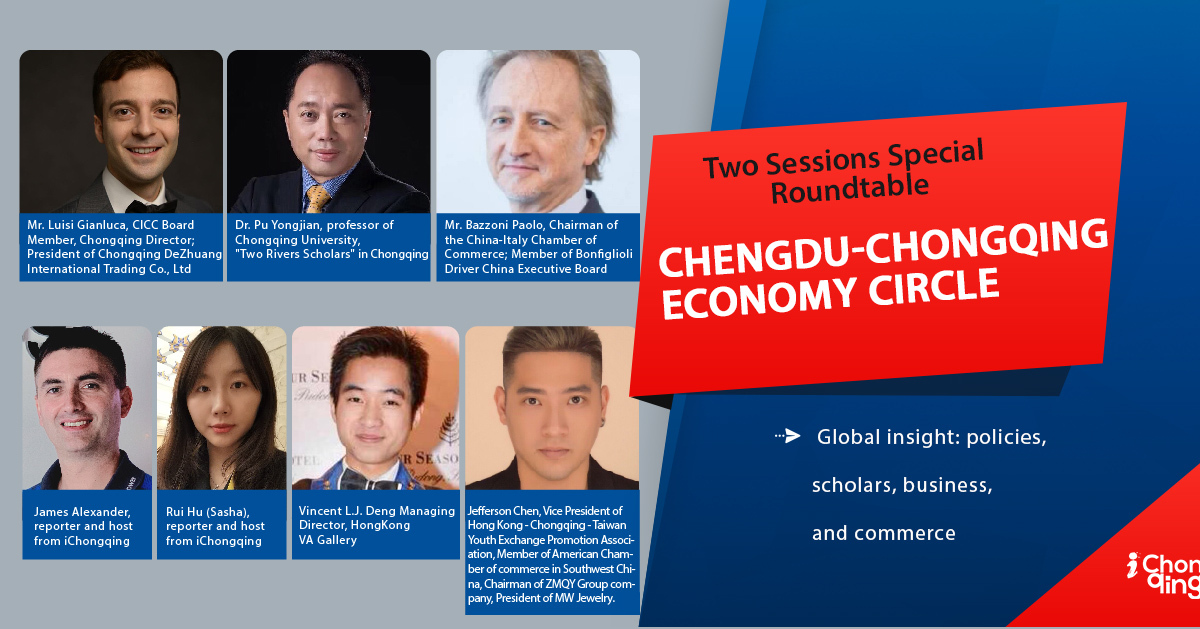 Through this roundtable talk show, we have addressed the various topics related to Chengdu-Chongqing Economic Circle, the lifestyle and business environment of two cities and expectation for joint development according to the strategy. Presenting different guest's perspectives, Mr. Bazzoni Paolo and Mr. Gianluca Luisi represented their insights as CICC and citizens who now living in Chongqing, and Prof. Pu Yongjian stated his opinion on an economist's point of view, Mr. Vincent DENG and Mr. Jefferson Chen as businessmen and citizens living in Chongqing. This show will bring you the twin-cities growth with different angles.