Chongqing – On the morning of June 19, 2020, accompanied by the stirring and passionate music of Hungarian Rhapsody, another China Railway Express (Chongqing-Xinjiang-Europe) loaded with 41 containers slowly drove out of Tuanjie Village Station in Chongqing, carrying Chinese-made laptop and computer products, small electrical appliances, daily necessities, toys, office supplies and cross-border e-commerce goods, speeding towards Hungary's Budapest, the pearl of the Danube.
In 2017, China Railway Express (Chongqing-Xinjiang-Europe) began to transport Chinese goods to Hungary's Budapest from time to time by means of international railway intermodal transport. After years of efforts, the Chongqing-Budapest line finally realized regular operation in a direct way this year, and formed a stable schedule of one shift per week. So far, over 4,000 containers have been transported to Hungary through China Railway Express. From January to May this year, more than 900 containers have been transported, an increase of more than 50% year on year. China Railway Express has become an important trade channel between China and Hungary.
To meet the actual shipment needs of enterprises and ensure the unimpeded import-export channels during the epidemic, on April 26 this year, China Railway Express became the first in China to open a regular direct train from Chongqing to Budapest, with a transit time of 14 days for the whole journey. By far, a total of nine Chongqing-Budapest direct trains have been operated on a regular basis, which further expands China Railway Express 's radiation scope in Central and Eastern Europe with Budapest as an important node, and the channel layout of China Railway Express extending to Central and Eastern Europe has played a crucial role. Since then, more goods from Southwest China, South China and East China, as well as East Asia and Southeast Asia can be more easily transported to the inland markets of Central and Eastern Europe through the train. The number of goods transported to Hungary by China Railway Express is increasing year by year. From January to April in 2020, the import and export value between Chongqing and Hungary reached 290 million yuan, with a year-on-year growth of 48.8%.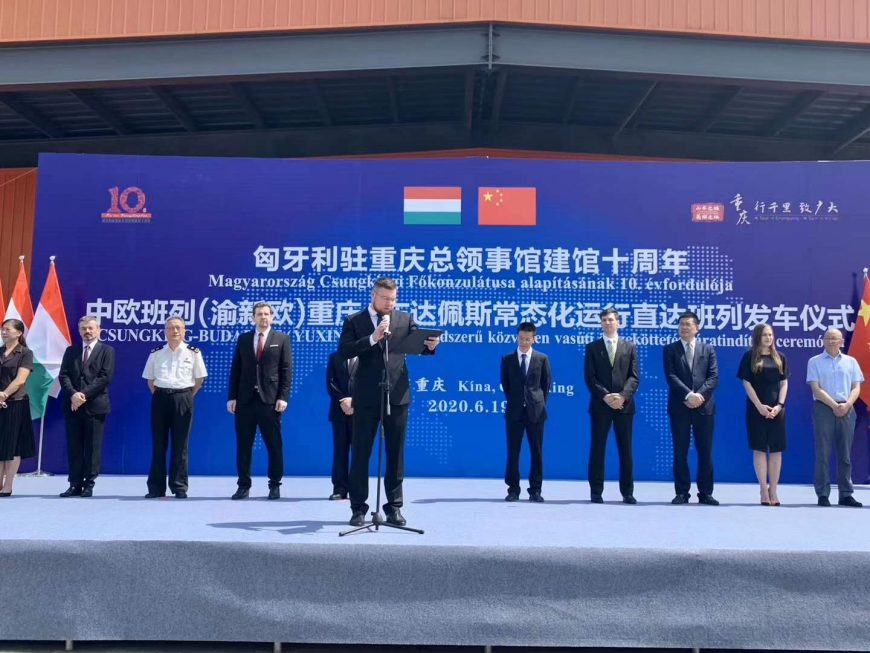 Under the BRI, Budapest-Belgrade Railway project, which is the largest cooperation in Europe between Hungary and China, will greatly facilitate the trade between China and Europe.
As the representative of the freight train booking customers, Wang Huoquan, deputy general manager of YPL ( said that with the increase of trade between China and Europe, especially the rapid growth of China's cross-border e-commerce exports in recent years, the normal operation of the Chongqing-Budapest freight train greatly meets the current demand for cross-border e-commerce logistics. Under the background that the traditional air and sea transportation logistics has been seriously affected by COVID-19 pandemic, China Railway Express is currently the preferred logistics method for cross-border e-commerce. Meanwhile, they are also actively planning their development in Hungary, advancing cooperation and implementation of Budapest railroad terminal and multimodal transport hub projects. In the future, more Hungarian and central and eastern European enterprises and partners will be introduced to export European goods to Chongqing through the channel of China Railway Express, radiating all over China, East Asia, Southeast Asia, and more.