Chongqing– The fiscal revenue of Chongqing Municipality in southwestern China went down 11.2 percent year on year to 105.35 billion yuan (about $ 15.01 billion) in the six months this year, with a sharp decline in the first quarter and a gradual recovery in the second, according to the Chongqing Finance Bureau Friday. Tax revenue totaled 71.05 billion yuan, down 16.6 percent year on year.
From January to June, the municipality's fiscal expenditure fell 10.8 percent from a year earlier to 216.61 billion yuan. Generally speaking, the investment essential spending intensity remains undiminished, and the implementation of significant decision-making arrangements is guaranteed. Against the backdrop of negative revenue growth, social security and employment expenditure increased by 1.2 percent year-on-year, health 2 percent, agriculture, forestry and water conservancy 14.4 percent, science and technology 3.8 percent, emergency disaster response 17.3 percent, and business services 30.4 percent. Also, the increase in expenditures in education, ecological and environmental protection and housing security exceeded the average level.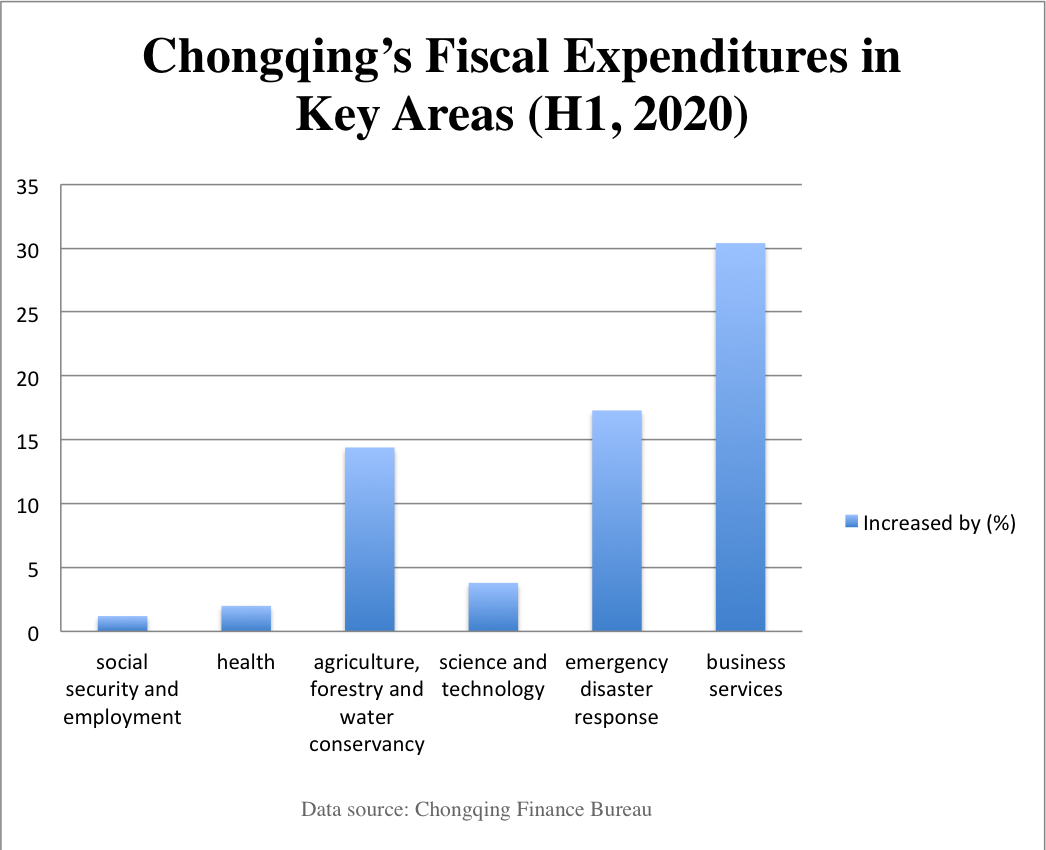 "Whether people's daily lives or community operation, whether epidemic prevention and control or assistance to enterprises, they are guaranteed not to be affected by the reduction in fiscal revenue," said Li Qing, deputy director of Chongqing Finance Bureau. To be specific, the required funds for epidemic control and prevention were insured. No medical expenses have affected patients' visits, and no financial issues have affected epidemic prevention and control. As for poverty alleviation, the fiscal special poverty alleviation funds arranged at the municipal level increased by 20 percent over last year. As of the end of June, 95 percent of the funds had been allocated. Moreover, the municipality's ecological, environmental protection expenditure was 7.2 billion yuan from January to June, with an emphasis on pollution prevention and environmental restoration, and ecological construction in the Three Gorges reservoir area.
China's fiscal revenue rose 3.2 percent year-on-year in June, marking the first expansion this year, official data showed on July 17. In the first half of 2020, the country's fiscal revenue came in at 9.62 trillion yuan (about $1.37 trillion), down 10.8 percent year-on-year, according to data released by the Ministry of Finance.