Glazed vases, Rongchang Pottery, delicate leaf carvings, embroideries……On Sept 5, 2020, "Chongqing Gift" Designing Competition for Tourist Products and Creative Culture Products kicked off in Grass Linen Town of Rongchang District, Chongqing. Meanwhile, activities including the "Chongqing Gift" competition for creative designs, the quality products competition, the evaluation and selection for diplomatic gifts, the forum of industrial development, the exhibition and sale of tourist products, and online sales were also held, which will help tourists who visit Chongqing have more choices when they pick souvenirs in the future.
At the awarding ceremony, 500 sets of tourism commodities consisting of 1000 pieces of items and 320 sets of designing works comprised of over 600 pieces of items participated in this competition. The competition evaluated 400 pieces of "Chongqing Gifts," some among which were chosen as "diplomatic gifts." All of these entries covered multiple categories such as beverage, wines, alcohol, clothes, jewelry, bags, shoes, souvenirs, handicrafts, electrical appliances, and so forth.
Finally, the first prizes went to Covered-bowl teacups decorated with flowers from the Rongchang District, the two-sided embroidery screen and the two-sided embroidery bookmarks from Jiulongpo District, a set of accessories theme as "the embroidered Peach Garden" from Youyang District, and the beverage extracted from grapefruit from Liangping District.
 One citizen said," These 'Chongqing gifts' are very beautiful and unique. I think all of them represent Chongqing's features."
One of the second-prize winners in the competition for creative designs said, "Compared with traditional pickle jars, the ones I designed have been painted with landscapes of Chongqing and added with modern elements."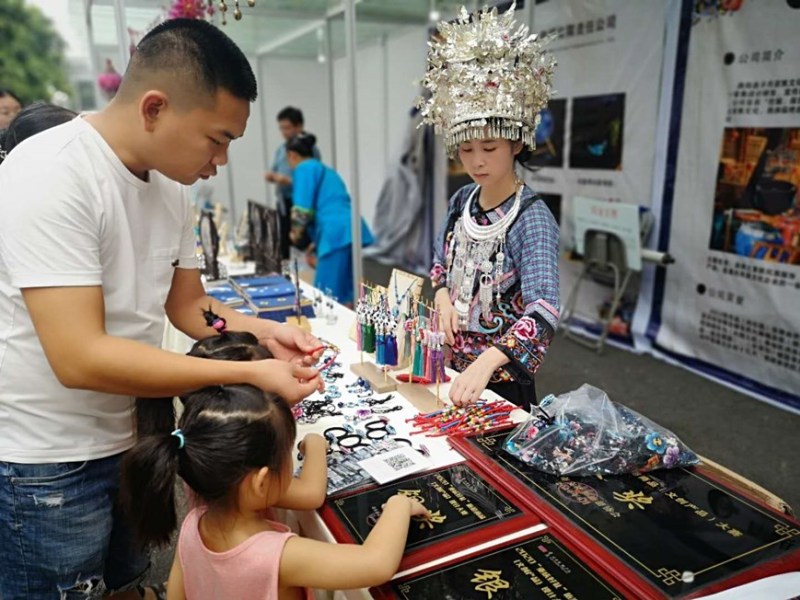 Developing tourism commodities and creative culture products is a significant way to activate tourism resources. In 2019, increasing by 10.2% year-on-year, the added value in Chongqing's tourism retailing reached RMB 27.4billion yuan that took up 26.7% of the total added value in the tourism industry of Chongqing; according to the sample survey on tourists' consumption, per-capita consumption of domestic and overseas tourists who visited Chongqing increased by 38.1% and 8.6% respectively.