Chongqing is a vibrant metropolis hidden in the Sichuan Basin's mountainous areas, cut off by several parallel mountain ridges and connected by the Yangtze, Jialing, and some other rivers. It's not a typical megacity like Beijing, Shanghai, and Shenzhen, where modernization might be taken for granted, but rather affirming evidence of humanity conquering daunting geographical restraints.
The rapid growth of the city of more than 30 million people over the past decade can be vividly demonstrated by the development of the Liangjiang New Area, the country's first-ever inland national opening-up and development zone. Here are a few exemplary industrial parks and development zones in the Liangjiang New Area.
Yufu Industrial Development Park
When President Xi Jinping was talking about "building Chongqing into a strategic supporting point for China's Western Development, and a linking node of the 'Belt and Road' and the Yangtze River Economic Belt," the "linking node" he was referring to is exactly what the Yufu Industrial Development Park aims to be.
Over the years, Yufu has established itself as an "Automobile Manufacturing and Innovation Base," with 82 auto parts enterprises stationed there trying to create the biggest passenger vehicle production base in west China; a "High-End Equipment and Emerging Industries Base," with eight intelligent factories and 17 digital workshops set up there including companies such as rolling stock leader CRRC Limited and IT industry leader Altus Group; and a "Comprehensive Logistics and Modern Services Industry Base," with the Guoyuan Port emerging as the country's largest multimodal hub port for an inland waterway, railway, and road transport.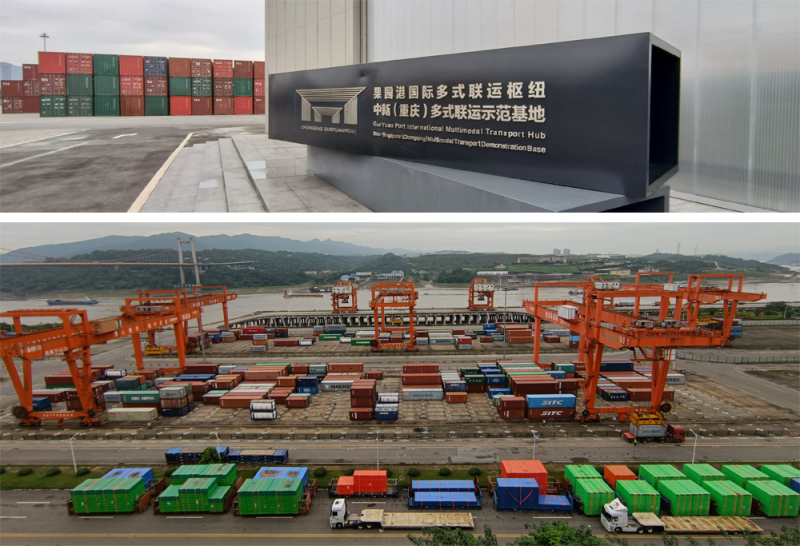 Combo photo shows the entrance to the Guoyuan Port International Multimodal Transport Hub (Top) and an aerial view of the port.
The Guoyuan Port is set to connect over 200 countries and regions along the eastward Yangtze River Golden Waterway Channel; build an international logistics supportive point for the westward China-Europe Railway Express route; reach ASEAN and South Asian markets through the Indian Ocean via the southward New International Land and Sea Corridor in Western China, and contribute to the China-Russia Economic Corridor by serving as the second terminal station of the cross border freight railway.
The Chang'an Automobile Global R&D Center also sits in the Yufu Industrial Development Park. It's an open wisdom R&D platform integrating global resources with a total investment of 4.3 billion yuan, and the world's leading data center using cloud technology. Initiated in 2011 and put into operation in 2019, the Center has 7 functions including design, test, and management, covers more than 12 areas including simulation analysis, noise vibration, and collision, and has more than 180 laboratories including safety, air conditioning systems, non-metallic materials.
Shuitu Hi-Tech Industrial Park
As a strategically important contributor in building Chongqing into an exemplary smart city, the Shuitu Hi-Tech Industrial Park boasts probably the best business environment for Big Data and Cloud industries, with Fortune 500 companies such as China Telecom, China Mobile, China Unicom, and Industry leaders like BOE swarming in to build cloud computing centers here.
The Inspur (Chongqing) Cloud Computing Center, for example, will have an operating capacity of 150,000 servers when finished construction. The Center is one of the seven core nodes in the Inspur Group's cloud services platform. Currently, there are 524 enterprises, 1,200 business systems, and 3,054 host computers on the center's digital government service cloud platform.
Longxing Industrial Development Park
Located near the Chongqing Jiangbei International Airport and the Guoyuan Port, the Longxing Industrial Development Zone enjoys unparalleled advantages in transport and logistics. But perhaps more importantly, it turned these advantages into concrete projects and thriving industries according to its own conditions. The Longxing Universal Airport, with a 1,200-meter-long runway and a 314-square-kilometer trial flight area, is the first newly built airport in southwest China to receive an A-1 rating, the highest level for trial flight airports.
China Express Airline Education and Technology Co., Ltd., a fully-owned subsidiary of China Express Airline Corp., Ltd., invested 680 million yuan to build a new business operation center here in 2017. The project is expected to include a flight training center, a passenger cabin training center, a maintenance training center, research, and development center, an academic exchange center, a trainee dormitory, a standard-sized football court, and other auxiliary facilities.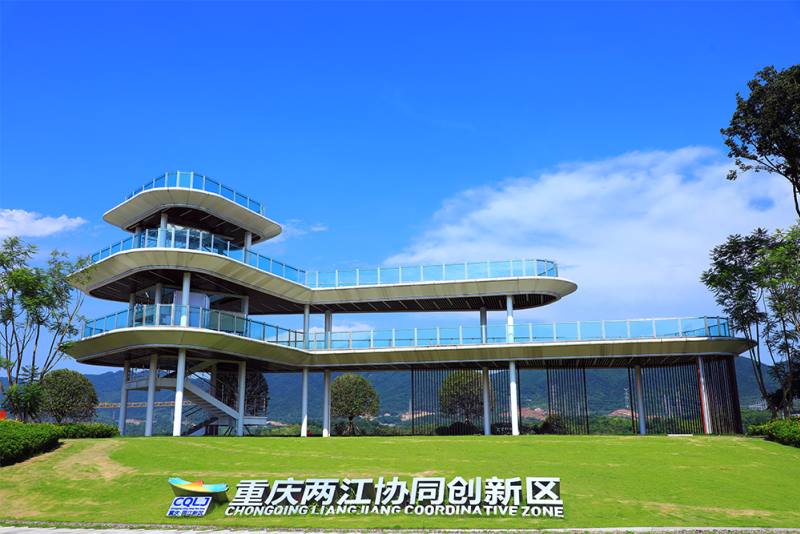 Chongqing Liangjiang Coordinative Innovation Zone
Located in the Longsheng region east of Chongqing's main urban area, the Liangjiang Coordinative Innovation Zone was approved for construction by the municipal government in March 2018 and has become a name card for building a smart city and the Western Scientific City. As of August 2020, the Zone had contracted 27 domestic and international universities and institutes including the National University of Singapore, the Beijing Institute of Technology, Shanghai Jiaotong University, and Northwestern Polytechnical University.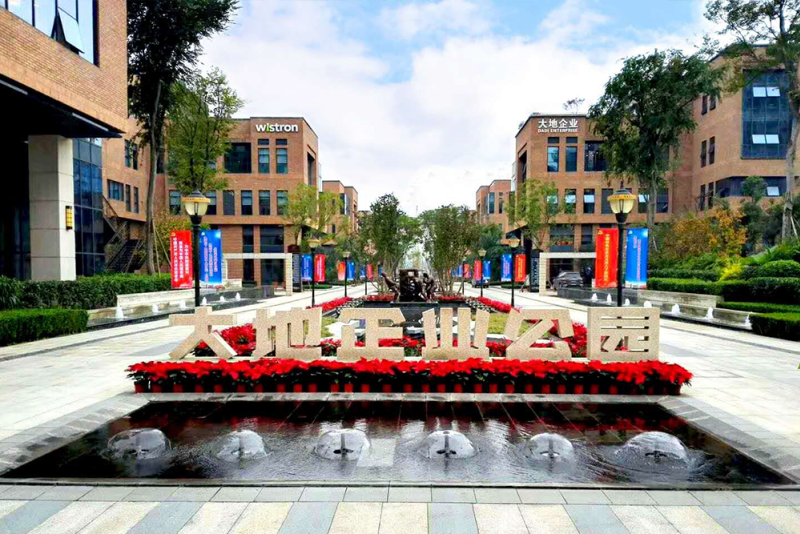 Dadi International Biomedical Industrial Park
The Dadi International Biomedical Industrial Park, sponsored by the Chongqing Wushan Immigration Industrial Park Construction and Development Co., Ltd., focuses on the Big Health industry and has set up two centers and four platforms. As of July 2020, the Park had successfully contracted more than one hundred enterprises, with an estimated industrial output of 20 billion yuan.
The Liangjiang New Area is a strategic linking node of the Belt and Road Initiative and the Yangtze River Economic Belt, a testbed for China (Chongqing) Pilot Free Trade Zone and the China-Singapore (Chongqing) Demonstration Initiative of Strategic Connectivity, and also a major platform to build the Chengdu-Chongqing Economic Circle through the bilateral collaboration with Sichuan's Tianfu New Area.
It has introduced 158 Fortune 500 companies, accounting for more than 50% of the city's total, it was designated as the permanent venue of the annual Smart China Expo and has successfully held the event for three consecutive years.