Just as its name implies, sugar painting, a delicacy, and an exquisite painting is described as a kind of painting created with hot, liquid sugar. It is commonly known as "sugar shadow puppet", "sugar figurine" or "sugar pancake" among Chinese people. Even to this day, the folk art of sugar painting is still popular in streets and lanes, being a sweet memory deeply lingering in the hearts of generations of Chinese people. The technique of Li's Sugar Painting at Longxing Town, at its sixth generation, was included in the sixth batch of intangible cultural heritage list of Yubei District.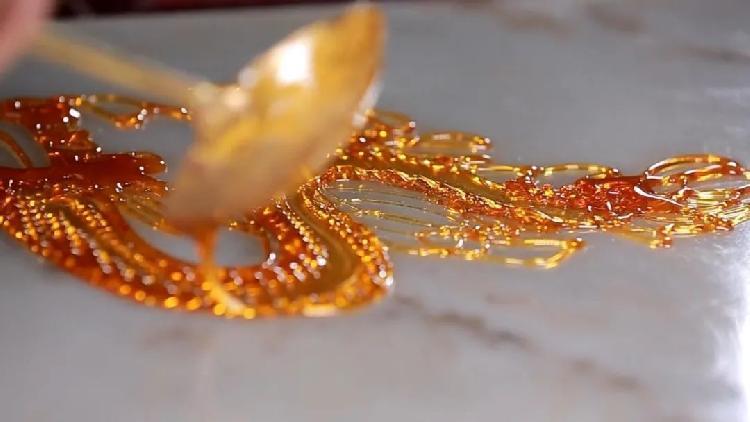 Li Mei runs her sugar painting stall in Longmen Gate South of Longxing Ancient Town, Yubei District, Chongqing. During holidays, this place will be jammed with visitors. Both adults' and children's eyes are caught on her sugar blowing skill. Li Mei still keeps a traditional habit that the customers will first be asked to rotate the turntable with dragon and phoenix patterns for luck and then she will give them a wonderful work of sugar painting.
As sugar painting is finished in one stroke, the painter should design a pattern and the order of stroke in mind before any action. It generally takes hundreds of times of practice to finish one painting and only by doing this can the craftsman paint quickly and smoothly without any interruption. It seems that sugar painting is easy, but it actually integrates the line drawing technique of traditional Chinese painting and the charm of paper cutting.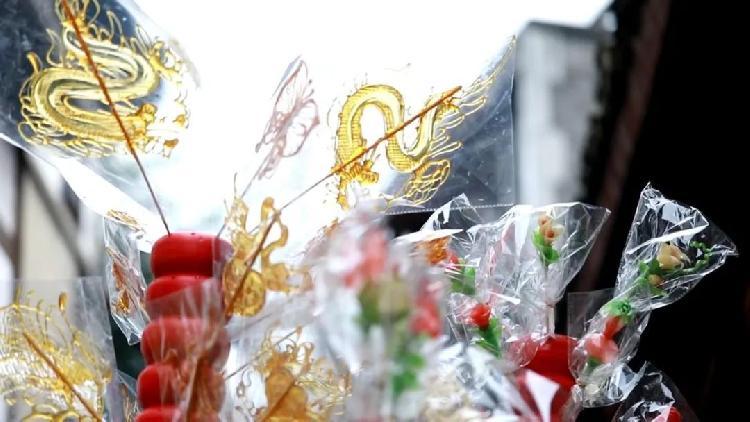 In 2017, the technique of Li's Sugar Painting, which had been passed down through six generations, was on the six batches of intangible cultural heritage list of Yubei District, and together with it, the more magical and more difficult technique of sugar blowing was selected.
In Li Mei's opinion, the key point of sugar blowing lies in the craftsman's skills of blowing and modeling. When the syrup is heated up to a suitable temperature, the craftsman will roll it into a ball and press a deep hole on it with his starch-stuck index finger. Next, the hole will be tightened as narrow as it can be and is drew out until the sugar stick is thin enough. Finally, after it is broken, the sugar stick is as a thin pipe through which the craftsman can blow and model the syrup ball. The whole process of accurate technique and the simple, vivid model takes painstaking training as a price.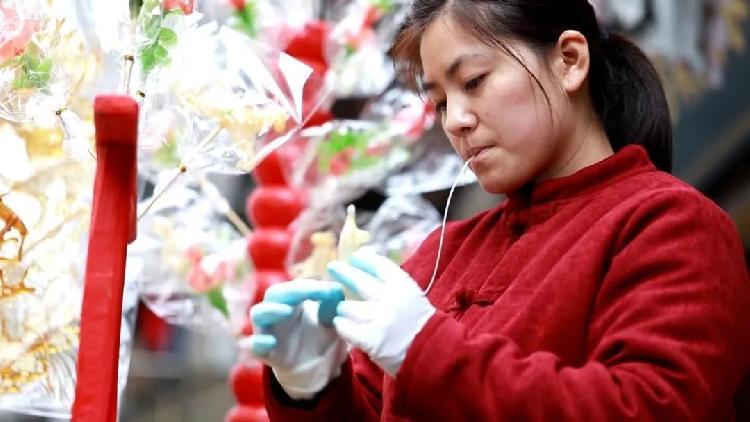 However, the sugar figurine made through the traditional process of sugar blowing doesn't meet hygienic standards, which means the sugar figurine made in this way is only for appreciating, not for eating. To make the sugar figurine attractive and sanitary, Li Mei made herself an airbag for blowing as a replacement of the mouth. After that, she can press down the pedal to rapidly finish blowing after the airbag is connected with the sugar stick.
As a long-standing skill with a history of thousands of years, sugar painting will bloom in modern society. Craftsmen of sugar painting can be seen everywhere, from temple fairs in the ancient town to folk custom exhibitions, cultural exchanges, and other activities.