Chongqing- Paul Tait comes from Noosa on the Queensland Sunshine Coast about 100 kilometers north of Brisbane and is an idyllic Australian beach town surrounded by national parks with glorious warm climes throughout the year.
From an early age, Paul always knew he wanted to become a professional chef and began an apprenticeship immediately after completing school, which has led to a successful career of prestigious accolades that now finds continuation thousands of miles away in Chongqing.
'My life in Australia before I came to Chongqing was very busy! I was once head chef at the Coolum Beach Surf Life Saving Club, where we would cook 600 lunches and dinners every night. We won many awards during my time there, including Clubs Queensland Best Dining and a personal Clubs Queensland Chef of the Year award for myself.'
Paul's hobbies include travel and sharing good food and drink with friends and family. He especially loves Aussie Rules Football, the beach life, exploring new places, and meeting new people.
Hot climate, spicy food and beautiful women
Over the years, he took many holidays in Asia, and it was these experiences that always made him wish to move there at some point in the future, although Chongqing was still a metropolis he'd never heard of when he began searching for the right opportunity.
'I noticed an advertisement from the Blue Olive restaurant in Chongqing which interested me, so I sent them an application. After six months, I finally moved there when they offered me the chance to work with them, and I'm still here five years later!'
Although Chongqing was completely unknown to him at the time, there were soon many positive aspects he learned about the city and people that held a strong appeal to him. In particular, he wanted to choose a location where he could experience the real China and a completely new way of life.
'I had never heard of Chongqing before, so I began doing some research and found that every website described the same famous characteristics, which are the hot summers, spicy food, and beautiful women!'
'My desire was to live somewhere that's not a mainstream city so that I could feel what China is really like, get to know the people, and experience a culture entirely different to Noosa. Chongqing has completely lived up to its name ever since I arrived, and my experiences have been amazing.
'I really didn't know what to expect, but I was definitely up for the challenge of living in the middle of China where I couldn't read, write or speak Chinese. It was always going to be interesting!'
When Paul came to settle in Chongqing, the friendly and hospitable nature of local people instantly made a deep impression, while the scale, topography, and vibrancy of the city have never failed to amaze him.
'People in Chongqing looked after me from the word go, even though they couldn't understand a word I was saying with my very strong Australian accent. They are always very eager to know where you come from, what you do here, and will go out of their way whenever you need any help. This has really made my life in Chongqing an incredible experience.'
'What surprised me the most is the sheer size of Chongqing! The infrastructure goes over, around, and through rivers, mountains and valleys! The development never stops either. There are still new skyscrapers, bridges, and tunnels going up all the time!'
'There are so many cool areas I like to visit in Chongqing as well, some of them very close to home. My apartment is near Eling Park in Yuzhong District, where the panoramic city views are breathtaking! What's more, there are some awesome barbecue places in the mountains where you'd barely imagine you are 30 minutes away from this massive city!'
Making waves in Chongqing
As a professional chef, the food connection has naturally proven a source of popularity with local people, business partners, and the ex-pat community alike. Furthermore, his willingness to balance authenticity with the need to cater to regional tastes has allowed him to succeed where others have previously failed.
'I have noticed there are more and more western-style bars and coffee shops opening all the time in Chongqing. However, western restaurants still often struggle in the long term, as hotpot and Sichuanese dishes are undoubtedly the preferred way to dine for the vast majority of locals.'
'Almost all the western restaurants that were here five years ago when I arrived are now gone, and new ones have opened in their place. Because of this difficulty, I have started to diversify by investing in a hotpot restaurant.'
'Chongqing people are very proud of their culinary traditions, so they get very excited if you can add a Sichuanese twist to western food. For example, I have taken part in events where I have cooked Sichuanese food, like at the Chongqing Noodle Festival. Also, I have released online videos themed on east meets west fusion dishes.'
His experiences of cooking Sichuanese food led him to create the hotpot hamburger, which enjoys great popularity with local people thanks to the blend of hotpot flavored sauces, crispy lotus root slices, sesame, and coriander.
On arrival in Chongqing, Paul first worked at the Blue Olive before opening his own restaurant called Noosa Story, where he provided home deliveries and catering services for events. Later, he returned to the Blue Olive as partner-owner and eventually merged the two businesses together. He has also played a consulting role for the Light's Burger and Grandma's Kitchen chains in Chongqing and Chengdu.
The Australian and Chinese governments have invited Paul to cater for numerous private dinner parties and events, where he has used the occasion to promote Australian produce and culture to dignitaries and local people.
As his reputation grows, Paul has found that new opportunities in Chongqing and elsewhere in China abound for foreigners who can make a name for themselves, especially in this era of open and prosperous development.
Chef training colleges around China regularly invite him as a guest teacher. Meanwhile, he has made appearances in TV ads for electric cars, a hot spring resort in Chengdu, and even played the role of an American soldier in a recent Korean War film production!
'I have particularly enjoyed teaching at chef schools because the students are very eager to learn about new food and culinary techniques. Chongqing people are generally very open to learning about other cultures and like to try out different cuisines. I really enjoy the variety of work, because whether I'm cooking in a restaurant, at an event, or teaching in a chef college, no two days are ever the same. Local kids also love cooking classes, whether it's at the restaurant or in school.'
Making friends in Chongqing never a problem
In addition to striking the right balance between authenticity and local tastes, the key to success has been finding the right business partners and staff so that his restaurants may continue to grow and prosper in the long term.
'I have worked with three different groups of business partners here in Chongqing. In my experience, one didn't go well, but the other two have been superb! I often receive attractive partnership offers from various food and beverage companies in Chongqing, but it still makes sense to know them well before committing to anything.'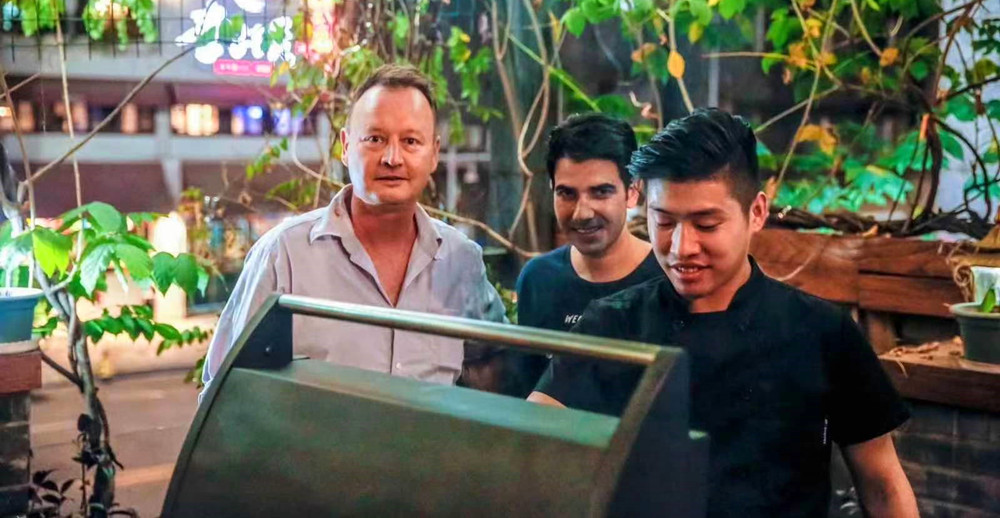 Finally, Paul spoke a few words about the staff in his restaurants and what he thinks is key to building a friendly rapport with locals in Chongqing.
'Although I'm very relaxed and easygoing, I always insist on things being done properly in the kitchen. As in other countries, you find there are staff who can handle the pressure, while others fail to adapt. One Chinese chef who worked with me from when I first arrived is now doing very well as head chef in another western restaurant.'
'In Chongqing, I have found that easy-going and fun-loving people, especially those who cook well, never have difficulty making friends with local people. Also, as there aren't many western chefs in the city, you can become popular very quickly with the ex-pat community if you make authentic western dishes.'
'I think there are many things that make Chongqing a truly amazing city, the people, the food, the scenery, and these things will never change. Chongqing people are very proud of their city, and so they should be!'