Fu Yuxiang, an artist, born and raised in Chongqing, is surprised by the fact that his exhibition becomes the flavor of the month among the locals.
A contemporary art exhibition entitled "Poetic Wormhole" has been held at the former site of a century-old church in the traditional characteristic style region of Shancheng Alley, Chongqing. In the artistic forms of oil painting and sculpture, humans, animals, and plants' beauty is concretized in historical and natural scenarios, attracting tens of thousands of visitors every day. A slew of visitors has expressed their feelings in the visitors' book.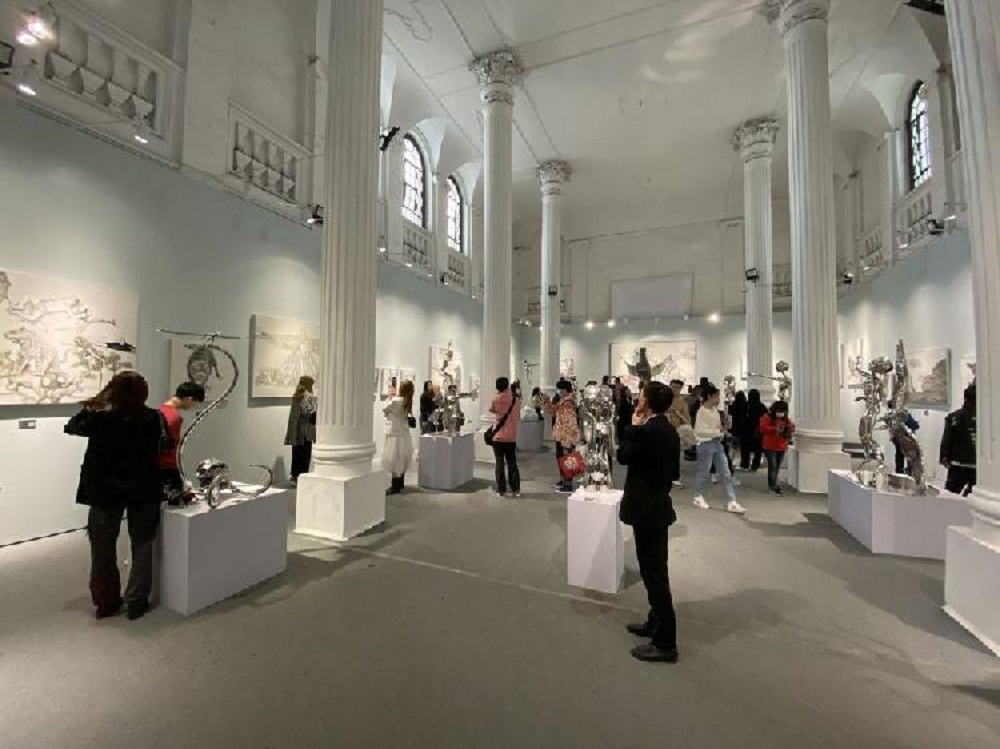 "Art is the embodiment of the style and image of a city. A lack of art entities makes a city imperfect." Fu Yuxiang, for whom this art exhibition is held exclusively, said that cities like Paris and Rome are best known for a rich mixture of artistic and cultural deposits. Chongqing, a city, known as an online sensation, is home to imposing scenery and fantastic geographical landscapes. As more emphasis has been placed on establishing spiritual culture pillars, cultural and artistic landmarks with local characteristics have sprung up.
The traditional characteristic style region of Shancheng Alley, where the exhibition is located, is one of Chongqing's burgeoning cultural and artistic landmarks. Located on the Yangtze Riverbank, it is built on the hillside and along the cliff. Through preserving the courtyards, stilted buildings, and air-raid shelters built since the Ming and Qing Dynasties, it oozes with a strong sense of history as the epitome of the time-honored "Mother City of Chongqing." Surprisingly, it once fell into oblivion, even unknown to the locals.
Three years ago, the Yuzhong District government, where the Shancheng Alley is located, restored and transformed the Ally based on preserving its historical and cultural features and original buildings. After reopening in February of this year, this old-line historical space catapulted to fame as a new magnet for tourists in Chongqing.
"Plenty of other old buildings have also been rebuilt in recent years, like Testbed 2 and Beicang." Li Xiaoxi, Deputy Director of the Exhibition Department of Chongqing Art Museum, said that after being rebuilt into a cultural and creative park, Testbed 2, a one-time printing house, gained a new look while retaining its historical heritage. The former warehouse of Jiangbei Textile Factory, built in the 1950s and 1960s, has now been renamed Beicang and is reborn as a public library and leisure business district in the city center.
Nanbin Road, which stretches for tens of kilometers, is billed as the "Street of Chinese Cuisine." The emphasis placed on the improvement in culture and art has gradually grown into a hub of cultural activities. This top-rated waterfront road is home to many emerging cultural landmarks like Shi Guangnan Grand Theater, Changjiang Museum of Contemporary Art, 303 Theater, Longmenhao Old Street, and Memorial Hall of the Palace Museum Collection's Evacuation to the South.
"Chongqing has been a hub of politics and culture since ancient times. In Bayu Region, which is noted for its long-standing history and profound cultural heritage, cultural treasures are gaining a new look, and more artists are pooling their efforts for the rise of Chongqing, a new online sensation refined internally and externally," said Fu.