As a mountain city, Chongqing enjoys a natural landform edge in developing China's first destination for outdoor sports. As Chongqing becomes the host city of a series of brand sporting events by virtue of abundant green mountain and clear water resources, outdoor sports have emerged as a calling card of the local sports scene.
As the host city of Chongqing International Marathon, Chongqing International Women's Half Marathon, Chongqing International Half Marathon, mountain marathon, forest marathon, countryside marathon, cross-country running and other sporting events, Chongqing has become the first choice for outdoor sports nationwide.
The Administration of Sport of Chongqing and the Chongqing Geographic Information and Remote Sensing Application Center have jointly rolled out the Series Atlas for "National First Destination for Outdoor Sports" Developed by Chongqing. Today, we will bring you a series of marathon and cross-country running sporting events in 2021 to display Chongqing's beautiful mountains and waters.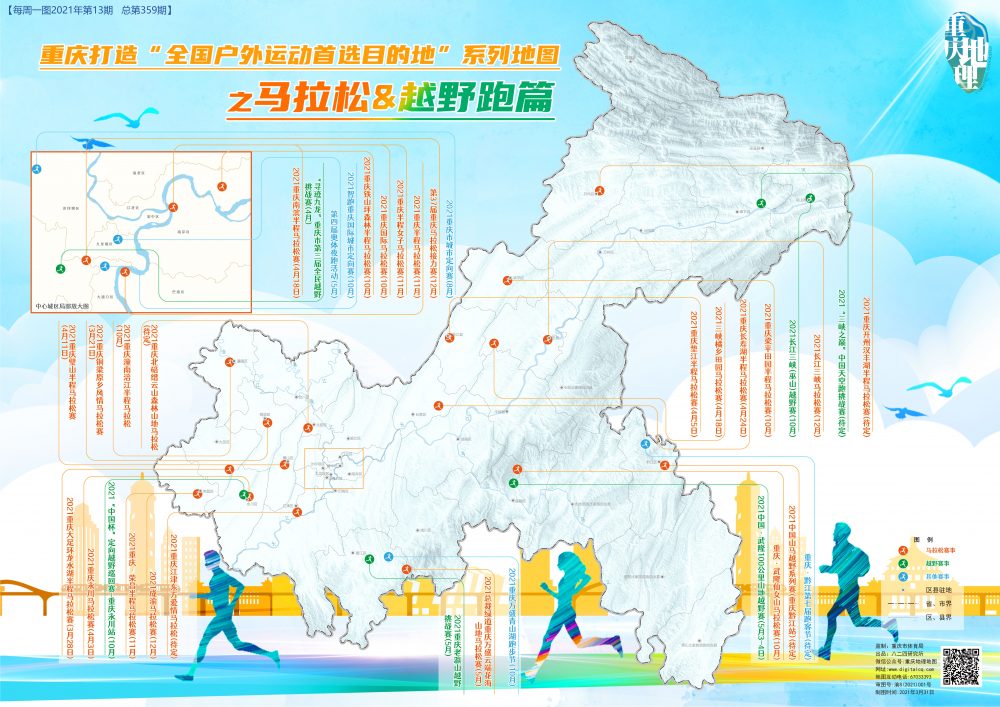 Chongqing International Marathon
As an international sporting event, Chongqing International Marathon serves as Olympic trial and Chinese Marathon Championships. It is not only Western China's first international full marathon sporting event but also the first sporting event taking place along the Yangtze River in Western China. Originally slated to be held this March, Chongqing International Marathon has been rescheduled for November. Besides, the Organizing Committee has announced to hold a new sporting event on April 18, i.e. Chongqing International Marathon Series · Chongqing Chang Jia Hui Half Marathon.
2021 Chongqing Bishan Half Marathon
In its fourth year, this year's Chongqing Bishan Half Marathon will take place at 08:00 a.m. on April 11, 2021. The number of participants totals 12,000, including 6,000 for half marathon (21.0975 kilometers) and 6,000 for mini-marathon (7.5 kilometers).
As a road running sporting event with great popularity and unique characteristics in Chongqing, Chongqing Bishan Half Marathon has earned two honorary titles of "Copper Medal Sporting Event of Chinese Athletics Association" and "Sporting Event with Natural Environment Characteristics". Running across Bishan District, the track will provide a glimpse into Bishan's beautiful ecology and unique charm brought by pretty mountain and countryside scenery.
2021 Chongqing Dianjiang Peony Half Marathon
2021 Chongqing Dianjiang Peony Half Marathon will take place at Nanyang Park, Dianjiang County at 9:00 a.m. on April 5, 2021. By then, 5,000 participants will gather at the "peony track" to experience the unique charm of Dianjiang County that is famous for a long history, colorful culture, and blooming peony flowers.
Characterized by a mix of Dianjiang's peony culture, profound history and modern elements, 2021 Chongqing Dianjiang Peony Half Marathon will set up urban notes at Dianjiang Eastern New Area, Dianjiang Smart City Operation Center, Sanhe Lake Wetland Park, Mudan Lake Wetland Park, Wenbi Lake Wetland Park, Nanyang Park, and Sports Culture Park. This well-designed track will display Dianjiang's geographical features, urban characteristics, and unique beauty.
2021 Chongqing Jiangjin Original Love Marathon
In 2019, Jiangjin District successfully launched China's first original marathon sporting event themed "love", combining love with sports. Now, Chongqing Jiangjin Original Love Marathon has been successfully held for two years, attracting a total of more than 20,000 participants from both home and abroad. In 2021, Chongqing Jiangjin Original Love Marathon will be upgraded into a full marathon sporting event with four groups of a full marathon, half marathon, lovers' marathon, and 520 marathons,s and an estimated attendance of 10,000.
The whole track will be set at Binjiang Road that is hailed as the "First Road along the Yangtze River", and will become one of the plainest among Chongqing's marathon tracks.
2021 Cheng-Yu Area Marathon
2020 "Yuhan Technology" Cheng-Yu Area Marathon was held at People's Square, Rongchang District on December 27, 2020. A total of 4,988 people attended the event held in a national forest city and made their contributions to Rongchang's being selected as one of the national sports consumption pilot cities.
The track chose Rongchang's most typical and characteristic Laixi River Sports and Cultural Park as the venue for the 36-kilometer match, demonstrating to people Rongchang's natural beauty. It can be expected that the 2021 Cheng-Yu Area Marathon will boast more highlights and characteristics.
Chongqing Wulong Fairy Mountain Marathon
2020 Chongqing Wulong Fairy Mountain Marathon was held at Fairy Mountain National Travel Resort, attracting 2,000 participants from Sichuan and Chongqing.
Compared with other marathon sporting events, Chongqing Wulong Fairy Mountain Marathon boasts the biggest feature of deeply combining a sporting event with the resources of Fairy Mountain National Travel Resort. It is Chongqing's first marathon held in a resort, with the track running across Jinma Square, Fairy Mountain Cultural Tourism Town, Tianchiping, Chuangye Square, Jinding Square.