Recently, the State Council issued the Notice on the Announcement of the Fifth Batch of National Representative List of Intangible Cultural Heritage Projects, announcing the fifth batch of a national representative list of intangible cultural heritage projects (a total of 185 items) and the extended list of a national representative list of intangible cultural heritage projects (a total of 140 items).
Nine items in Chongqing were selected, including one of traditional drama, Yang Opera (Youyang Tujia Mask Yang Opera), one of the traditional sports, amusement and acrobatics, Stomp Technique (Chongqing Stomp Technique), four items of traditional arts, Flower Embroidery (Wuxi Wedding Embroidery), Stone Carving (Dazu Stone Carving), Wood Carving (Fengjie Wood Carving), and Lantern Making (Tongliang Dragon Lantern Making), and two items of traditional medicine, Acupuncture (Zhao's Leihuo Acupuncture) and Chinese Orthopedic Therapy (Yanqingmen Orthopedic Therapy), and one of folklore, the Xiushan Miao Sheep and Horse Festival.
Up to now, there are 53 national-level intangible cultural heritage projects in Chongqing, including 3 in folk literature, 14 in traditional music, 4 in traditional dance, 3 in traditional drama, 6 in opera, 1 in traditional sports, amusement, and acrobatics, 7 in traditional arts, 7 in traditional techniques, 4 in traditional medicine and 4 in folklore. Moreover, there are also 707 municipal-level ICH projects and 3,428 district- and county-level ICH projects.
Project details:
1. Yang Opera
Youyang Tujia Mask Yang Opera, also known as Face Shell Opera, is a folk drama widely circulated in Youyang Tujia and Miao Autonomous County, Chongqing. According to the research, it was formed during the Jiaqing and Daoguang years of the Qing Dynasty. The content of the Yang Opera mainly reflects common humanities and ethics, family life, labor stories, love stories, and stories about myths and legends.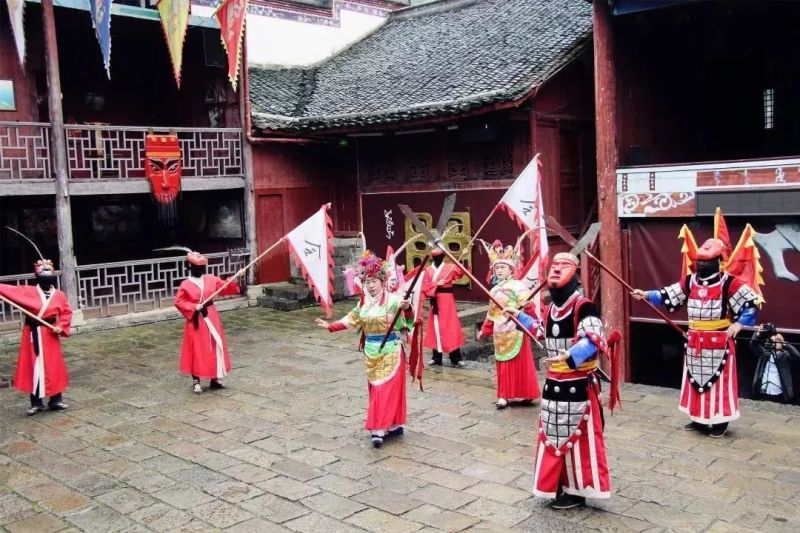 2. Stomp Technique
Stomp Technique refers to a kind of acrobatic item of carrying things on foot. In the Han Dynasty, there was a prototype of this technique, and it gradually became a typical and representative technique of acrobatics in the Song Dynasty and has been fully formed into an independent form of acrobatic performance in the Ming Dynasty. The performance form of stomping is that the performer lies on a special seat and uses both feet to take over various props to perform various tricks.
3. Flower Embroidery
Flower Embroidery is a traditional art handed down in Wuxi County, Chongqing. In the past, girls in Wuxi county started to embroider flowers – their future dowry at the age of 11 or 12. It incorporates the local art traditions and each individual's wishes and hopes for the future into the embroidery. Wuxi flower embroidery has its unique techniques and can withstand brushing, rubbing, and repeated washing without loose stitches, which has the characteristics of beauty, simplicity, and durability.
4. Stone Carving
Dazu stone carving is the general name of the stone carving art that has been handed down from the early Tang Dynasty to the present day in Dazu District, Chongqing. Dazu stone carving mainly uses sandstone and bluestone produced locally in Dazu, as well as the purple jade and white marble produced in Guizhou and Sichuan as the material, and uses the local small hardware as the tool.
5.Wood Carving
Fengjie wood carving is a traditional art item mainly handed down in Fengjie County, Chongqing. It was more prevalent in the Ming and Qing dynasties. The main material of Fengjie wood carving is ebony. This kind of wood is hard, the color is like black ink, and will not deform and not fade. Fengjie wood carving is a combination of traditional carving and modern technology, its process is complex and exquisite, and the finished products are beautiful, both widely applicable and high ornamental.
6. Lantern Making
Tongliang dragon lantern making is a kind of dragon culture-themed lantern art passed down in Tongliang District, Chongqing, and is a traditional art and craft with a thousand-year history. According to the function, Tongliang dragon lantern can be divided into three series: performance dragon lantern, landscape dragon lantern, and craft dragon lantern. There are eight steps and hundreds of procedures in the process of the Tongliang dragon lantern, which contains the aesthetic appeal and the concept of the creation of local people.
7. Acupuncture
Zhao's Leihuo acupuncture is a long-established Chinese medical specialty of the Zhao family in Chongqing, with its origins traced back to the "thunder fire moxibustion" recorded in the Compendium of Materia Medica. During the Qing Dynasty, Zhao Zhongde, a folk doctor in Bishan, Chongqing, created Zhao's Leihuo Moxibustion Therapy. It has been passed down for six generations and has a history of more than 150 years.
8. Chinese Orthopedic Therapy
Yanqingmen's orthopedic therapy has been inherited from the martial art of Yanqingmen, which was founded by Mr. Zhang of Cang County, Hebei Province in the Qing Dynasty, and has been passed down for ten generations. This kind of therapy incorporates martial arts into orthopedic therapy.
9. Xiushan Miao Sheep and Horse Festival
Xiushan Miao Sheep and Horse Festival, also known as the "Miao May Year", is a traditional festival held regularly every year by the local Miao people with thanksgiving for fruits and vegetables as well as sheep and horses as the main content. The festival has a strong meaning of thanksgiving and ancestor worship, which is a true reflection of the emotions of the local Miao people and has important academic value for the study of Chinese Miao culture.