Chongqing – "We recognize that 30% of the world's growth is going to happen in China in the next 20 years, so this is the place to be," said Adam Dunnett, Secretary-General of European Union Chamber of Commerce in China, in an exclusive interview with iChongqing after the launch of the European Business in China – Business Confidence Survey 2021 in Chongqing on July 14th.
Founded in 2000, the European Union Chamber of Commerce in China now has more than 1,700 members in 9 Chinese cities with the mission to provide an independent voice of European business in China and seek greater market access and improved operating conditions for European companies.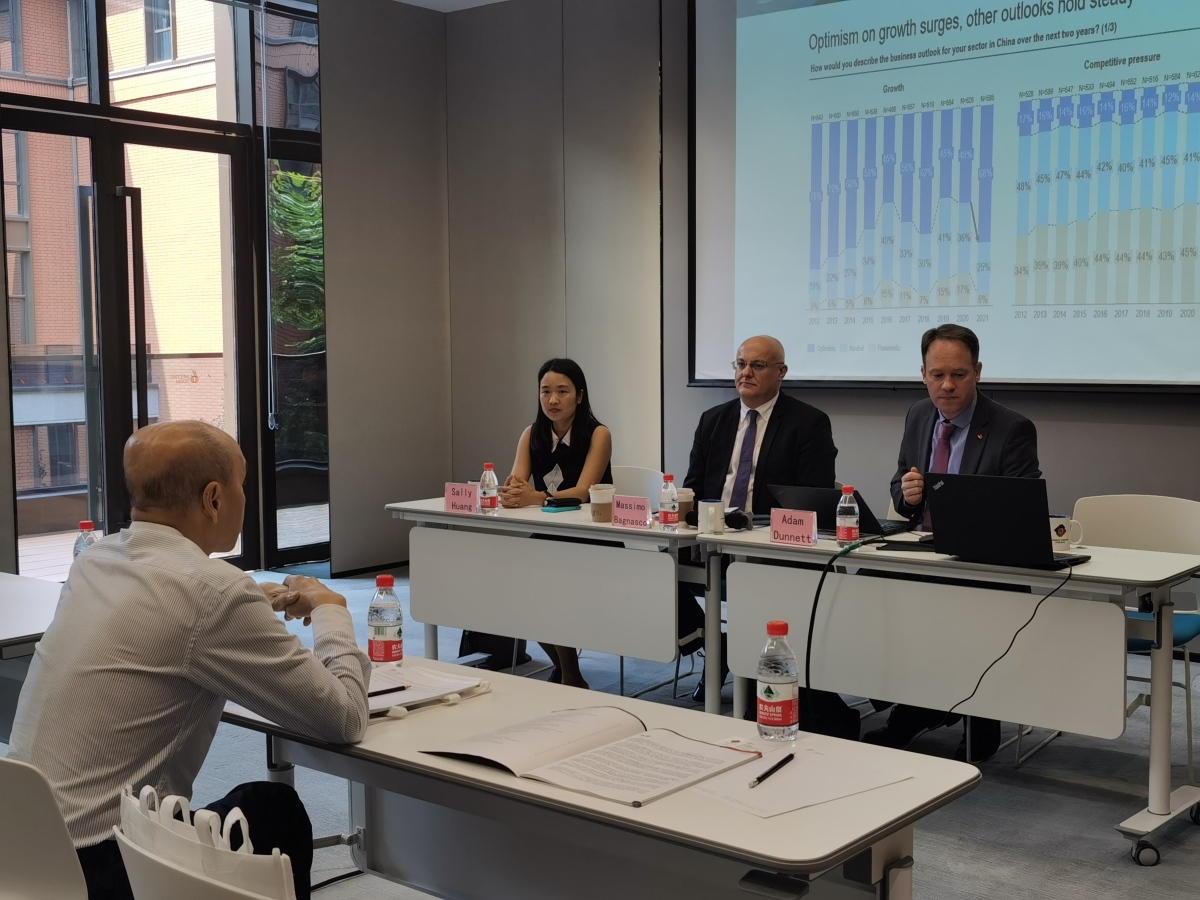 Secretary-General of the European Union Chamber of Commerce in China, Adam Dunnett(right), presented key findings of the European Business in China – Business Confidence Survey 2021 at a press conference in Chongqing on July 14th. (iChongqing/Li Qiuyue)
The Business Confidence Survey 2021 was completed by 585 European Chamber member companies, answering questions regarding 2020 performance and future outlooks. An early 2020 survey conducted jointly by the European Chamber and the German Chamber of Commerce in China found that half of the respondents expected 2020 revenue to drop year-on-year. Only 0.5% predicted revenue growth. Contrary to the gloomy prospects, European companies showed surprisingly strong performance.
European companies achieved revenue growth
According to the survey, three out of four respondents turned a profit in 2020 against the backdrop of the COVID-19 pandemic. Only 9% of respondents are considering shifting their investment out of China, which is the lowest share on record.
China has dealt with the COVID-19 situation really well and set aside some financial support that European companies could benefit from, such as waiver of social security payment and better access to finance, thus contributing to strong performance, said Mr. Dunnett.
As the Chinese economy continues to open up significantly, most European companies are keen on investing more in the future, according to Mr. Dunnett. "56% of our members said they plan to invest more. 68% said they had a very optimistic outlook for China in the next two years as well."
Regarding the progress on EU-China Comprehensive Agreement on Investment(CAI), Mr. Dunnett stated that the signing of the CAI would be a step in the right direction that helps establish the government-to-government mechanism and strengthen the already active bilateral relations and take it to a higher level.
Making Chongqing attractive for foreign investment and tourism
According to Mr. Dunnett, Chongqing members represent approximately a third of the membership in Southwest China and continue to grow rapidly.
Mr. Dunnett stated that Chongqing is well-known for its transportation and digital sector, and member companies have profoundly benefited from the China (Chongqing) Pilot Free Trade Zone and have a strong presence in areas such as pharmaceuticals and medical devices.
Chongqing Customs data shows Chongqing's trade with the European Union hit 38.92 billion yuan, up 38.6% over the first four months of this year.
He also cited that 65% of the members expressed great expectation for constructing the Chengdu-Chongqing Economic Circle, saying it's a great opportunity for European companies to expand their market presence.
To strengthen the resilience of European companies' investments in Chongqing, Mr. Dunnett emphasized the necessity of the local government to provide English info on tourism websites and cultivate the training program for hiring talents.