Chongqing– Advisors of the Chongqing Mayor's International Economic Council (CMIA) used their innovative concepts and unique perspectives to put forward 90 suggestions for joint construction of the Chengdu-Chongqing economic circle, based on practical case examples both domestic and internationally, according to a press conference Saturday.
The 17th annual meeting of the CMIA will be held next year on the theme of 'building an international consumption center city: ideas and measures.'
Shanghai, Beijing, Guangzhou, Tianjin, and Chongqing have taken the lead in constructing international consumption center cities, following approval from the State Council in July 2021.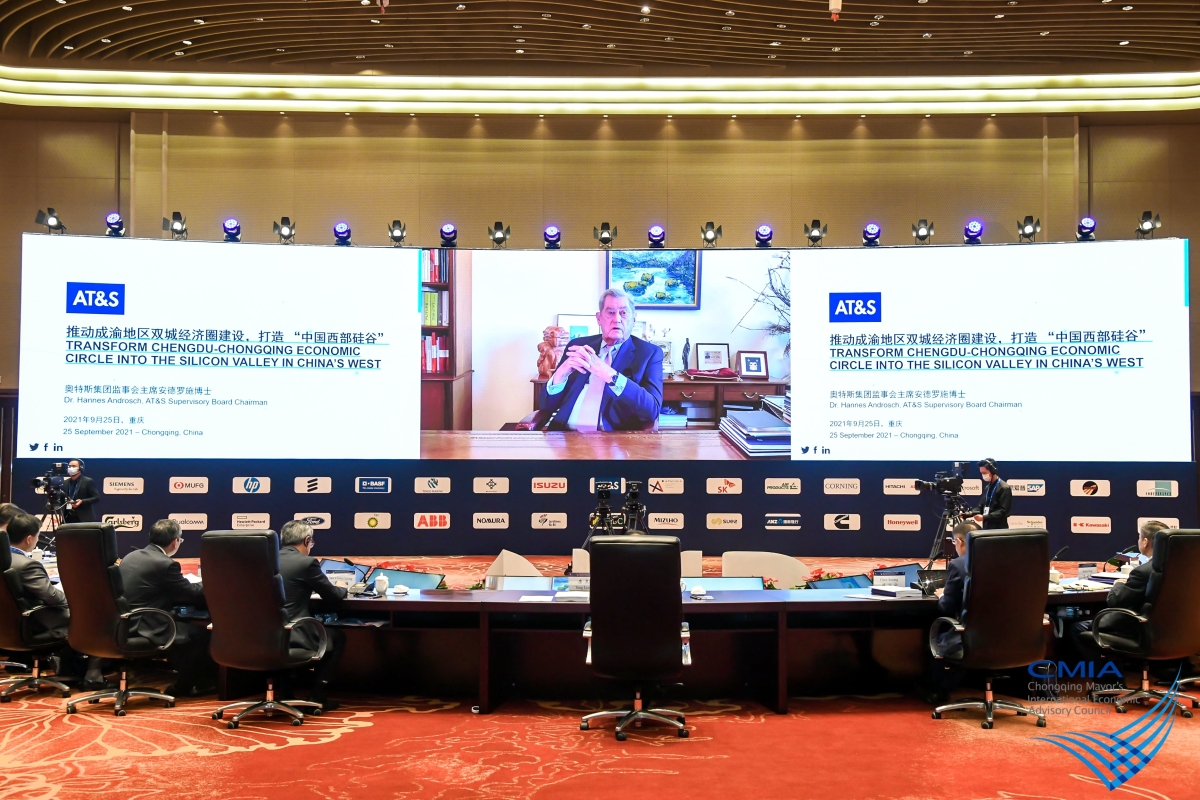 The meeting room of the 16th CMIA. (Photo/Secretariat of the Chongqing Mayor's International Economic Advisory)
The 16th Annual Meeting of the CMIA concluded on September 25 under the theme of Good Tales of Two Cities- Building the Chengdu-Chongqing Economic Circle: Opportunities and Challenges.
"A total of 38 advisory companies from nine different countries and regions spread across five time zones have contributed words of wisdom, pragmatic strategies, and sought cooperation to deepen exchange between Chongqing and the global Fortune 500 and other famous multinational companies," introduced Zhang Yongwu, secretary of the Party Leadership Group of the Chongqing Municipal Commission of Commerce and secretary-general of the Secretariat of the CMIA.
This annual meeting resonates in tandem with national strategy, as advisors make suggestions for development and construction in the economic circle under the new development pattern. In addition, they have contributed international wisdom and provided strong intellectual support for deepening economic and trade cooperation between Chengdu and Chongqing.
Online and offline meetings for epidemic prevention and control
Epidemic prevention and control requirements mean the CMIA has adopted the form of online and offline meetings, where leaders communicate with advisors face-to-face offline, but also through exchange screen-to-screen.
Municipal leaders expressed their welcome and gratitude to all the advisors for attending the event, and briefed them on the trend towards high-quality social and economic development in Chongqing, and also held discussions on matters related to deepening exchange and expanding cooperation.
The international advisors praised the achievements of economic development in Chongqing this year and expressed their willingness to engage in deeper exchange and cooperation, as well as to increase investment and accelerate the construction of projects.
At the themed discussion held on the afternoon of September 25, live speeches were delivered by seven advisors at the venue, while nine further speeches were conducted through a video connection. A live broadcast platform was also prepared for other advisors to participate online.
Exciting prospects attract international wisdom
Advisors achieved the desired series of results based on consultation, friendship, cooperation, and development goals, as they openly shared their wisdom on business opportunities and future expectations centered around a modern industrial system, digitalized, intelligent, and green development.
Participating advisors and representatives made room in their busy schedules and overcame time differences to attend the meeting, reflecting the importance they attach to the CMIA.
At the same time, Chongqing has received great attention from multinational companies on the path towards opening-up and development, which also reflects the vast potential and exciting prospects that the construction of the Chengdu-Chongqing economic circle presents.
Advisors used their innovative concepts and unique perspectives to put forward 90 suggestions for joint construction of the Chengdu-Chongqing economic circle, based on domestic and international practical case examples. The suggestions proposed at the CMIA mainly centered on the following areas:
Strengthened industrial coordination
The advisors understand that the industrial structure of Sichuan and Chongqing is relatively similar and that the overall industrial layout is the same. As a result, they have recommended that a coordinated mechanism be quickly established for integrated development in industrial cooperation, that advantageous resources should be combined, and that four chains of industrial support, element supply, product value, and technological innovation be promoted to create a world-class industrial cluster jointly.
At the same time, they recommended that Sichuan and Chongqing join hands to strengthen cooperation in the division of industrial labor with countries and regions along the Belt and Road, which will serve to jointly develop regional markets.
Accelerate digital upgrades
Advisors performed a deep analysis on the impacts that a new round of technological revolution and industrial transformation has brought for the open economy and suggested that Sichuan and Chongqing should closely follow development trends in the digital economy, strengthen the concept of integration between digital industrialization and industrial digitalization, and accelerate the development of the smart industry.
The intelligent transformation of the industry will, in turn, promote the upgrade of pillar industries, enhance the scale of strategic emerging industries, and build an industrial system that serves the domestic and international dual cycles.
At the same time, they have recommended that Chongqing speed construction of the Science and Technology Innovation Center, promote the in-depth integrated development of advanced manufacturing and modern service industries, and cultivate new momentum to develop an open economy.
Low-carbon transformation
In order to achieve sustainable development, the advisors pointed out that the Chengdu-Chongqing economic circle needs to accelerate the development of green industries. It is suggested they should lead industrial development with low-carbon technology, promote coordinated, green innovation, strengthen the industrial layout with technologies such as new energy equipment, wind power, and hydrogen-derived energy sources.
These will vigorously develop a circular economy, promote renewable energy, and build Chongqing into a green industry city.
Business environment optimization
The advisors have paid close attention to the construction of the business environment. They have suggested that Sichuan and Chongqing continue in the endeavor to create a first-class business environment, connect with high-standard international economic and trade rules, improve the transparency and consistency of policy implementation, effectively eliminate administrative barriers, and further enhance the convenience of customs clearance.
These will improve the smooth flow of production factors, stimulating the vitality of market entities. At the same time, they have advised that Chongqing increase the scope of talent cultivation and their introduction.
Chongqing welcomes increase in DFI 
In terms of project results, multiple advisory companies at this annual CMIA meeting actively connected with Chongqing to promote a number of cooperation agreements and projects.
Corning Group and the Liangjiang New Area signed the Corning Gorilla Glass Furnace project, while other companies expressed their intentions to deepen investment cooperation in Chongqing.
Meanwhile, advisory companies such as AT&S, Corning Group, and Hewlett-Packard have continued to increase investment in Chongqing through a package totaling over RMB 12 billion, three projects of which have already been launched with a capital value of 1.2 billion yuan.