Chongqing – The raised five-star red flag in front of the Great Hall of the People in Chongqing has witnessed the 72nd National Day in memory of the founding of the People's Republic of China on Oct 1st.
The flag-raising ceremony derived from the Oct 1st of 1949 in Beijing, where the first five-star red flag was raised in front of Tian'anmen by an electromotor. Later in 1982, China has set the first standard flag raising and lowering ceremony.
Since 2020, it is the second Chinese National Day people celebrated with masks on. Unlike last year, some citizens, students, and teachers who came to the ceremony wore masks with national flag stamps instead of blue masks.
"In terms of the fighting the pandemic and meanwhile keeping our life schedule, we are more ready than the last year, no matter in preventive measures or people's spirit," said Liu Hong, a doctor of Chongqing come to the People's Square to see the ceremony with his daughter.
The Covid-19 pandemic continues raging around the world. Even if China has it under control very effectively after the first break earlier last year, the occasionally imported cases and the new variants of the virus have left the country a high alert status in transportation and outdoor activities.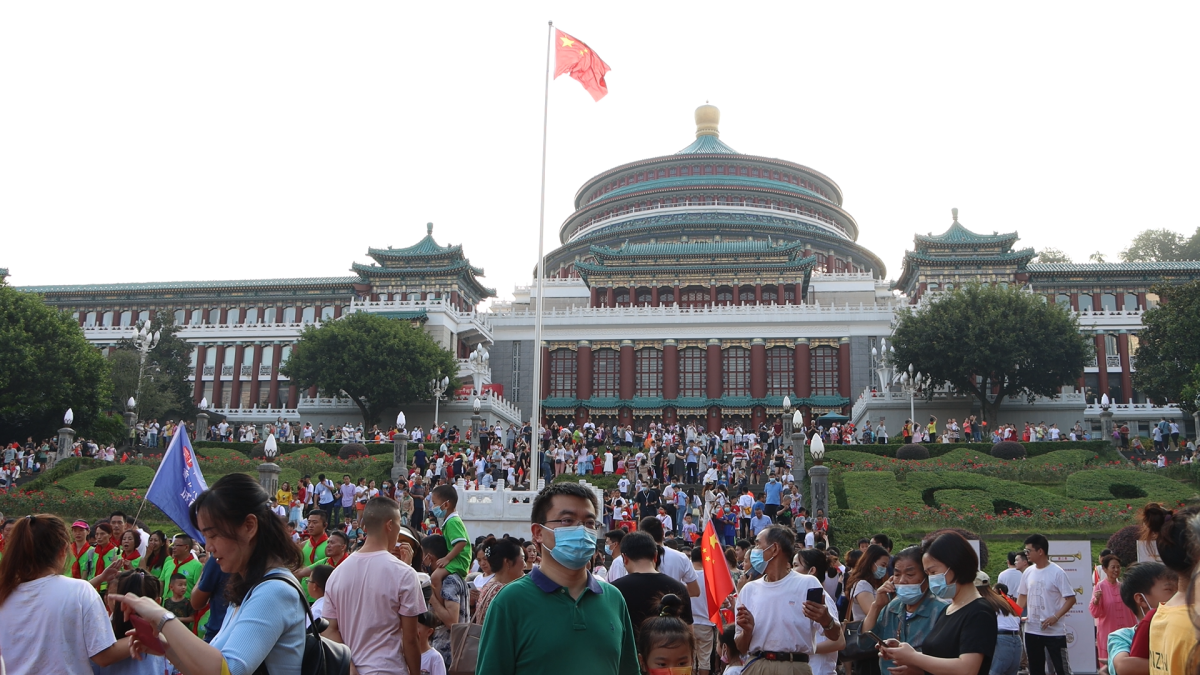 The flag is raised in front of the Chongqing Great Hall of the People. (iChongqing / Kenny Dong)
"I have a very complex feeling that after these two years, our country, ourselves, we have experienced so many things. Today I'm very glad to hear the national anthem and see the flag-raising ceremony that people are happy. My spirits are encouraged," said Lu Jiajia, a primary school teacher.
Oct 1st also brings the seven-day holiday, which is the longest vacation in China.