Chongqing– The Regional Comprehensive Economic Partnership (RCEP) is due to take effect from January 1 2022, and represents an important starting point in a new round of opening up for China at the economic and institutional level.
A representative from the Chongqing Municipal Commission of Commerce recently stated that following the implementation of RCEP, it is hoped the agreement will provide Chongqing with greater impetus in the drive to expand trade, deepen industrial cooperation, and create stability in the industrial supply chain.
As part of the next step, Chongqing will seek to achieve these objectives through construction of a pilot zone for economic and trade cooperation, an international logistics hub, and an exhibition and trade center for specialty commodities from RCEP nations.
Furthermore, two way investment exchange with Japan, South Korea and Singapore will be strengthened, while service trade promotion and improvements to the municipality wide business environment will be conducted in order to meet the benchmark set by RCEP standards.
Chongqing is also set to accelerate the process of high quality opening up the inland region, and integrate more deeply into the world economy in order to make full use of new RCEP rules, grasp new opportunities, and deepen cooperation with RCEP member countries, particularly those located in Southeast Asia.
In anticipation of the RCEP coming into effect, there has been extensive research and deliberation on the part of government, business, and academia to fully prepare Chongqing on all levels including new tariff rules, customs procedures, legal protections, multi-modal freight infrastructure, and measures taken by enterprises who stand to benefit.
Trade barriers set for elimination
The RCEP is a free trade agreement that was concluded back in November 2020 between the ten member states of ASEAN as well as Australia, China, Japan, New Zealand and the Republic of Korea. Naturally, a major focal point has been the elimination of trade barriers and open investment across international borders on such a large scale.
Professor Chen Yongmei from the Southwest University of Political Science and Law recently delivered an address made at the Third China-ASEAN Law School Dean's Forum, where she explained the benefits RCEP presents in the elimination of non-tariff barriers.
"The RCEP agreement can eliminate non-tariff barriers to a large extent, and promote trade between Chongqing, ASEAN, and RCEP members. For example, when an RCEP nation commits to open investment or trade in services, enterprises from Chongqing can take advantage through financial services."
Prior to the RCEP agreement coming into effect, member nations had already been establishing foreign invested companies in Chongqing at the rate of over fifty per year, with actual capital in excess of US$ 900 million.
"Chongqing is opening its doors. RCEP members are welcome to take advantage of China's commitment to openness and invest in Chongqing." Professor Chen added.
According to the Chongqing Customs District, ASEAN has been Chongqing's largest foreign trade partner for two consecutive years, while imports and exports amounted to 114.23 billion yuan over the first 11 months of 2021, representing a year on year increase of 13.5%.
The International Land-Sea Trade Corridor (ILSTC) has played a vital role in this economic shift, as testified by Huo Jiasong, secretary of the board of directors of the New Land-Sea Corridor Operations, who has witnessed the benefits of trade between Chongqing and ASEAN first hand.
"Since 2021, the total number of rail-sea based inter-modal freight train services operating in the ILSTC is approaching 2,000, and is expected achieve new record highs." commented Huo.
In recent years, the ILSTC has increased both speed and efficiency to become the main artery for economic and trade exchange with ASEAN, as Chongqing exports a great variety of products including motorcycles, automobiles, daily necessities, and fresh citrus produce, while the municipality imports products such as rubber, metal ores, and rice.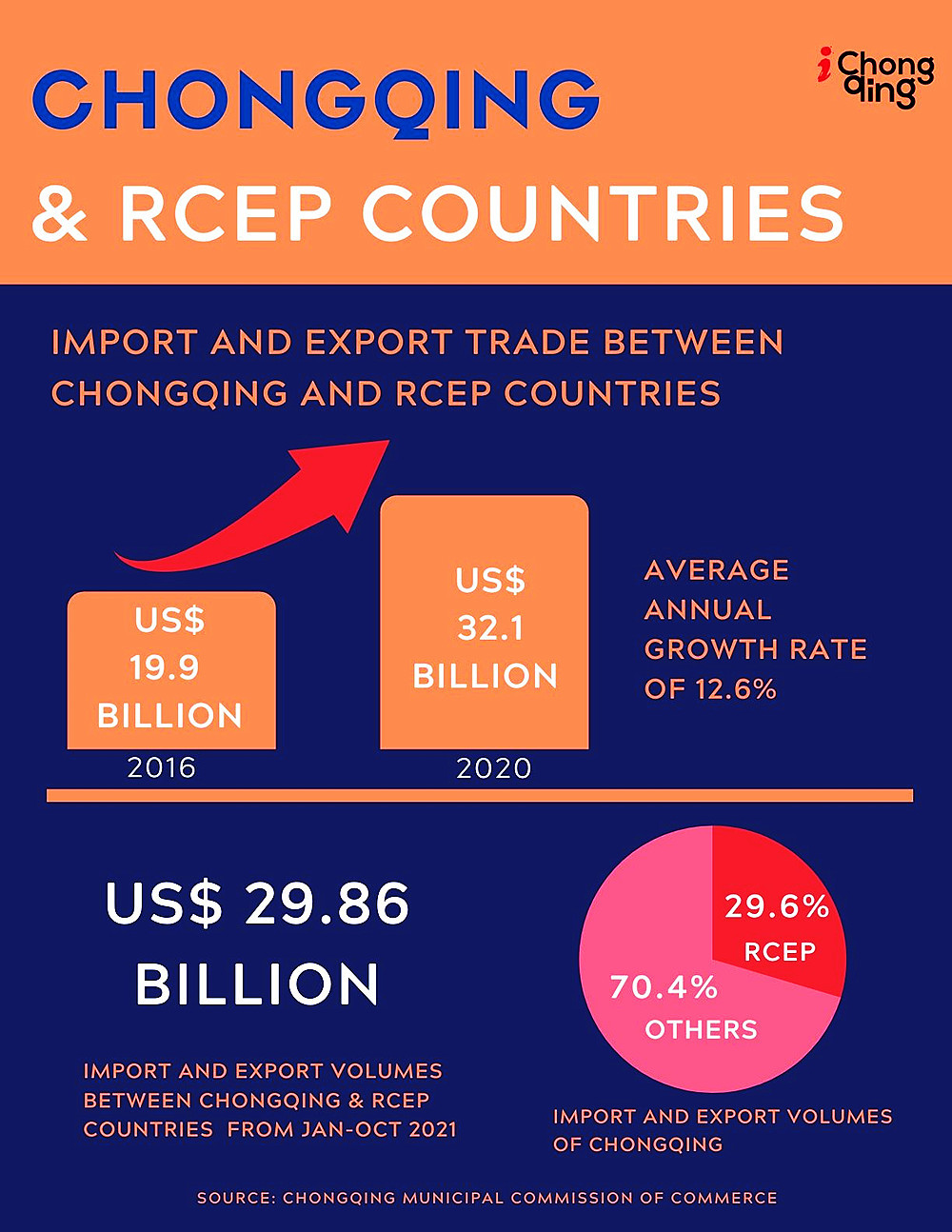 Customs and logistics play critical role
RCEP is a mutually beneficial free trade agreement that encompasses the largest population worldwide, and is set to become the greatest in terms of economic scale and development potential.
"Trade and investment between China and ASEAN will only be stimulated further as a result, with increased flow and vitality. This will contribute to rapid economic recovery in the post epidemic era, and promote the development of global free trade and multi-lateralism." Huo added.
As RCEP promises greater efficiency in terms of customs clearance and logistics, the question has been raised on how member nations can promote mutual free trade in the cross border e-commerce market.
Cumulative rules for product origin have been adopted, while technological innovation has facilitated customs clearance procedures, so that imports can be processed within 48 hours, and perishable foods within 6 hours.
"This will help promote the label 'Made in Chongqing.' Products made in China will be able to expand into the Southeast Asian market, while the entry of aquatic products and fruit into China will also be greatly facilitated." Huo continued.
Chongqing not only serves as an inland international logistics hub linking the Belt and Road Initiative (BRI) and Yangtze River Economic Belt, but also an operational center for the ILSTC.
The RCEP will allow Chongqing to draw full benefit from its strong advantages in logistics and industry, and better serve the industrial supply chain for electronic products, automobiles, motorcycles, and textiles through multi-modal transportation channels such as railways connecting China, Vietnam and Laos.
On the question of what measures should be taken to enhance construction of an ILSTC and RCEP International Logistics Hub, Wang Yupei, chairman of New Land-Sea Corridor Operations, commented this will involve a higher level of domestic and international cooperation across various industries and fields.
"Innovation is required for China to lead international logistics, trade, and the digital economy, while the application of new technologies and industries should be promoted. Chongqing should strive to be more open and influential, whilst trade, investment and cultural exchange between Chongqing and RCEP should be strengthened." Wang explained.
Zero tariffs and legal protections to boost trade
Senci Electromechanical was established in 1993, and is mainly engaged in the research and development, manufacturing and sales of small generators and terminal application products. These have been sold in 12 RCEP member countries, with a number using the RMB for cross-border settlement transactions.
When the RCEP comes into effect, it is expected that 90% of the commodity trade will eventually benefit from zero tariff rates, including the majority of products imported to China.
Enterprises that produce automobiles, motorcycles, spare parts, chemicals, electromechanical products, iron and steel stand to gain most from anticipated tax reductions.
However, the protection afforded to intellectual property rights under the RCEP framework will equally benefit companies through a more stabilized business environment, as explained by Xiao Hong of the Foreign Trade Department at Senci.
"Copyrights, patents, trademarks and designs applied for in one member country can receive protection across the whole RCEP block. This will enable businesses to enjoy greater stability in the e-commerce market, thus greatly reducing operation and transaction costs." Stated Xiao.