The fishing line is used to hang the "sea"; the chandelier made of groundwater salt crystals exudes a strong Renaissance atmosphere… Since January 2, a contemporary art exhibition called "WAVELENGTH: Here and Now" has been held in Chongqing Times Art Museum in Ba'nan District, showcasing the latest creative works of 13 contemporary artists.
As the first exhibition of Times Art Museum in 2022, "WAVELENGTH: Here and Now" has garnered widespread attention in Beijing and Chengdu. It has collected the latest masterpieces of 13 contemporary artists from different countries and regions.
When you enter the exhibition hall, the first thing you can see is "Abandoned Landscape," an interactive art installation, the largest in this exhibition. This work's colorful "hills" are actually all made from discarded CDs. According to the creator Elise Morin, an artist from France, she wants to appeal to the visitors to reduce material waste and potential ecological damage through this work.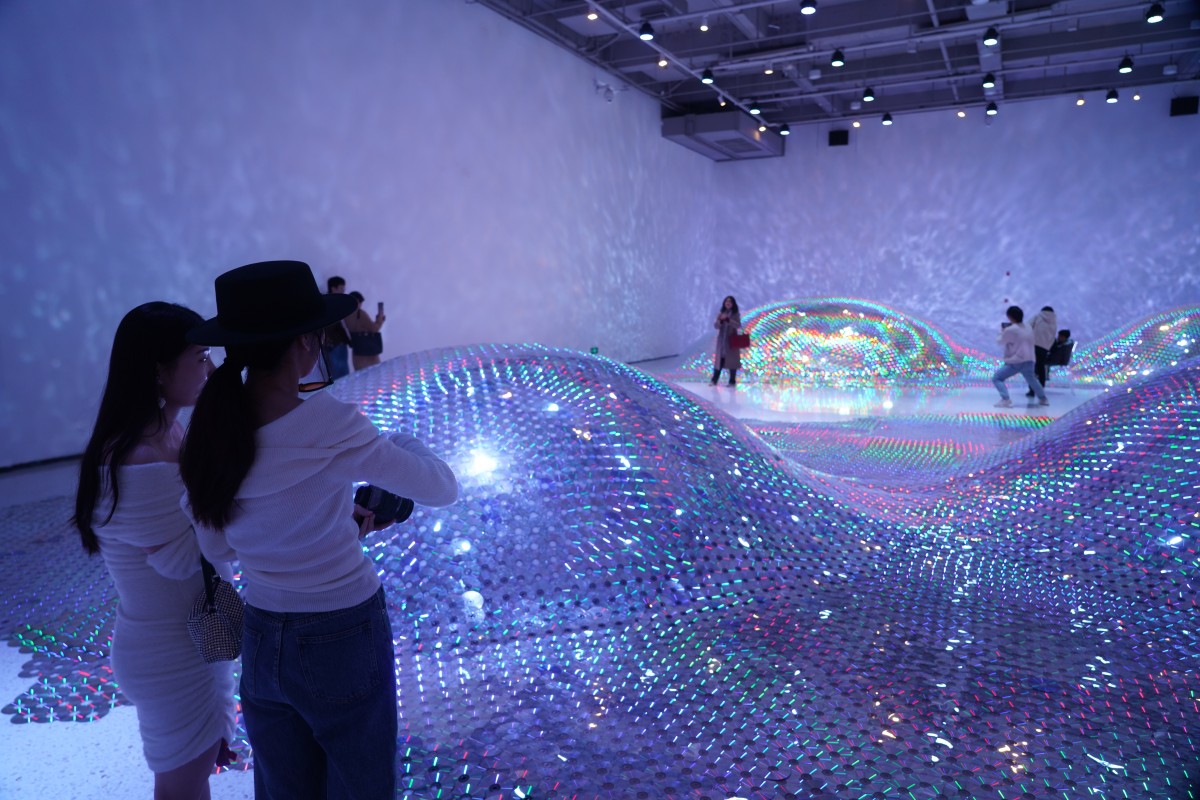 "Through these works, we can feel the temporality and spatiality of contemporary art…" According to the organizer, these two points are prioritized by this exhibition. Based on their own unique life and artistic practice experience, and different concerns and areas of expertise, the 13 contemporary artists use different tools in their works to bring different feelings to visitors.
The bizarre art installations displayed in the exhibition include a pillar and a chandelier made of grapes wrapped in salt, a seesaw with two mirrors in the middle, and mountain landscapes made by stacking tens of thousands of discarded CDs. Most interesting of all, an installation called "Elegy" uses thousands of threads to hang a piece of fabric to make it look like a rough sea, attracting legions of visitors to take pictures.
The Chongqing Times Art Museum staff said that works of different space and time dimensions are gathered "here and now" and connect with each other to constitute a space variation, thereby making visitors feel the space in the form of art. By spanning time and space "here and now," the previous emotions and the future vision of art are expounded, summarized, and interpreted. This exhibition provides visitors with a unique viewing experience, focusing on the emotional perception and connection that contemporary art brings to visitors in the space and time dimensions.
The "WAVELENGTH" in the name of this exhibition is actually a world-known art itinerant exhibition IP. It expresses the hope to promote multi-faceted cooperation among creative minds, break down the boundaries between different design fields and cultural backgrounds, and bring about more diverse cultural exchanges.
This exhibition will last until April 10 this year. Welcome to the Chongqing Times Art Museum to take a look.