Chongqing- According to Chongqing Meteorological Bureau, since the flood season (as of September 28), Chongqing's flood season from May to September has generally shown the three characteristics of high temperature, low rainfall, and meteorological drought.
First, the high temperature is the strongest in history. The city's comprehensive intensity of high-temperature weather processes during the flood season is the strongest since complete meteorological observation records began in 1961.
The average temperature of 10 districts and counties reached the highest in history during the same period. The extreme maximum temperature of 17 districts and counties hit the local highest record.
The number of high-temperature days above 40 ℃ was 15.8 days, significantly more than 14 days in average years. At the same time, the high-temperature time was the longest in history. The high temperature above 35°C and 40°C accounts for 95.3% and 54.4% of the city's total area, respectively.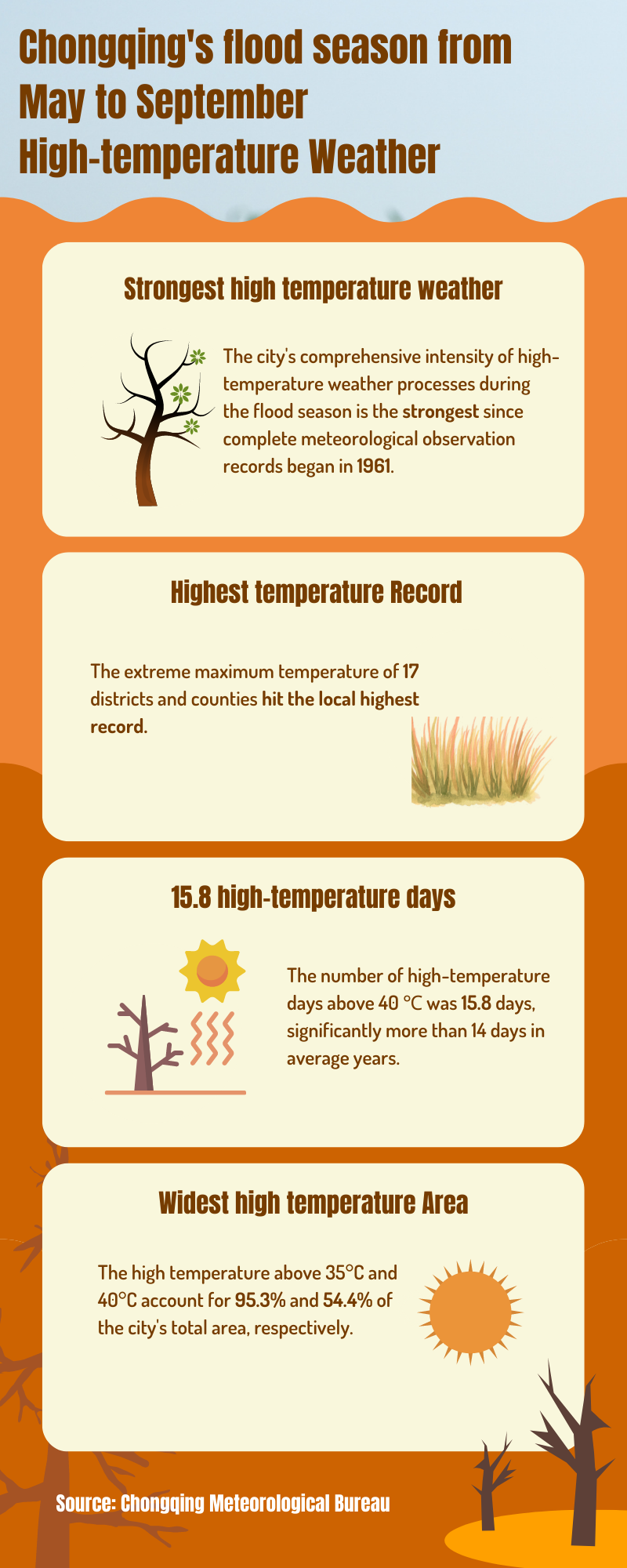 During the flood season, the city's average rainfall was significantly less. The precipitation from May to June was close to normal, and July, August, and September were 50%, 70%, and 20% less than usual. A total of 10 heavy precipitation weather processes occurred, four times reaching the intensity of heavy regional rain, which was below average.
Beginning in early July, some areas in the city's western, central, and northeastern parts have experienced droughts. Affected by the continuous high temperature and low rainfall in August, some areas have reached severe to extreme droughts. The city's meteorological drought intensity during the flood season is the second strongest since complete meteorological observation records.
According to the latest meteorological data, during the National Day holiday, the weather in our city will be sunny for the first four days and then rainy for the rest days. From October 1 to 4, it will be cloudy to sunny in various places, and some areas will have high-temperature weather of 35~37℃. While from October 5 to 7, the strong cold air will bring the temperature down and raindrops from north to south of the city.