↵
As a mega-city, Chongqing has more than 11 million people in its central urban area. Downtown Chongqing faces many challenges in urban renewal due to superimposed cluster urban layout and scattered old neighborhoods. 
China's first technical guidelines for urban renewal
Chongqing has issued a document for urban renewal management measures, specifying institutional requirements for urban renewal, including the working mechanisms, planning, and implementation. 
It also clarifies supporting policies for multi-channel financing, land transfer, property rights transfer, and industrial upgrading.
Besides, Chongqing has released the country's first technical guidelines for urban renewal. The guideline adheres to the people-oriented, focusing on the needs of the people, and rationally arranging the production, living and ecological space.
Special examination for urban renewal 
Chongqing pilot special examination in Jiangbei District increased ten unique examination indexes of urban renewal, such as population density and development intensity, to assist the planning and preparation work. 
A mode of researching the background, receiving public opinions, finding problems, and promoting renewal is also established.
For example, last year, residents in Jiangbei District complained about roadside parking. This year, Jiangbei District renewed the road network and parking management in the Taping area, Yanghe area, and Huaxinjie area, optimizing parking facilities and controlling illegal parking.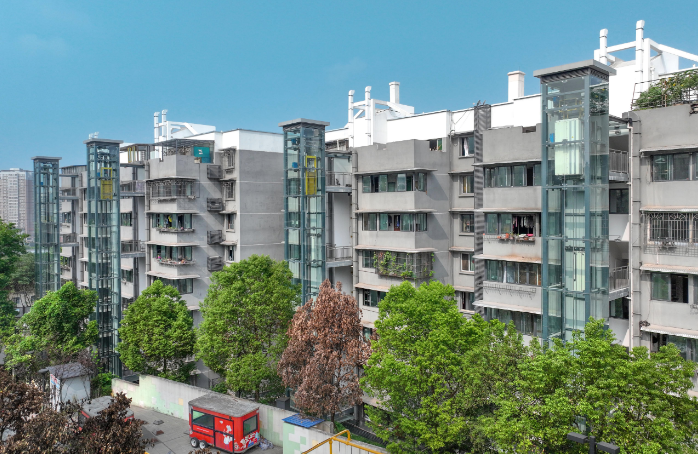 A joint implementation model 
The problem found through the examination finally directs to its practical solution, while Chongqing's answer is to explore a joint implementation model involving the government, enterprises, and residents.
For instance, the government funded the renewal project of  Dajiaxiang in the Yuzhong District. With cliffs near Binjiang Road, Dajiaxiang serves as one of the characteristic old blocks in Yuzhong District.
When constructing the cliff walk, the state-owned platform company expropriated some houses for renovation. The company introduced cultural and creative shops, restaurants, and hotels, which significantly increased the value of surrounding properties and drove residents to renovate their houses, forming small shops with their characteristics.
During the renewal process, the facade style of Daijiaxiang was retained, and only 5.6% of buildings were demolished. The regional operating income could recover the housing reconstruction cost in 6 to 7 years.
Urban renewal is a technical job that requires a large number of professionals. Jiulongpo District has made compelling explorations into the community.
When renovating the Baimaiguan community in Jiulongpo District, planners, architects, and engineers stayed in the community for a month, conducting immersive research and discussion with residents to reach a consensus and optimize the effects of the result.
Urban land is valuable. Maximizing land use is a big issue in urban renewal. 
Chongqing has carried out a policy that rewards urban renewal projects and increases the function of public services by providing 15% of the original floor area.
Hepingshan community in Shapingba District is one of the practitioners and beneficiaries of this policy. 
After dismantling the original dilapidated building, the community expanded by 1300 square meters. The expanded area was developed to improve the house function and build public service rooms.