Chongqing - An increasing number of Chongqing-made products have been delivered to foreign markets via the New International Land-Sea Trade Corridor (ILSTC) over the past five years, driving the high-efficient growth of Chongqing's economy.
According to the Chongqing Municipal Government Port and Logistics Office, in 2022, Chongqing has transported 148 thousand TEUs via ILSTC, up 32% year-on-year; the cargo value is about 25.1 billion yuan (about 3.6 billion U.S. dollars), up 34% year-on-year.
By now, the logistics network of ILSTC has reached 393 ports in 119 countries and regions. The goods categories increased to 948 from the premier 50 in 2017.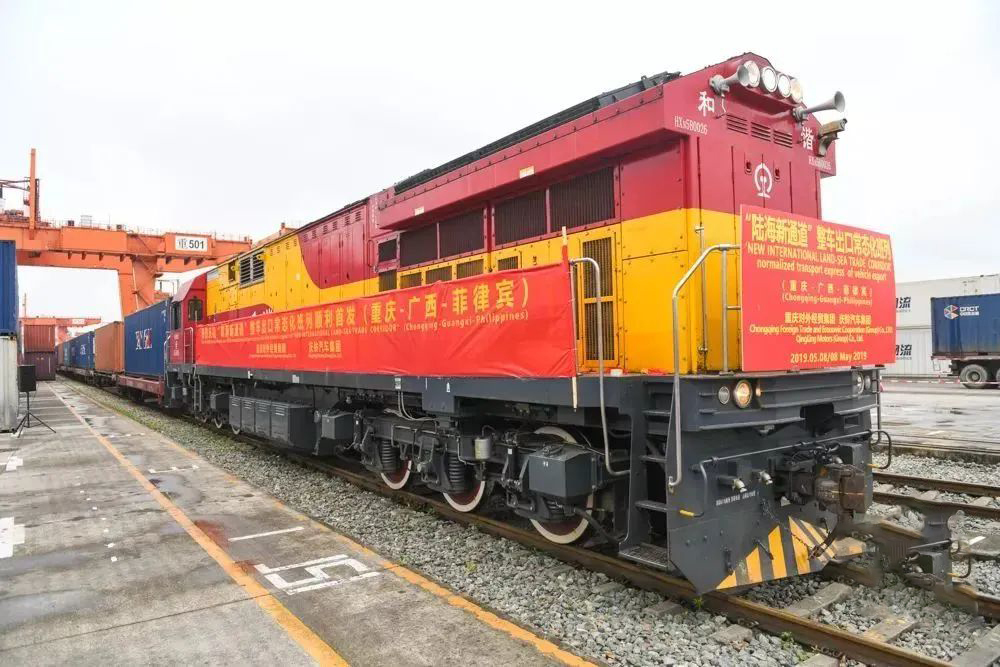 Multimodal transport service
Via the ILSTC, Chongqing-made products, including automobiles, motorcycles, parts, chemical materials, and general merchandise, get an easier way to go overseas.

According to Chongqing Customs District, Chongqing has exported 284 thousand cars, up 44.1% year-on-year; the export value reaches 21.87 billion (about 3.14 billion U.S. dollars), up 77.5% year-on-year.
At the end of last year, a special train loading 90 Sokon cars departed from Yuzui Station located in Chongqing's Liangjiang New Area. The cars finally arrived at Guayaquil port, Ecuador, via Beibu Gulf port, Guangxi.
"The Sokon cars exported to Ecuador is the new achievement for Chongqing automobile exploring the overseas market," said Niu Xiandan, the general manager of Chongqing Guoyuan Port International Logistics Hub Company. Guoyuan Port keeps exploring the multimodal transport service for vehicles' cross-border logistics to facilitate Chongqing enterprises going abroad.
Chongqing agricultural products, in recent years, have also kept a fast pace with expanding overseas markets.
The cold-chain freight car loading 26 tons of blood oranges was delivered from Chongqing's Rongchang District to Singapore via Qinzhou Port, Guangxi, via multimodal transportation of ILSTC last year, with only six-day transportation.
"The blood oranges were exported through east port before. We had to change the containers and load the cargo many times. It's risky to damage our goods," said a related person from Rongchang Zhaohong Agricultural Development Co., Ltd.
Now, the land-sea multimodal transportation through ILSTC only needs loading once, which has saved the loading cost, reduced cargo loss, and made export easier.
The second starting point of ILSTC under construction
Located in the west of Guoyuan Port International Logistics Hub, the Yuzui Railway Freight Station is busy constructing its southern freight yard.
The station is structured with southern and northern yards, covering 1170 mu. The northern yard has been put into operation, the most extensive vehicle logistics base in southwest China.
The northern yard, covering 541 mu, is structured with the departure and arrival stations for Chinese and international container freight trains.
After its completion, the yard will be the second starting point of ILSTC, China Railway Express to Europe, and rail-sea intermodal train.