(Video provided by the Wuxi County Media Center)
Chongqing - YouTuber Robert William from the United States recently visited Wuxi County, Northeast Chongqing, experiencing the magnificent landscapes and tasting the local delicacies.
Under a drizzling rain, clouds, and mist enveloped the Lan Ying Grand Canyon. It was William's first encounter with the splendid natural scenery of Chongqing. He tried to capture the breathtaking views from various angles. 
Situated at the convergence of the Qinba Ecotourism Circle, Shennongjia Tourism Circle, and the Three Gorges Hinterland Tourism Circle, Longchi Village has become a popular tourist destination in Wuxi in recent years. The village has attracted William's attention with its fragrant and plump strawberries.
During his two-day visit, William indulged in a variety of local specialties, including rice dumplings in soup, stewed cured meat with dry potatoes, stewed chicken with Dangshen, fried rice with potatoes, and the famous Wuxi grilled fish.
Being in the hometown of grilled fish, William was very excited to try the Wuxi grilled fish. During the meal, he learned that the origin of grilled fish dates back to the Song Dynasty when salt production flourished in Wuxi. 
He was also informed that boatmen and porters initially prepared the grilled fish. During the journey, they made use of the fish from the river, firewood from the shore, salt from the boat, and pickled vegetables from the jars to cook the Wuxi grilled fish. 
William also tasted potato dishes such as pan-fried potatoes, fermented black bean stir-fried potato slices, mashed potato cakes, and potato pancakes. Wuxi is known as the hometown of green ecological potatoes. Its unique mountainous terrain and suitable temperature and humidity created a beneficial environment for the growth of potatoes.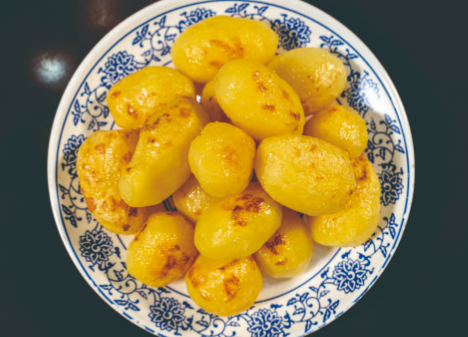 Pan-fried potatoes. (Photo/Tang Jinghan)
William was amazed by the stunning scenery and delectable cuisines during his trip to Wuxi. He will continue to visit Yunyang County and Bishan District in Chongqing in the following days, delving into the city's culinary delights, landscapes, and folk culture.