Chongqing - Overseas influencer Robert William from the United States embarked on a journey to capture the enchanting parks, explore museums, and visit scenic resorts in Bishan District, Chongqing.
He shared the experience with his online followers at the "2023 Overseas Influencer Explores Chongqing" event, organized by the Chongqing International Communication Center.
Bishan District has recently emerged as a beacon of urban development that seamlessly integrates with its natural surroundings, embracing green spaces as an integral part of its landscape.
William started his journey by taking the "Yunba" (Sky Shuttle) Line. It's the world's first unmanned bus line which was put into operation in Bishan in 2021. The total investment of the Sky Shuttle Line is 1.8 billion yuan(about USD 255 million), with a full length of 15.4 kilometers, starting from Bishan High-speed Railway Station and ending at Bishan Station of Metro Line 1. It includes some of Bishan's parks and attractions, such as Maple Lake Park, Dongyue Sports Park, and Xiuhu Park.

William told his followers that Sky Shuttle is equipped with high-tech configurations, such as an unmanned driving system, automatic positioning and scheduling, facial recognition, and smart ticket inspection. It has a maximum capacity of 10,000 passengers per hour and operates at speeds up to 80km/h, which can effectively solve short-distance and small-volume urban travel.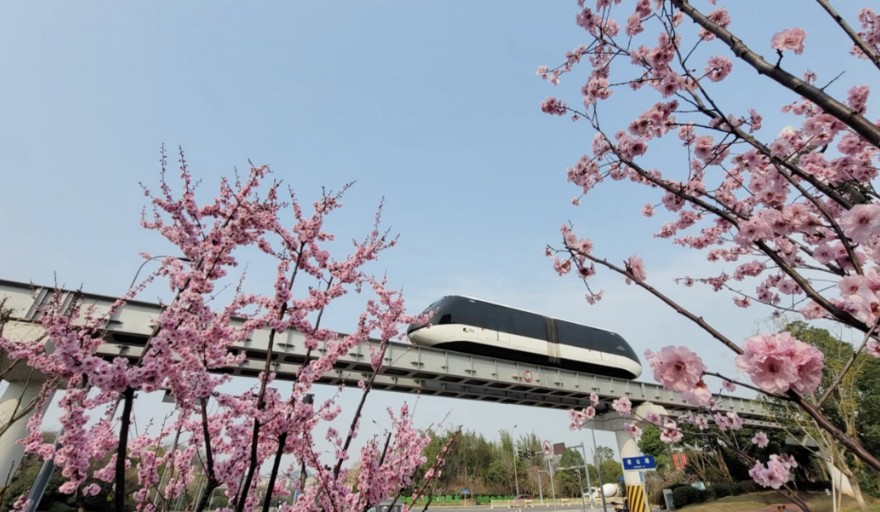 Bishan Sky Shuttle in the spring. (Photo/ The Bishan District Media Center)

As one strolls through the charming town of Bishan, verdant greenery surrounds every corner, providing a delightful sight for both residents and visitors. Within a mere 15-minute walk, one can find themselves in a tranquil park. Xiuhu Park, situated at the convergence of Bishan's old and new town areas, is a testament to the district's commitment to preserving green spaces.
Completed in 2012 and sprawling across 1.13 square kilometers, the park nestles amidst picturesque mountains and boasts a meandering lake that emanates a vibrant and serene ambiance. During his visit, Robert William expertly captured the park's scenic beauty along the shores of Xiuhu.
Adorned in flowing robes and with his hair gracefully styled, William fully immersed himself in the park's atmosphere, donning traditional Hanfu attire and drawing numerous visitors' attention. "Wearing this outfit instantly connects me with the past and allows me to experience the attire of a chivalrous hero," said he, expressing his satisfaction with his choice of Hanfu attire.
The allure of Xiuhu Park lies in its blooming flowers and unique stone formations. Visitors need not search far to appreciate the park's beauty, as it showcases over 800 plant species, including over 300 flowering plants that bloom throughout the year. Along the river, one can find over a thousand renowned stones, such as Qinghua stone, Ya'an stone, and Taihu stone, scattered around, enhancing the park's natural charm.
Having savored the beauty of Xiuhu Park, Robert William then ventured to the Chongqing Dayuanxiang Museum, a nationally recognized third-level museum. This historical gem resides within the industrial site of the Tianfu Bowl Factory in Longjiang Xinshi Village, Jianlong Town, Bishan District, boasting a rich history of over 160 years. The museum has a remarkable collection of cultural relics from thousands of ancient Bashu ancestral homes, meticulously accumulated over nearly three decades.
The museum spans an area of 50 acres and is divided into four exhibition areas: Gate, Window, Inscription Hall, and Chuan Gong Wood Carving Boutique Hall. These areas showcase the quintessence of Bashu residential architecture, where each exhibited item bears witness to the ingenuity of ancient craftsmen and reflects the essence of Bashu dwellings.
Another notable stop on this captivating journey was the Hanlin Villa, a destination that boasts an array of traditional architectural components. Situated in Wuhuzui Village, Sunhe, Bishan District, at the foot of Laohuzui Mountain, this villa encompasses nearly 13 acres of land. It comprises a sizeable three-courtyard residence, a small four-courtyard residence, a grand courtyard dam, a front garden, a back garden, two watchtowers, and two entrance gates.
With a history spanning over 150 years, Hanlin Villa underwent meticulous restoration and renovation by Liu Jian in 2012, faithfully restoring its original splendor. Today, the villa showcases an array of exquisite stone tablets, statues, carvings, and plaques, as well as Ming and Qing Dynasty furniture collected by Liu Jian. The villa is enclosed by a rammed earth wall, standing approximately 4 meters high, most of which remains in its original state.
While exploring Hanlin Villa, Robert William continued to capture the allure of this historical site. The ancient architectural components and displayed relics offered a captivating glimpse into the rich cultural heritage of the Bashu region (now in southwestern China). Through the visit to Xiuhu Park, the Chongqing Dayuanxiang Museum, and Hanlin Villa, Robert William, and his online followers could appreciate Bishan, Chongqing's current beauty and historical traces.