Recently, the documentary Guardians of Dazu Rock Carvings, sponsored by Chongqing Luhai International Communication Foundation (CLICF), was screened in Sana'a, the capital of Yemen. Ahmed Almameri, Director-General of the Ministry of Culture of Yemen, Yahya Ibrahim, Chairman of the Yemen Artists Union, and 16 people from Yemen's film and television industry, including Nabeel Hizam, Abdullah Yahya Ebrahim and Khaled Salam, famous actors, directors and producers in Yemen, were invited to watch the film.
This was the first time pictures of Dazu Rock Carvings were shown in Yemen.
The documentary officially began filming in January 2023 and completed editing in July. It is scheduled to be simultaneously released in English, Arabic, and Chinese on both Chinese and international media platforms in September.
At the screening event, Aibudi shared his experience in Dazu. He said, "The first time I went to Dazu, I was stunned by the exquisiteness and grandeur of the five clusters of rock carvings. When visiting the rock carvings in villages with local cultural preservation volunteers, I saw people who used their power and unwavering faith to safeguard these scattered cultural relics. They are the guardians of the rock carvings. Their stories deeply moved me."
This prompted him to shoot a documentary about Dazu Rock Carvings and rural cultural heritage conservationists to share their stories with a broader audience.
Aibudi said people in Arabian countries know little about Chongqing. He hoped his documentary would give Arabian people a picturesque understanding of Chongqing. This was why he came to Dazu Rock Carvings.
Ahmed Almameri, Director-General of Yemen's Ministry of Culture, said the guardians of Dazu Rock Carvings were terrific. Cultural heritage is something valuable created in human history. It is the most precious for a country. Yemen has a history of 3,000 years. The Old City of Sana'a is one of its most famous geographical landscape buildings. As one of the best-preserved Arabian cities in the world, it has been named a UNESCO World Cultural Heritage Site. Yemen also has lost many precious historical artifacts due to a lack of attention and protection. China highly values the protection of cultural heritage, which is why Dazu Rock Carvings can still be seen today. It is hoped that China and Yemen will make cultural heritage a new bridge for cultural exchanges between the two nations.
Yahya Ibrahim, Chairman of the Yemen Artists Union, envisages cooperation and exchange between China and Yemen in art, such as the co-production of films. He keenly welcomes Chinese teams to shoot videos in Yemen and looks forward to shooting in China and looking at Dazu Rock Carvings on-site to get Yemen people to know more about China and Chinese people to learn more about Yemen.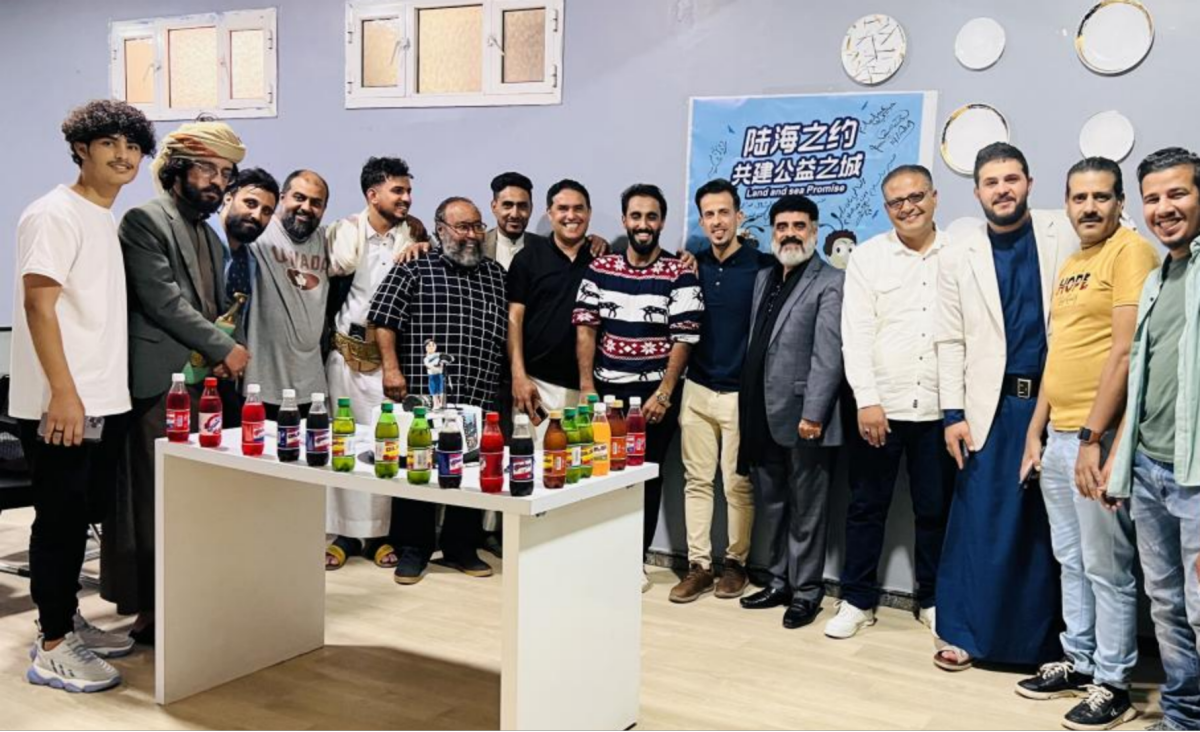 Guests take a group photo. (Photo/Chongqing Luhai International Communication Foundation)
Hu Chengliang, Executive Secretary-General of CLICF, said that CLICF's original intention to support the shooting of the documentary Guardians of Dazu Rock Carvings is to see what China looks like in the eyes of international young people, hoping to get the world to know about China, Chongqing, and Dazu Rock Carvings from their perspective. The screening event aims to promote people-to-people exchanges between China and Yemen, overcome civilization barriers through civilization exchanges, eliminate civilization conflicts through mutual learning, and prioritize civilization coexistence over cultural superiority to push the progress of human civilization jointly.