The 2023 Smart China Expo (SCE 2023) was held in Chongqing from September 4 to 6. Covering an exhibition area of 80,000 square meters in the Chongqing International Expo Center, this year's SCE attracted more than 500 exhibitors and showcased more than 200 booths. The Chongqing elements of digital intelligence showcased in the exhibition have also captured the public's attention.
Upon entering the Chongqing Exhibition Hall, visitors will be greeted by several Chongqing-made intelligent connected new energy vehicles (NEVs) occupying prominent positions in the hall. The exhibition hall also showcases power batteries, intelligent cabins, automotive chips, and other upstream and downstream industrial chain components.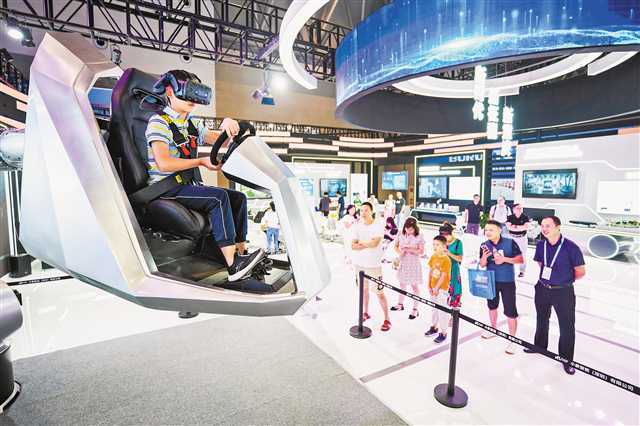 "Such a layout allows visitors to gain a comprehensive understanding of the latest developments in Chongqing's intelligent connected NEVs industry, as well as the roadmap for constructing trillion-level industrial clusters, upon they enter the hall and take a walk around it, " said Geng Wenjun, a group leader of the event organizer. He added that compared with previous sessions, this year's exhibition layout effectively showcases the Intelligent Connected NEVs, one of the annual themes.
Among over 500 enterprises participating in the exhibition, over 60% focus on the product layout of the intelligent connected NEVs industry. At the exhibition, local enterprises in Bishan, Tongnan, Jiangbei, and other districts and counties showcased their expertise in the intelligent connected NEVs industry, highlighting their strong foundation in this field.
Several parts supporting enterprises in the intelligent connected NEVs industry, such as Tsingshan Industrial and Longrun Steering from Bishan District, Hongxi Automobile Technology and Chongqing Prism Energy Technology from Tongnan District, as well as Lilong Technology from Jiangbei District, showcased their latest products at the exhibition and garnered significant attention from visitors. The exhibited products encompassed battery energy storage, green technology, and intelligent cockpit systems.

Ant Group contributes to the development of Digital Chongqing
In recent years, Ant Group and Chongqing have been closely collaborating in exploring and implementing a digital-friendly city. At the SCE 2023, the exhibition hall of Ant Group showcased various digital applications, focusing on themes such as digital cultural tourism, digital medical care, digital travel, and digital elder assistance. The immersive displays presented a blend of futuristic science fiction and real-life scenes of a digital city.
Zhuang Yue, general manager of Ant Group's Strategic Development Department, said at the SCE 2023 that in the future, Ant Group will leverage its digital technology expertise and ecological service advantages to further establish a robust digital foundation for Chongqing's urban and economic high-quality development. The two sides will continue to engage in comprehensive and extensive cooperation in broader areas such as Chongqing's urban digitalization, scientific and technological innovation, and rural revitalization, thereby providing robust support in digital technology for the development of a digital Chongqing and the establishment of a society that embraces digital advancements.
Chongqing Lianglu Guoyuan Port CBZ shows the charm of digital intelligence
The exhibition hall of Chongqing Lianglu Guoyuan Port Comprehensive Bonded Zone (CBZ), focusing on building a digital free trade port and computing center, created an exclusive digital intelligence show of the CBZ.
The exhibition hall of the CBZ covers an area of about 300 square meters. It is primarily divided into various themed areas, including the digital free trade port, the digital intelligence computing center of the New International Land-Sea Trade Corridor (ILSTC), as well as several exhibition areas such as Guoyuan Port area, Airport area, and Cuntan area. Focusing on establishing the ILSTC, the CBZ strives to enhance the channel economy, hub economy, port economy, and platform economy to establish itself as a strategic and open platform for high-quality development with significant national influence.