Chongqing - Sun Ensheng is a 20-year-old Douyin influencer with over one million followers and an NPC star at Chongqing's Happy Valley Theme Park. Tourists flock to meet him, bridging online and offline worlds. Beyond his striking looks, his rise to fame came from hard work and dedication.
NPC, originally a gaming term denoting non-player characters, has transcended its virtual origins and now finds a place in real-world recreation, including amusement parks.
Sun was born in 2003 but affectionately known as Xiang Cai on social media. He boasts a vast Douyin (TikTok's Chinese version) following, and every weekend, he graces Happy Valley Chongqing as an NPC, engaging with visitors. His striking looks and impeccable manners draw tourists from distant cities, all eager to meet him.
"I am honored by the attention and recognition," he graciously acknowledges the short video platform that propelled his fame. He also expresses gratitude to the theme park for providing a stage for him to connect with visitors in person. In his eyes, he's a budding entrepreneur. "I will exert myself tirelessly because that's the essence of youth," Sun declares.
NPCs: theme park superstars
On weekends, hours before the HVE EDM Festival at Happy Valley Chongqing, crowds of tourists assemble. Their purpose transcends securing prime spots for the evening's entertainment; they eagerly anticipate interactions with the NPCs.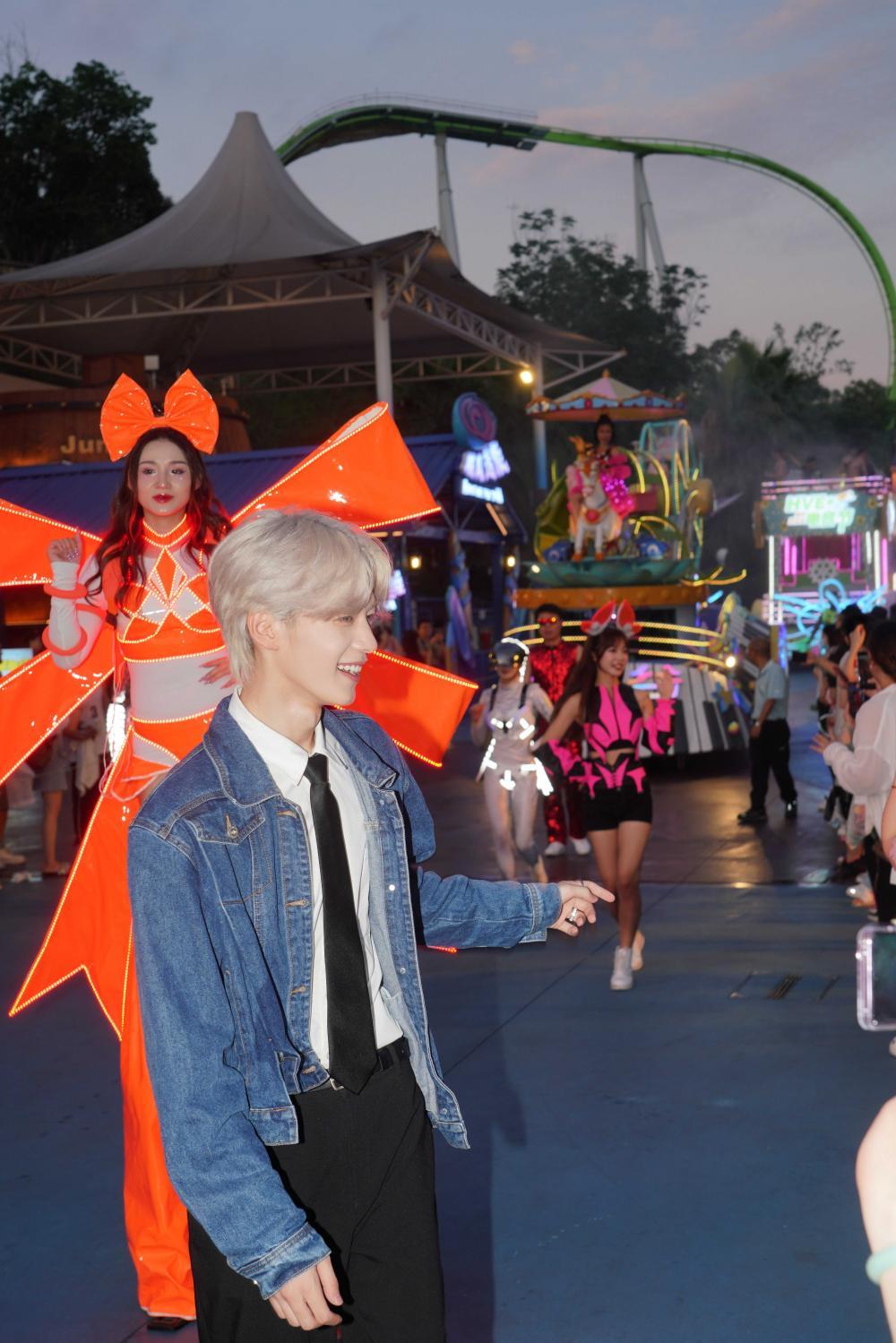 When visitors engage with these charismatic NPCs, they eagerly share videos, photos, and tips on social media. Some ardent fans even invest in annual passes for more NPC encounters. The amusement park has transformed from being a dream creator to a star-maker.
Happy Valley Chongqing Theme Park endeavors to create a closed-loop, converting online social media traffic into offline visits. They introduce new NPCs each year, carefully selecting individuals who epitomize "charming NPCs" to captivate visitors. Tourists can snap photos with these NPCs during significant events and festivals, fueling their offline popularity. This year, Sun stands out as the most beloved NPC.
The crowd stirs with excitement as the NPC arrives, encircled by eager phone-wielding fans. He patiently poses for photos with everyone before the parade kicks off, mingling with other NPCs and engaging with visitors.
"I'm just part of the park; my role is to engage with visitors," Sun humbly describes his role. "Participating in offline events for the first time this year is an honor, and it's all thanks to the park for providing this platform."
More than just good looks
Sun views himself as both a park staff member and an internet-based Media practitioner.
He posted his first Douyin video in February 2022, initially sharing aspects of his life. The unexpectedly positive response spurred him to continue. Over time, as his follower count surpassed 30,000, he ventured into livestreaming. "About 30 people watched the live stream initially, but I persevered and improved." Now, he boasts over 1.15 million Douyin followers.
"I consider myself fortunate," Sun modestly remarks. He believes that hard work breeds luck. Park colleagues concur, acknowledging the high-intensity nature of his role. "It might seem easy, but it's demanding work, and few can handle such a workload."
He openly admits to learning and emulating others before discovering his unique style to garner views and likes. He describes content creation as "play" and emphasizes the importance of maintaining authenticity and spontaneity.
"I'm an entrepreneur, and I believe in the correlation between hard work and luck."
At 20 years old, he brims with aspirations for the future.
He has assembled a team of like-minded individuals and is determined to build a career together. "Our small team comprises a photographer, an assistant, and me. We believe we can start our own venture." Sun confesses to having robust ambitions and boundless energy. Describing his current life as "exhausting but fulfilling," Sun emphasizes the importance of enjoying one's work.
In his quest for success, Sun believes in living in the moment, doing one's best, and maintaining a tranquil mindset. He's confident that diligent effort leads to luck and a bright future awaits.
(Liu Meihui, as an intern, also contributed to this report.)