Jinfo Mountain is known as "the royal exhibit of natural plants". In summer and fall's evening, when sunset glows on the cliffs, some say the mountain even looks like a gold Buddha surrounded with the red glow, hence the name Jinfo (Gold Buddha) Mountain. It is located in the Nanchuan District, 177 km from downtown. The main peak Wind Ridge is 2251 meters above sea level. Breathtaking and magnificent scenery includes lakes, streams, cliffs, stone, forest, springs and caves; both serene and dangerous at the same time.
Jinfo Mountain is a typical mountain with karst geological features, it has distinctive natural landscape, magnificent and peculiar rock shape, mysterious and deep caves, steep scenery, a precipitous path along the cliff, and a venerable temple. It is a combination of water, forest, spring, cave, an integrated unit of enchanting scenery. Jinfo Mountain is a scenic area good for all seasons, and it has declared as world natural heritage in 2014.
It is also a treasure-house of plant gene with many the rare varieties and some 500 kinds of animals, including many protected species. Jinfo Mountain is a national 5A tourist scenic spot, features distinct Karst geomorphologic landscape and abundant biological diversity. Therefore, it is listed in World Natural Heritage.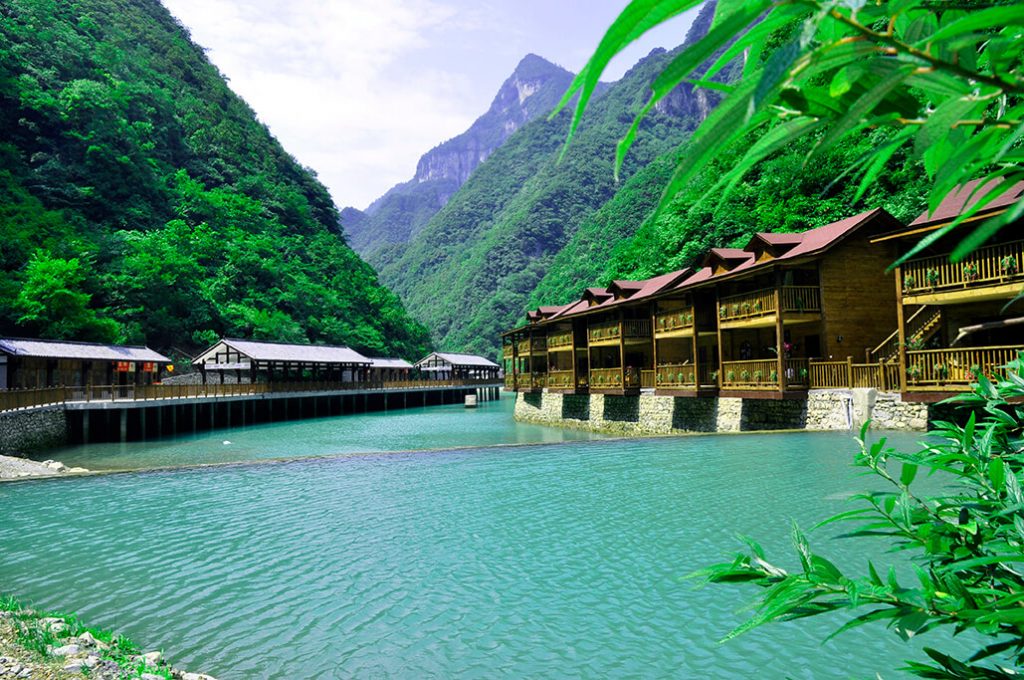 Jinfo Mountain is located near the mysterious north latitude 30 degrees, in the territory of Nanchuan District, Chongqing. It is in the north Dalou Mountains range, covering an area of 1300 square kilometers with scenic area of 441 square kilometers; the highest peak has elevation of 2238 meters; the special geographical location and climatic conditions reduced the impact of the Quaternary glacier in the ancient period, so this place completely maintained the ancient original ecological environment of different geological ages. The local Karst landform characteristics are quite distinct, integrating "mountain, river, stone, forest, spring and cave" and "grandness, strangeness, dangerousness, beauty, and tranquility".
Transportation:Chongqing urban district – inner circle – Banan toll station – G65 Xiang Yu highway – take west Jinfo Mountain off the highway – Tianma road – Sanhuichang – Tianxing resort – landscape corridor – Jinfo mountain western gate