Editor's Note: This article is produced in collaboration with the Chongqing Institute of Foreign Studies as part of a series of ongoing reports exploring the city's abundant resources in intangible cultural heritages.
Hechuan Taopian is world-renowned. In 1917, Hechuan Taopian won the gold medal at the Panama Expo. Since then, Hechuan Taopian has successively won many gold awards at the provincial and national levels in Sichuan. Their production craft was approved by the Chongqing Municipal People's Government in May 2007 to become the first batch of municipal intangible cultural heritage.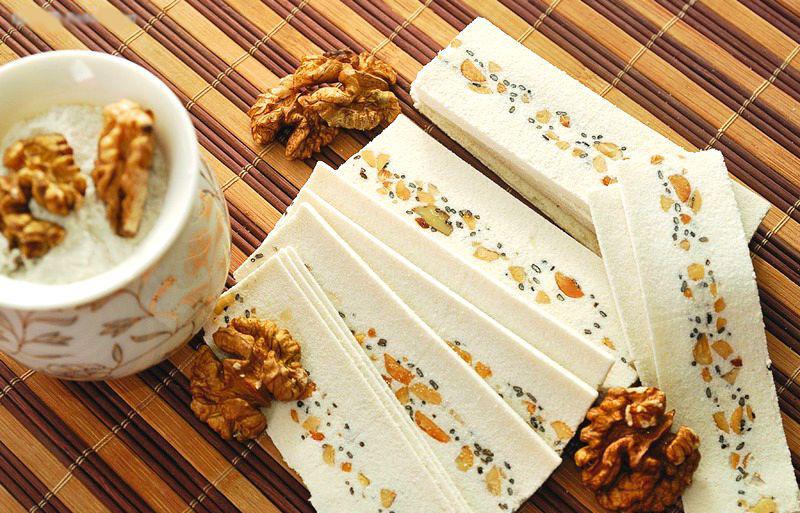 While hot pot represents the irascibility of Chongqing people, who are known for their fiery temper, Hechuan Taopian (a walnut snack slice from Hechuan District of Chongqing) shows the distinctive tenderness and gentleness of the folks.
If the abundant and massive cuisine culture of Chongqing is compared to a luxuriant garden, Chongqing street noodles (also called XiaoMian in Chinese) and hot pot are the gorgeous and passionate peonies, which are the most striking; while Hechuan Taopian is like the tranquil and gentle orchid, which is not eye-catching but enjoys irreplaceable elegance.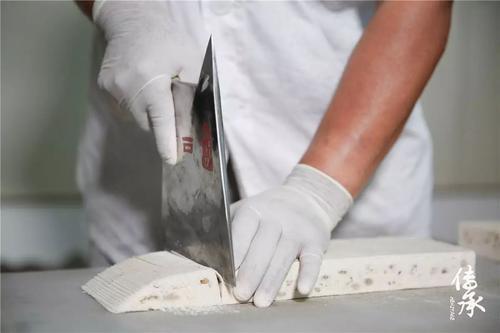 The main raw materials of Hechuan Taopian include sticky rice, Sichuan white sugar, walnut kernels, and honey roses. The perfect integration of carefully elected soft sticky rice, fragrant and crispy walnut kernels, sweet Sichuan sugar, and fresh honey roses brings a feeling of familiarity. Yep, it's the feeling of sweetness and first love. Sweet but not greasy, soft but not sticky, Hechuan Taopian can provide you with sweetness and toothsome crispness at the same time.
The delicate process is surely indispensable to make Taopian tasty and refreshing. Washing rice, heating, milling, frying, sieving, grinding, re-sieving, still standing, stirring sugar, pulping kernels, mixing powders, steaming…… eighteen processes combine the raw materials perfectly. Together, these active ingredients are also doing their best to radiate all their charms in the process. Meanwhile, each qualified slice has strict specifications with even thickness and smooth sections, 9.2 cm in length and 3 cm in width, exactly without deviation. After a long period of practical research, the former master craftsmen set a rule to cut 440 slices or more per kilogram. Such strict specifications are the icing on the cake for the tenderness of Taopian, and the thin and tough white jade-colored slices make Taopian look softer and lighter.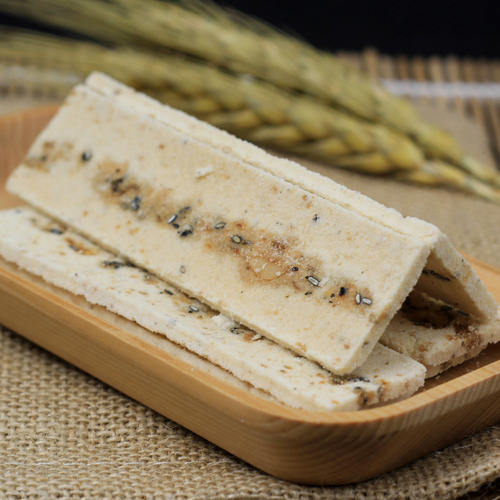 During its development, Hechuan Taopian has been continuously pursuing innovation and exploring the taste and the flavor. Hechuan Taopian can be divided into two categories in terms of taste: soft slices and crisp slices. The soft slices usually have a white color, good toughness, and do not stick to the teeth. The crisp slices are slightly yellow in color, sweet and crispy, with a slight salty and numb taste. When people are tired of the fast-paced life, they will sit down and taste Hechuan Taopian, as if they can calm down a little and feast on the tranquility and leisure that is different from the impetuous society. Therefore, people in Hechuan who resume work after holidays or are about to travel far like to take a few boxes of Taopian, share this special "gentleness" with friends around them, and at the same time preserve such a "tenderness" to themselves.
(The original article comes with a Chinese version authored by Xiao Yu (advisor/Ran Hongqing) as well as an English version translated by Wu Liang (advisor/Lei Yu), and was later narrated by Yu Fan (advisor/Ren Yi), all of whom are students (and teachers) from Chongqing Institute of Foreign Studies.)