Editor's Note: This article is produced in collaboration with the Chongqing Institute of Foreign Studies as part of a series of ongoing reports exploring the city's abundant resources in intangible cultural heritages.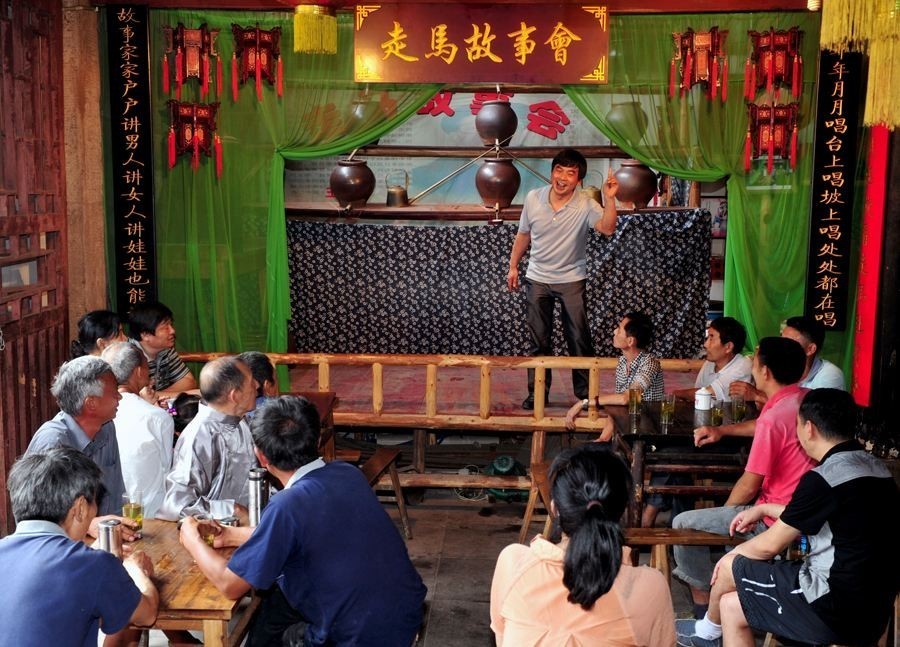 "sisters, open the door, Gapo (grandma) comes!" Xiong Gapo (grandma) came to the two sisters' house when their parents were absent at night. The elder sister was half asleep and half awake. She heard her grandmother chewing peas, so she asked grandma for some, only to find what "grandma" ate was not dried peas, but her younger sister's fingers...
Liu Yuanyang vividly told one of the legendary folk stories of Zouma Town - Xiong Gapo and Two Sisters. As a representative inheritor of the National Intangible Cultural Heritage, he stuck to welcoming Chinese and foreign scholars when he was in a wheelchair during his illness, determined to inherit folk stories of Zouma Town. Zouma town witnessed the changes of the years, and even cracks between every bluestone in the ancient town have stored the thoughts of inheritors.
Zouma town was a transportation hub and a fortress between Chengdu and Chongqing. Peddlers, porters, and scholars from different places chose to rest in Zouma town due to a long trek. They gathered in the teashop to share legends and anecdotes from different places to relieve fatigue. As time went by, a profession called zouma emerged. These newly-emerged groups who earned their living by driving horses created stories by oral compositions and paraphrase, which is known as "driving-horse stories". Those stories are passed down orally by natives from generation to generation. The culture and economy also thrived at that time, so they have been passed down.
Zouma has produced abundant folk stories covering all fields, such as fairy tales, historical stories, and creative interpretation with personal feelings. Some of them are simply for entertainment, the others contain profound philosophies that are thought-provoking. They are the integration of grass-rooted culture and foreign culture, which is unique. Nowadays, folk stories in Zouma Town still need to be inherited.
By following a major shift in lifestyle, modern logistics with standardized procedures have been generated. Compared with the ancient chivalrous escort agencies, modern logistics is confined to those cold machines. However, Zouma Town, no longer a crucial transportation hub and caravans, has grown to decay. It becomes desolate after experiencing suffers. Meanwhile, folk stories of Zouma Town gradually declined and were lost in the torrents and tides of the times.
Secondly, with the arrival of the internet and the information age, the environment supporting the creation and spread of Zouma Town stories is collapsing. With a few successors, intangible cultural heritage is faced with a terrible situation. In order to make the folk stories of Zouma Town tend towards the public, we pass down the folk stories of Zouma Town in the form of picture books, from which more and more people can know the folk stories of Zouma Town. Stories still echo in the bluestones.
---
Chinese script: Yiling Ma
Tutored by: Ruohan Tang
Translation: Meiqiong Tan
Tutored by: Jie Li and Li Cao
Voice-over: Qiling Dong
Tutored by: Yi Ren