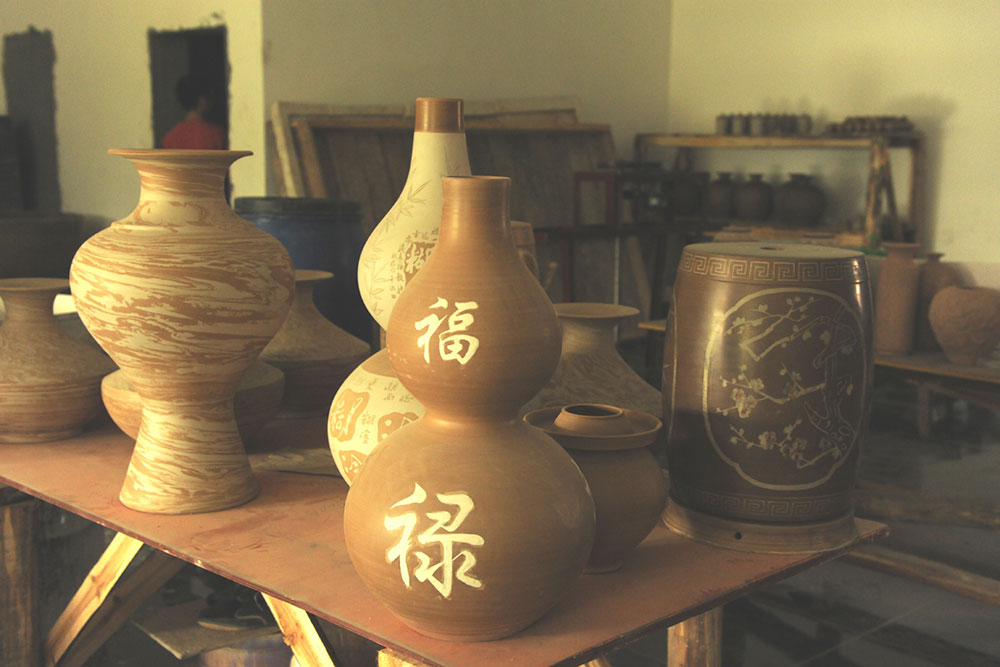 Rongchang pottery refers to vessels made of Yayu Mountain clay by people living around Anfu Town, Rongchang County, Chongqing. Rongchang pottery making enjoys a history that lasts over 800 years.
Anfu pottery falls into four categories: daily-use pottery, pottery for packaging, pottery crafts and pottery for garden architecture, which are then divided into over 800 kinds. Anfu Pottery, made out of easy-to-shape and delicately-textured Yayu Mountain clay which is fired with refined craftsmanship, is famous for being "as thin as paper, as bright as a mirror and as resonant as chime stone". Cups, bowls, and plates made of such pottery are elegant, thin and light, fast in heat transfer, resistant to high temperatures and effective in preserving the freshness of food placed inside them. All of this makes them popular. In recent years, new additions such as coated pottery, antique-looking pottery, painted pottery, and bronze-imitated pottery begin to emerge. With their unique elegance and exquisite decoration, they are now hotly sought after in the domestic and international pottery market.
Rongchang pottery, together with Yixing pottery in Jiangsu, Jianshui pottery in Yunnan and Qinzhou pottery in Guangxi, constitutes the "Four Most Famous Types of Potteries in China". Anfu of Rongchang, Yixing of Jiangsu and Foshan of Guangdong are called the "Three Largest Pottery Manufacturers in China".
In May 2011, the State Council of the P.R.C. approved including Rongchang pottery-making technique in the extension part of the list of the third batch of national intangible cultural heritage.
Municipal-level representative inheritors: Luo Tianxi, Liang Xiancai, Xiao Wenheng & Zhang Junde