Traditional Chinese Sugar Painting is a folk art where hot, molten sugar is carefully poured on a stone or marble slab to create two-dimensional images. It is like painting, in a way, only instead of using a brush or a pen or pencil, artists are pouring a steady stream of molten sugar, often in a single stroke, to create their artwork. Once the sugar cools, a small bamboo stick can be fixed to the piece, and it is removed with a spatula and can be enjoyed, either with your eyes or enjoy the sweet sugar taste.
Sugar Painting is performed with hot molten sugar.
Photo by Mikkel Larsen / iChongqing
Sugar Painting Requires a fair bit of concentration.
Photo by Mikkel Larsen / iChongqing
Sugar Painting can be traced back as far as the Ming Dynasty, when families of nobles would mold small animals of sugar for religious rituals. Since then, the art form has risen in popularity, and the art form has evolved, and techniques have improved. Sugar painting eventually mixed with other similar style art forms like shadow theaters and paper cutting which also work with primarily two-dimensional shapes. As sugar painting became more popular, artists eventually learned how to make more complex shapes and creations. 
Today, Traditional Chinese Sugar Painting is an art form protected in China as an intangible cultural heritage. It is considered a representation of the wisdom and creative spirit of the Chinese people. Because of its status as a cultural heritage, many Chinese sugar painting artists have traveled overseas to showcase their art forms.
Li Mei (pictured above) is a sixth-generation interior of the Li Family Sugar Painting. Each family often develop their own styles, and styles are commonly represented by the family name of the person who invented that particular style or method.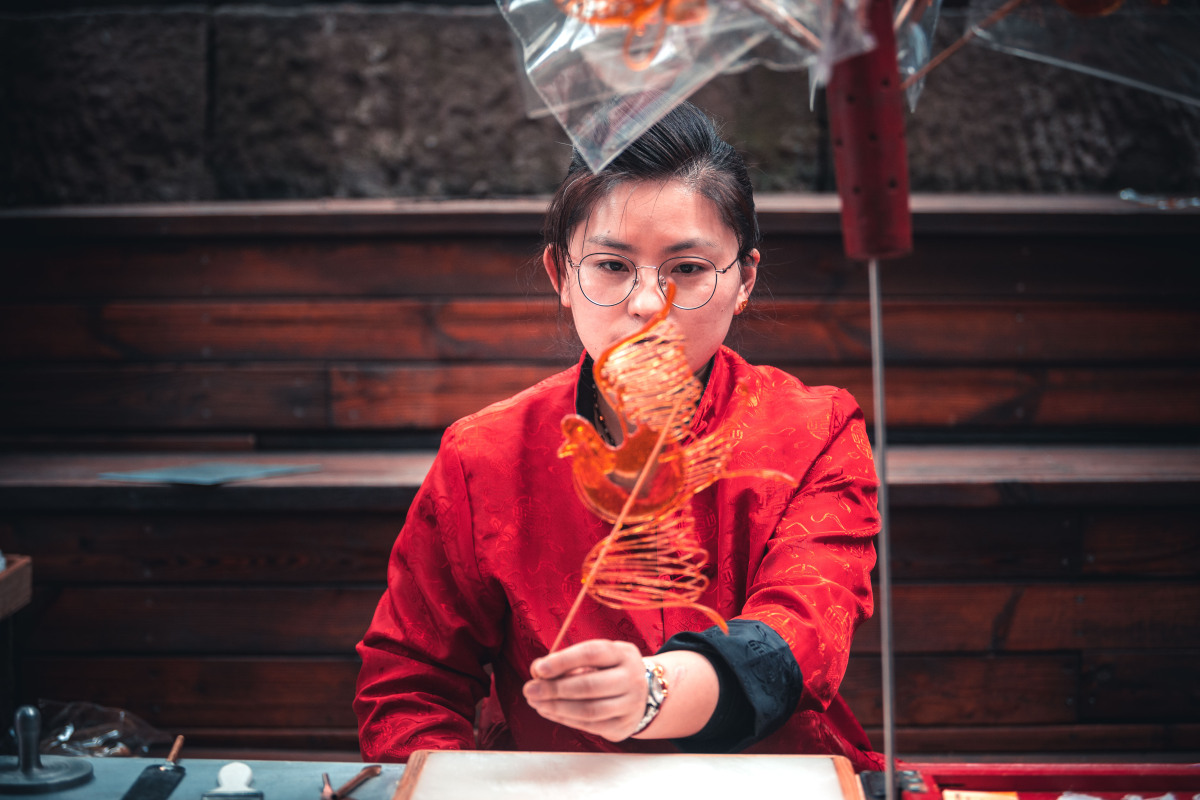 Photo by Mikkel Larsen / iChongqing
Chinese Sugar Painting has gained wider recognition in recent years, and so have the artists, but the art form itself remains true to its roots. Many of the tools used today are similar to those used centuries ago, and the table that Li Mei is working on from her little stall in Mountain City Alley is more than 100 years old.
Customers, especially children, will spin a needle to select which symbol or image the artist will create. As with many things in Chinese culture, these images and symbols are far from random, each of them has its own unique meaning, and the symbol you land on when you spin the needle could tell you something about your luck or fortune to come.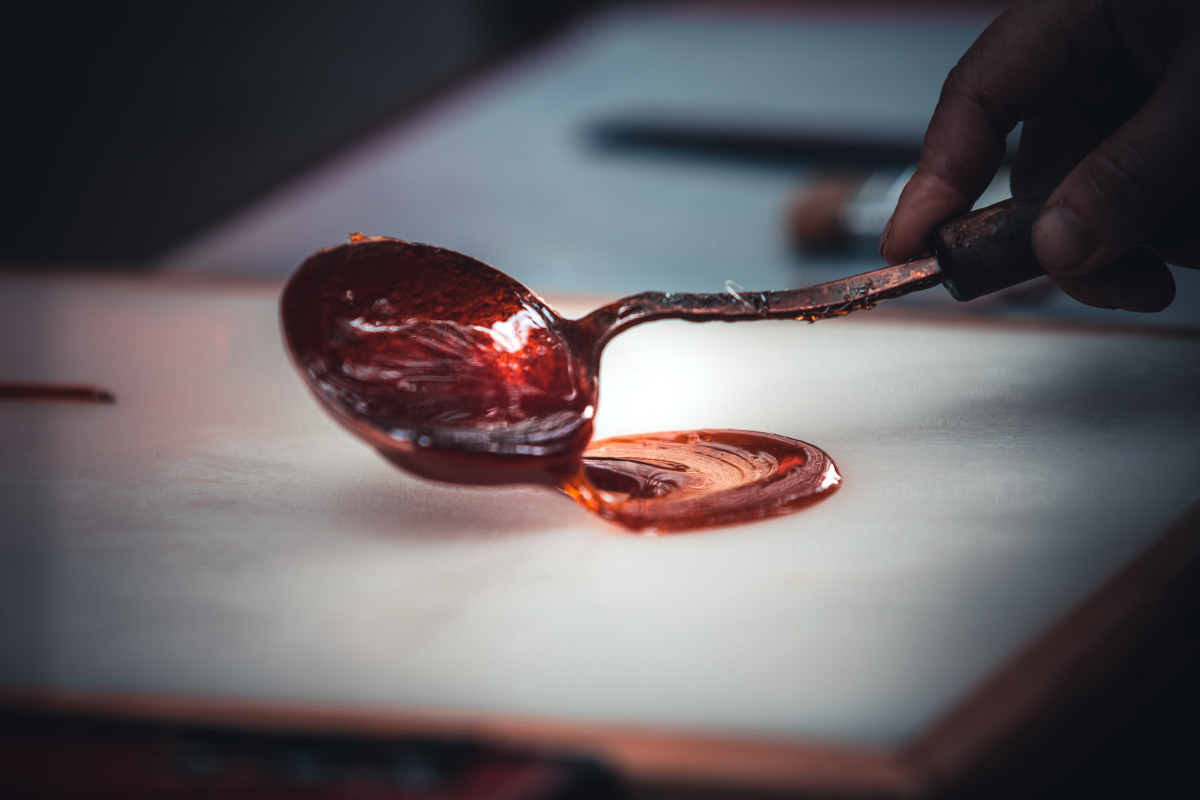 Much like Chinese Calligraphy, many of Li's drawings are made with a single stroke. That often means having to backtrack on top of a part she has already drawn. Drawing has to be done somewhat quickly as the sugar cools and hardens quite quickly. However, if you make a mistake, you can always reheat the sugar and try again.
Making the drawings and illustrations in a single stroke requires the artist to think about the image as a whole and, in their mind, design the path that they will draw. Li Mei makes it look effortless, but sugar painting is an art form that takes years to master.