Also known in China as Qingming Jie (清明节), Tomb Sweeping Day is a Traditional Chinese holiday celebrated for centuries. On April 5th, Chinese families commemorate and pay respects to their ancestors. The name, Tomb Sweeping Day, comes from the tradition of traveling to your ancestors' tombs to sweep or clean them. In addition to tomb sweeping, Chinese families will also travel to the countryside to plant willows or fly kites. Those who cannot travel to their ancestors' graves may instead pay respects at martyrs' parks visit local temples in their cities.
When is Tomb Sweeping Day?
Unlike many traditional Chinese festivals that fall on different dates, Tomb Sweeping Day is the same every year. Most Chinese festivals follow the lunar calendar, but Tomb Sweeping Day always falls on April 4th or 5th. The holiday falls on the 107th day after the start of winter.
Where did Tomb Sweeping Day Originate?
Tomb Sweeping day is said to commemorate a servant who lived during the Spring and Autumn Period, dating back to around 770 - 476 BC). Showing his loyalty to his Lord, the servant cut a piece of meat from his leg, to keep his Lord alive after being forced into exile. When the lord came back into power 19 years later, he initially didn't pay much respect to the servant who saved his life. Eventually, he regretted his decision and wanted to reward him.
However, the servant now lived in solitude with his mother in the mountains, and when the lord went to look for him, he was nowhere to be found. The Lord ordered a fire to be started to force the servant out, but after the fire had burned, the servant and his mother were later found dead. In commemoration, the Lord ordered that the day of his servant's death was called Hanshi. On this day, no one could start any fires, and people had to eat cold food.
In the second year, the Lord returned to the mountain. He found that the willow trees on the mountain had come back to life and were now in full bloom. This lead to the creation of the Pure Brightness Festival, dedicated to the willow trees. This festival along with Hanshi eventually becomes Tomb Sweeping Day as we know it today.
How is Tomb Sweeping Day Celebrated in China?
One of the largest customs and traditions of this festival is to visit your ancestors' tombs to clean and perform maintenance on the burial grounds. Ancestors are often buried in their home town. Many of them grew up out in the countryside, and families from the larger urban cities will travel to see their family closer to home.
Joss sticks of incense is placed near tombs with an offering of food and a special kind of paper money. The paper money is either placed by the tomb or burned on the ground to send to your ancestors in their afterlife. Living family members will bow to the gravestone or gravesite of their ancestors and place fresh flowers. These flowers are a symbol that the grave and their ancestors are still in their memory.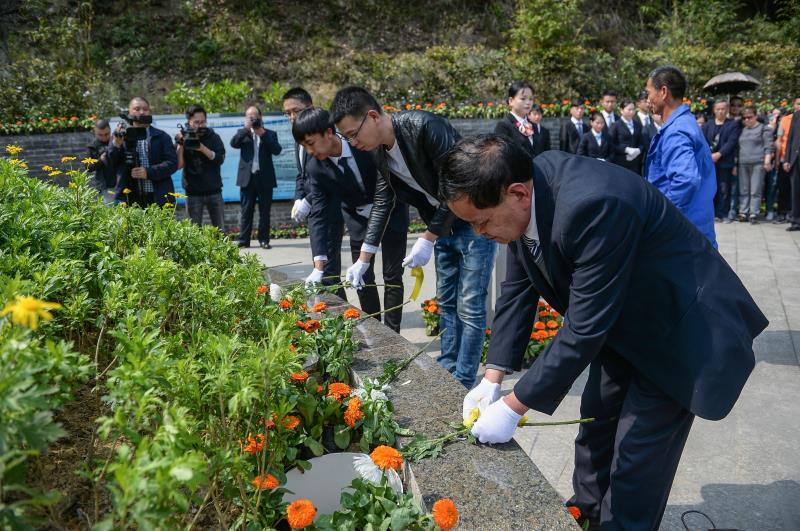 But Tomb Sweeping Day in recent times is not only about commemorating your past ancestors. It is now also becoming a time for taking a spring outing, as most people will have a three-day weekend and because the weather in early April is usually clear and bright. The trees have just turned green, flowers are in bloom, and it is a near-perfect time to enjoy China's beautiful scenery.
Another traditional activity is flying kites. During Tomb Sweeping Day you may not only find people and children flying kites during the day but also in the evening. In some areas, little lanterns may be attached to the kites and or the string to be kite may be cut, to let it fly off for good luck.