Living in Chongqing, a modern metropolis, people have to adapt to the fast pace of life. Nevertheless, however, exhausted they feel, people are accustomed to pampering themselves with night snacks.
We also jokingly say that every evening, if someone in Chongqing is not enjoying delicacies, he/she must be one the way for that. There are BBQ, dapaidang (night snacks served at temporary food booths), roadside stores, etc. A cup of iced beer will dispel your tiredness, and you will feel recovered after some night snacks.
Maybe wolfing down warm and delicious food will be the greatest comfort to any foodie staying out late at night. Having tasted so many delightful night snacks, what are the favorite of you and Chongqing people?
BBQ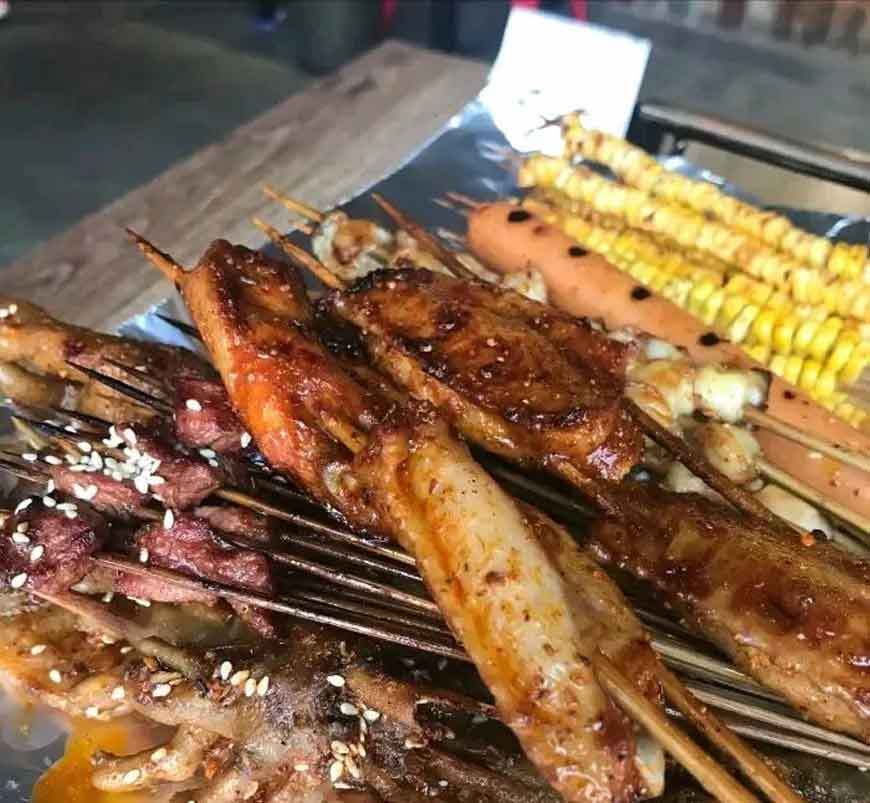 For Chongqing people, hotpot and Xiao Mian to the daytime is what BBQ is to the night. Feeling dog-tired, they think that the best solution against summer heat is to enjoy BBQ and iced beer in any of the temporary booths, together with friends.
As grilled fish, pig brains, chicken skin, duck tongue skewered meat, scallop, and others alike are served on the table, both your mouth and stomach will be satisfied.
Chuanchuanxiang (skewered meat and vegetables in a spicy hot pot)
It seems that Chongqing people's recipes for chuanchuanxiang have reached its full potential. Be it at any street, lane, or smart and tasteful restaurants, chuanchuanxiang is always wildly popular among foodies.
As well-seasoned food materials are skewered together, a joyful get-together around
chuanchuanxiang will improve the personal relationship while toasting. Seemingly ordinary as chuanchuanxiang may be, the taste is very impressive.
Crawfish
There are always times that someone may not answer your call in time. Don't worry. Maybe he doesn't want to free his hand while un-shelling crawfish.
Chinese people are crazy about crawfish. Spicy, garlic, and braised, you will always find your favorite.
Grilled fish
Grilled fish boasts both the unique flavor of BBQ and the spicy taste of hotpot. Chongqing foodies like this dish of both Wushan and Wanzhou recipes a lot.
Worked for a whole day, the delicious grilled fish will dispel your tiredness and hunger soon.
Jianghu dishes (strongly-flavored dishes with heavy ingredients)
Chongqing people like strongly-flavored food so much that this city serves a lot of jianghu dishes, including chili pepper chicken, peppery chicken, toothpick-skewered beef, stir-fried huanghou (ox aorta), and various pot-stewed food and roasted meat.
Such is Chongqing's lifestyle at night that enjoying the choice of meat and beer, making fun and
laughing without scruple, and going back home after a fully and delightfully night meal.
Night snacks in Chongqing's popular night fairs
Distributing around the main urban region of Chongqing, a lot of night fair streets offer a wide range of delicacies to foodies.
Lianglukou night fair
In the daytime, Lianglukou serves as a transportation hub, and it is still bustling with crowded people in the evening. From the CRT station to Jiankang Road, there are always people enjoying night beer
while gossiping, from 6:00 to nearly 3 to 4 o'clock the next day. The fair will not close before the last
guest has left.
Huangjueping night fair
Where there is a school, there will be a variety of delicacies. Huangjueping night fair gathers roadside booths and BBQ. Huji Pork's Knuckle Soup is especially recommended. No wonder students are the envy of many people, for they will always enjoy delicacies several steps away.
Danzishi night fair
Maybe commodities of Danzishi night fair are the most inexpensive among others in Chongqing. It also offers a lot of inviting delicacies.
Huilongwan night fair
It is another destination for foodies in Chongqing. After all, restaurants near schools have to survive in the harsh competition by offering better-liked food. People living or studying here often walk around here, and someone even cannot resist the temptation of BBQ after exercising at Chongqing Technology and Business University.
Jiugongmiao night fair
Although it is an old night fair with a smaller size, people of Dadukou District still choose to have night snacks there. The roadside booths sell miscellaneous items, like food, clothes, every-day-use articles, and even plants.
If walking around Chongqing in the evening, you will often get back with a well-filled stomach. Tonight, where will you go for night snacks?